How to Find the Perfectly Mediocre Rebound of Your Dreams
Cole Saladino/Thrillist
Cole Saladino/Thrillist
Dating is a medium in which rules are broken, stepped on, swept under the rug, and then stepped on through the rug. It's one of those unfortunate realities that we just all have to face as humans -- like stepping on LEGO pieces or swallowing a fly by accident.
One rule that's broken repeatedly is not giving yourself enough breathing room after you've gotten through a serious breakup. Everybody talks about how they "want to take a year and figure themselves out," but all those people usually end up getting serious with the first Tinder match with an acceptable face. Since we're a generation of settlers, let's just accept the fact that you will have a rebound relationship soon.
So, what can we do? Same thing people did on December 31st, 1999 -- prepare for the worst and hope that you won't have to resort to eating cans of tuna fish in your basement. Here's how to find a rebound that won't make you want to die.
Get rid of your high standards
As kids, we were told to shoot for the stars; but sometimes, it pays to aim for the dirt. Lower your standards and date someone you don't see a future with. A rebound is someone you're with for the time being. He or she is just good enough to hold your attention, but certainly not someone you want to spend your time with. Why bother potentially breaking the heart of someone you could have meshed really well with when there are millions of A-OK people out there?
Be direct
Once you realize the person you're dating is a rebound, you should break it off. However… that involves a lot of talking, crying, and difficult eye contact. So it pays to be direct with them before things get too serious. It's not a fun conversation to have at any point of the relationship -- but it's sure as hell easier to tell someone you're not looking for something too serious before things get… too serious. Try going somewhere public, like a coffee shop or bar, and telling them that you just got out of something serious and don't want a big commitment. Then you can soften the blow by offering to buy them coffee or hard liquor.
Become the rebound
It's a partnership more natural than Forrest Gump and Dr Pepper; two rebounds rebounding with each other. A rebound is as strong as its saddest member, meaning that a relationship built on a foundation of heartbreak is bound to be fruitful, fulfilling, and depressing. Obvious question: how do you find someone who's had their heart broken by the "one who got away"? Aside from turning your head to the left or right and dating the first person you see, just ask. Talking about your past relationships has become the gold standard of first date icebreakers. Plus, you're both on a first date for a reason.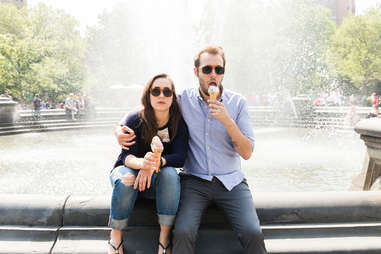 Try somebody you know
The rebound relationship is the perfect time to cross the threshold and crumble the proverbial dam that separates friends and lovers. Maybe you decide to go the distance with the random girl you've been chatting with on Tinder, maybe it's your old college fling with the lazy eye, maybe it's the WELP you always find in your bed… bridge the gap. It's certainly not the most eloquent sentence to say, but sometimes you have to just be like: "I'm lonely and we should bone." Chances are, they'll at least give you pity sex. And that's about as good as lukewarm pizza: good enough.
Plan a future, even if it's bleak
The key to a relationship -- good or bad -- is planning. You can be planning a European vacation or a trip to KFC for some lava-hot wings. Planning works! So, why not apply that aspect to the relationship you're feeling pretty "meh" about?! Checking in with your rebound is important in establishing goals, motives, boundaries, and a hopeful end date. Best-case scenario? You both find out that you're feeling warm about the relationship and hope to end things cordially. Worst-case scenario? You put off the talk, get married, have five kids, and they all end up in unfulfilling relationships.
Have fun
Seriously, this is not your run-of-the-mill, Netflix-on-Friday-and-going-home-early-on-Saturday relationship. This is a free pass… a chance to really find yourself and discover who you are while some poor sap watches. Seriously, treat the rebound with respect, but use the relationship as a chance to discover what you can and can't do in the company of others. Had you always wanted to have sex in Disneyland, but your ex could never get over the fear of getting stuck in a giant teacup? Take your rebound to Florida! Were you always afraid to poop in the presence of your significant other? Shit with the door open! This is your blank check -- and not the shitty '90s movie where a grown woman kisses an underage boy.
Aim for friendship
It's almost a joke to think about a future in which one of your friends is someone who's recently seen your genitals, but it's possible. This step best applies to a relationship in which both parties are on the rebound, but try for the end goal of friendship. Such a difficult task is almost impossible when sex is introduced into the equation, but enough communication can make anything possible. At the end of most rebounds, you get at least one broken heart and a pair of people who will ultimately continue the trend of using people to get over other people. When you aim for friendship, you can gain someone you can talk to and laugh with. And -- if you're lucky -- occasionally hook up with when your next relationship fails. Love is rough. Don't hate the player, hate Tinder.
Sign up here for our daily Thrillist email, and get your fix of the best in food/drink/fun.
Jeremy Glass is a writer for Thrillist and proud veteran rebounder.