Why your girlfriend likes Amy Schumer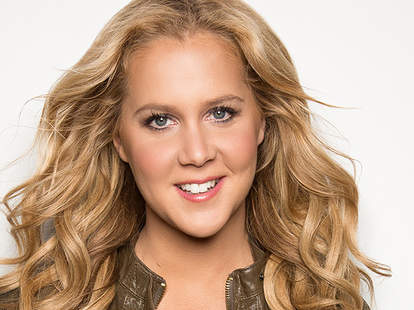 Photo Courtesy Of Comedy Central
Pretending to know what people are talking about is a fine way to coast ignorantly through life, as long as you're not having semi-regular to regular sex with the person doing the talking. Since you owe your girlfriend more than smiles and nods, here are some talking points to bring you up to speed on her latest obsession, Amy Schumer.
What's an Amy Schumer? She's a barely-related-to-that-other-Schumer comedienne with her own show on Comedy Central, Inside Amy Schumer.
Why would you know her? She catapulted to stardom by coming in 4th on the fifth season of Last Comic Standing. Then she roasted some comics, guested on some shows, and did a stint co-hosting a show with Mark Hoppus from Blink 182. So basically, you wouldn't.
Why should you know her? Because you can learn stuff about how women think from her sketches. Like how we weirdly deflect compliments and praise from other women, and how nothing illustrates the difference between guys and girls quite like our thought processes immediately post-hookup.
Is she worth all the hype? While blanket idol worship's usually cause for skepticism, Schumer's definitely deserving of a chest bump or five for her 2 Girls 1 Cup audition parody alone. Granted, not everything's a home run -- no comedian's that consistent -- but her scripted sketches make up for any off-the-mark moments.
Why do girls like her? Because her self-deprecation's effing hysterical. Not in a tormented, comic-with-tons-of-issues kind of way, but more of an irreverent take on "we've all been there" humor. She taps into the stuff that girls know about themselves but might not reveal unless they had three beers too many and only their best friend was around. Schumer's raw honesty makes her the champion of every woman who has also wondered how slutty she is (all of us), whether she needs to lose a few pounds in her face (most of us), and how long it's going to be before anyone takes her seriously (every last one of us, at least twice.)
Her take on one-night stands is exactly why your girlfriend likes Amy Schumer.