There's never going to be a recipe for the perfect date out there, since everybody's version of "perfect date" differs from one another. Some people love the idea of dates that start at a dive bar and end in the bedroom, while others prefer dates in which both parties walk around in the fresh air and talk about important things like politics and trees.
However, no matter the venue for the date, the general goal for going out with another person is making a meaningful connection and hopefully seeing them again after the date ends. While the goal of sex can be easily achieved by going somewhere that serves cheap booze, it'll likely take a few dates before both people learn -- and remember -- things about each other. That's one of the reasons why coffee is the perfect first date drink. You don't have to love it, you just have to stand it.
 
It makes you happier
Call it a hack or label it as common sense, but a date in which both people are in high spirits is probably going to be better than a date where everybody feels like hell. That being said, you should drink coffee on dates, because a regular cup contains the neurotransmitter dopamine, which makes you happy. Psychology Today reports that the average cup of coffee can actually mimic some of the effects of cocaine. "... Dopamine produces the [euphoric] and pleasant feelings that people often associate with their first cup of coffee in the morning.  
"Many drugs that produce euphoria, such as cocaine, amphetamine and ecstasy, act upon dopamine in the brain."
Needless to say, that's one of the few similarities between coffee and cocaine.
 
You'll stay up later
But not as late as most people think. Despite the popular myth, drinking a cup of coffee in the afternoon won't turn you into an insomniac. Caffeine is obviously a stimulant, but the caffeine you consume in your post-lunch cup is processed through the liver at lightning speed and roughly 75%  of it is flushed out of your body within four to seven hours. So, if you go on a coffee date at 8, you'll be able to call bullshit on your date when they say they're getting sleepy at 9.
 
You'll talk about something actually important
Coffee makes you smarter -- not, like, superhuman smart -- but smarter than a depressant like alcohol. This might be hard to grasp, but take a sip of espresso and try to follow along. Caffeine blocks the effects of an inhibitory neurotransmitter called adenosine. Adenosine is a neuromodulator that is believed to play a role in promoting sleep and suppressing arousal. The suppressing of adenosine, combined with the stimulating role of caffeine, increases neuronal firing in the brain, releasing neurotransmitters like dopamine and norepinephrine.
Wanna know what norepinephrine does? It's pretty cool, here's the definition: "In the brain, norepinephrine increases arousal and alertness, promotes vigilance, enhances formation and retrieval of memory, and focuses attention."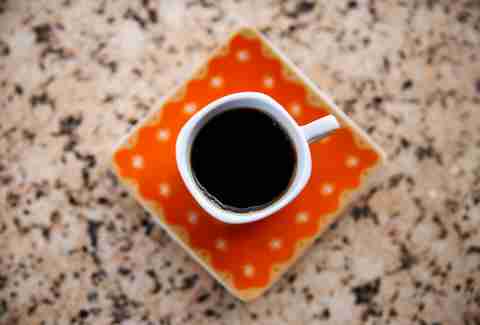 It'll make you skinnier
Unlike beer and sugary cocktails. Coffee actually burns fat -- pending you're not diluting your morning cup with heavy cream and loads of sugar. While you obviously won't lose 10lbs in one sitting, leading a healthy lifestyle and drinking coffee can help you lose weight by upping your metabolism.
One study showed that caffeine can increase your metabolic rate by as much as 10% in obese individuals and 29% in those who are lean. It does this by increasing the amount of ephedrine in the body -- our "fight or flight" hormone -- which is designed to make our bodies ready for intense physical exertion. So, fat is burned, and you can outrun your date if they suddenly go nuts and threaten to shank you.
 
Coffee gets us all horned up
The study published in the journal PLOS ONE, found that men who consumed between 85 and 170mg of caffeine a day were 42% less likely to suffer from erectile dysfunction. Researchers thinks this happens because of how caffeine relaxes the helicine arteries of the penis, which improves blood flow.
It may not make you feel as ridiculously horny the way a few shots of whiskey do, but that's probably for the best.
 
You can take it to go
As for the unscientific reason you want to choose a coffee shop over a bar: you can take it outside to go wherever you are. The same certainly isn't true with whiskey or beer... unless you're super sneaky or live in a place like Las Vegas, where there are no rules. Knowing that, you and your date can get your lattes to go if the burning desire to go into the park and knock boots overcomes the two of you. Actually, you probably shouldn't do it in the park.
Sign up here for our daily Thrillist email, and get your fix of the best in food/drink/fun.
Jeremy Glass is a writer for Thrillist and would drink coffee regardless of his relationship status.