It was 2013 when I first ventured onto the floor of the San Diego Comic-Con International. Hand-in-hand with my boyfriend, a veritable Comic-Con veteran I'd been dating for a year, my eyes widened as the aisles came into view. My boyfriend put his arm around me, leaned in, and pointed all the way down past where I could see.
"Look," he whispered. "It goes all the way back." Comic-Con truly is heaven for geeks -- and being with my SO at my first one was the cherry on top of an already astounding, weekend-long sundae.
That doesn't mean preparations didn't need to be taken; certain protocols followed. And I'm not just talking about packing a suitcase full of sweet cosplay gear. I'm talking about preparing for anything and everything: blistered feet, fatigue, sweaty bodies (not just yours!), and the overwhelming, never-ending presence of humongous crowds.
The following are some tips and tricks for making the most out of a shared convention experience.
Be flexible like Catwoman
At large events like Comic-Con, anything can happen. That panel you wanted so badly to sit in on? Full. Long line to meet your favorite illustrator? Well, you can choose to wait, but that might mean missing out on something else that you really had your hopes up about doing. Don't make too stringent of an agenda for yourself and your SO because that will more than likely lead to a disappointing time. Be agile about your plans.
If you relax and go with the flow, you'll find yourself a lot less stressed, with a lot more of an opportunity to enjoy your time geeking out together at the convention.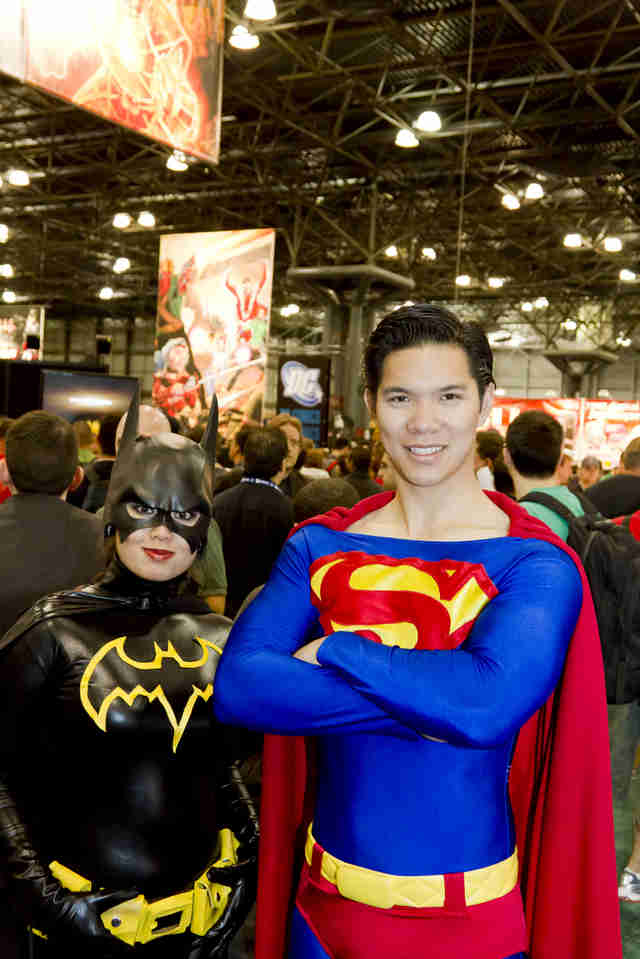 Be like Batman and prepare for the worst
This old Boy Scout motto holds true for all Comic-Con goers. You know you'll be doing a lot of walking, really there's no way for me to emphasize just how much walking you'll do -- so MAKE SURE that you are wearing comfortable, sensible shoes. Sure, they might not be the prettiest, and yes, they may even clash with your costume; however, you'll look even worse if you insist on wearing those Wonder Woman boots with 6in heels and end up limping around the Con all day.
Take each other's comfort into consideration as well. If you wind up having to carry around a large bag, trade off every so often so that it isn't just one of you doing the heavy lifting.
And don't forget to recharge yourselves. Conventions are a whirlwind of fun, but they can definitely be taxing on the body. Take your time and be patient with one another. A little bit of preparation and patience will go a long way.
No hero gets his way without some level of compromise
Be willing to make concessions for one another. If one of you is tired, take a break. Bring a small sewing kit to tend to any costume malfunctions. If you're both pretty independent, you can even split up and agree to meet up at a nearby location later in the day. Just remember, cell service isn't always great at these types of events and it's easy to get lost in a crowd -- which can be a deathblow to two overtired, overheated stormtroopers.
Those little portable phone chargers are ideal to bring with you as there isn't always wall space to plug in your charger and the last thing you want is to contend with a dead battery (especially when you're trying to contact your beau). And make sure you charge them overnight when you get back to wherever you're staying so that they are ready for another day.
The bottom line is that this is a shared experience and if one of you isn't having a good time, then you're not truly sharing in the fun. Know your partner's limitations and make sure that each of you is well fed and watered to avoid running the risk of having to cut your day short because someone isn't feeling well, or worse: you've started fighting.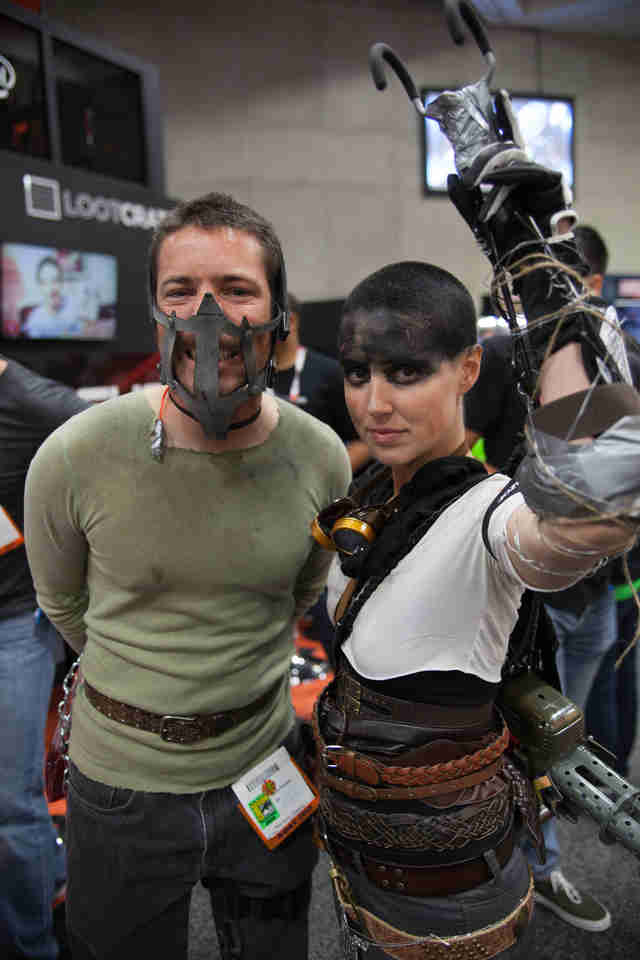 Don't turn your date into a villain
Trite though it may sound, this final point really needs to be driven home. I've seen couples get into arguments over trivial matters that, in the long run, ended up making the least out of a perfectly good weekend.
If you've been preparing all year long to go on your big convention trip and you find yourself feeling less than enthused, step back, reset your perspective, and remember that this is all about fun. When you are there with someone you love, there is always a possibility for disagreement. That said, when you stop and consider what you are there for, it's all that much easier to have a fulfilling time. Share in each other's company and geekdom. Make the most out of your time because it will be over before you know it.
With anything new, there is always a learning curve, and attending a big convention together is no different. If you take the time to truly enjoy yourselves and each other's company, you are sure to have a lovely and memorable time together. Happy Con-ing!
Sign up here for our daily Thrillist email, and get your fix of the best in food/drink/fun.