I want to die in front of a television. I want to be lowered into my grave upside down with a 50in plasma TV strapped to my chest. I want my gravestone to be in the shape of one of those old-fashioned portable TV/radio things that people used in the '90s -- and I'd prefer if a few additional televisions were thrown into the ground before I go in.
I love television, and I really love sitcoms. I was born in 1987 and was raised on shows like Frasier, Friends, Seinfeld, Full House, and Saved by the Bell. I loved these shows then and still do now. They made huge impressions on me growing up. But luckily for me, their flagrantly negative stereotypes of women and dating didn't follow me into adulthood. Here are some of the most common, offensive themes of my favorite childhood shows.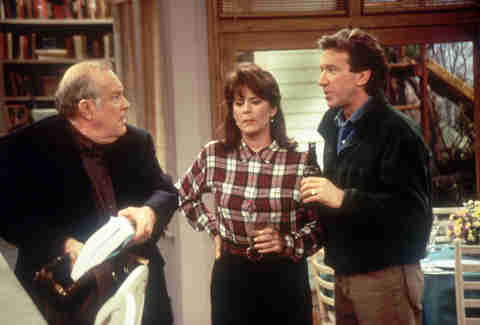 All women are nags
You don't have to be a television scholar to see a trend of television shows portraying women as the ultimate nags. But, to illustrate my point, I called up Carolina Hernandez -- a TV scholar -- and talked to her about the history of portraying women as shrews on major TV networks.
"For many family sitcoms, the mother is always seen as harking on hindering the life of the male partner. I think that probably affected a lot of people -- having the expectations that relationships and marriage are going to be like that? It doesn't have to be that way. There's a pretty long history of that dynamic in television -- really going back to the roots of it. If you think back to The Honeymooners and I Love Lucy.
"The wife is always seen as a nagging character or someone the husband has to show the right way to. That changed a little bit with '90s/2000s sitcoms, where the wife at least had more intelligence. The Simpsons, King of Queens, maybe Everybody Loves Raymond."
For me, the pinnacle sitcom starring an oafish husband and his shrill wife was Home Improvement. I especially related to it, because it closely mimicked my house as a child. My dad was silly, my mom was always tired from work, and I was one of three kids. Sadly, I couldn't claim ownership over JTT as a brother, but he ended up disappearing off the face of the Earth anyway. Patricia Richardson as Jill was, honestly, kind of a nightmare.
Of course, who wouldn't turn into a monster having to share a space with Tim Allen or his alter-ego Tim "The Toolman" Taylor. He constantly broke things in the house and would egregiously misquote his neighbor. Looking back, though, I didn't see him as the problem... only her. I've come to discover that, when men act like idiots, women -- or anyone, really -- will be annoyed. Go figure.
Women can be passed around among friends
I really can't believe how often this trope showed up in my beloved TV shows. Friends, Full House, and Saved by the Bell. First of all, I should preface this by saying that I did not ignore the sage advice from TV and actually did tastefully date my best friend's ex... a couple of times. What really got me was an episode of Saved by the Bell aptly titled "The Bayside Triangle" -- an episode in which Zack Morris and Lisa Turtle somehow fall in love, leaving Screech in the dust with a broken heart.
This episode proved to be an excruciatingly confusing one due to its lack of reasoning behind the fling and the blow to the audience where the love affair is literally never mentioned again. This imprinted three things into my adolescent brain:
1. Love doesn't need rhyme nor reason to flourish, it can just spontaneously conjure from thin air and leave a trail of destruction in its path.
2. Your friend will be OK with you striking up a relationship with the person he loves if you just explain that the love you feel is more pure.
3. Everything will reset the following week.
I pulled this move and am lucky that I remained friends with everybody involved. However, I can't speak to those other men and women out there who decided to go forth with their forbidden relationships after seeing this particular episode.
Where's the falling out? Where's the heartbreak? How could Screech ever trust Zack again? That was a large lesson I learned after separating myself from the obvious attempt in judgment from the writers: don't be a dick to your best friend, even if he's a little garbage kid name Screech.  
 
Women are one-dimensional beings
Women really can't seem to catch a break in TV... or in real life, for that matter. If they weren't nagging their husbands or boyfriends about inconsequential topics, they were pursuing any number of valuable interests, including: fashion, coffee, or assisting an ornery man.
Seriously, it's really hard to put together a list of female characters in sitcoms that weren't waitresses, "working in fashion," or serving as glorified secretaries to any number of charismatic dudes. Roz was Frasier's producer, Elaine worked for J. Peterman in Seinfeld, and Rachel was a waitress and worked at Ralph Lauren in Friends.
And aside from that? It didn't really matter, women didn't have much else going for them in sitcoms of the '90s. They were typically used as a foil for their male counterparts and resorted to talking about their hobbies, which revolved around... yeah, fashion and coffee.
It's nice knowing that there are women like Abbi and Ilana around who have real hobbies -- even if many of those hobbies involve smoking weed.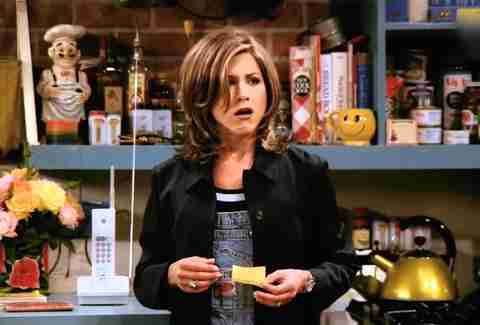 Dating makes you a slut
The nation, collectively, owes Roz Doyle an apology for the way she was constantly shit on in Frasier. Not literally, of course; Dr. Frasier Crane would never stoop to that level. However, one could learn a lot about the culture of slut-shaming from watching any episode of Frasier.
Her active sex life becomes the butt of the joke throughout the series, warranting episodes that focus around her exploits. In one episode, she has a fling with a fellow radio host, in another it's revealed that she has a "black book" that contains the names and numbers of all her past partners. Meanwhile, Frasier's promiscuity is never mentioned, regardless of the fact that the man has slept with the entire city of Seattle! A more complete list is here...
Frasier certainly didn't begin the stereotype that dating around makes you a person of loose morals or a joke to one's friends, but the show certainly didn't do anything to refute the idea. It takes a long time for those longstanding stereotypes to become challenged and torn down.
 
You can stay friends with your ex without any consequences
Give it up to Elaine Benes for being, simultaneously, the least relatable and most relatable woman in all of sitcom history. Even though the character was created by a dude, she's still the most multidimensional women from the era.
It'd be impossible not to identify with a woman like Elaine, who surrounds herself with guys and keeps finding herself in objectively unhealthy relationships -- namely with David Puddy. On the other hand, it's harder to find someone -- male or female -- who's successfully bridged the gap between an ex and a friend.
Sure, there are some episodes early on where Jerry and Elaine try to figure out exactly what they are, but the majority of the series is them hanging out as if they had never seen each other naked before. Props to Friends for showing audiences how hard it is to make the transition from lover to friend without breaking hearts along the way.
That doesn't mean that people shouldn't stop themselves from trying to stay friends with a former fling, but most shows glaze over the fact that tons of couples try and fail at this very move and lose friends along the way.
They never go over the part where one person has to cancel plans because they've found out their ex is going or the part where a one-night stand ruins everything both people had worked on and plummets the relationship back to zero.
Dating's hard and women are more than punchlines, that's just something the '90s didn't get quite right.
Sign up here for our daily Thrillist email, and get your fix of the best in food/drink/fun.
Jeremy Glass is a writer for Thrillist and is going to stick to what he knows best: advice about women from the 1890s.