How to Properly Go Down on Women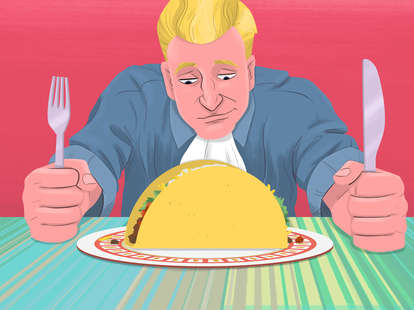 Jason Hoffman/Thrillist
Jason Hoffman/Thrillist
Thousands of articles masterfully lay out tips and tricks for proper blow jobs. But there is not nearly enough information out there about how to give women great head... and certainly not enough people doing it.
IT IS A TRAVESTY AND IT ENDS NOW. Consider this Cunnilingus 101, where you are about to learn how to go down on a woman like a champion.
Honor foreplay and give lots of compliments
Do not pull her pants off and go right for the main event. Turning her on beforehand is a must -- so kiss her, run your fingers and tongue along her torso and inner thighs, tell her how hot she is, how good she tastes, how delicious she smells. Whatever her body hair situation is, bask in it.
A woman who feels self-conscious while your face is in her crotch is not going to have an orgasm. So it's your job to encourage her to relax -- and to ensure she feels every bit of the beauty she is.
Communication is (always) key
To give great head, you have to ask your partner what they want. Vaginas are not some one-size-licks-all kind of situation. Different women want different things. Of course there are basic rules (and we'll get to those in a minute) -- but you have got to ask what she's into.
She might be shy about it, so watch for other cues like moans and body language. If she likes what you're doing down there, keep doing whatever that thing is until she says to do something else (or stops making all that noise).
Let's hear it for the clitoris!
The clit is the bug right at the top of the vulva. It looks like a rosebud -- and touching it while you penetrate her with your fingers is probably the most direct way to get her off. The clit is the ultimate pleasure powerhouse for women. When in doubt, keep your mouth and tongue on the clitoris. This is your safe space.
The G-spot is fun (but not for everyone)
The G-spot is just behind the pubic bone, about 2in inside the vagina. If you put your pointer and middle fingers inside and make a "come hither" motion, you'll feel a walnut-sized, textured patch of skin. Bingo. Gently add pressure with slowly massaged circles over the G-spot while also pressing against the front of her pubis bone with your chin, lips or fingers from your other hand.
If you are stimulating her G-spot and she doesn't like penetration (of any kind) during oral, she will not come. Watch for her reactions to gauge whether she's into it. Pressing harder against you and saying words like yes? Good signs. Squirming away from you or pushing your hand away? Bad. Don't take it personally if G-spot stimulation isn't her bag -- just move onto something else.
Use your whole tongue
Giving a woman head is not a tip-of-the-tongue exercise. Use your whole tongue to stimulate both sides of her labia at once. Run it up and down her folds and watch her reactions. Press it against her pubis. Put it inside her and close your mouth over her clit.
Change positions
Missionary is not the only position for giving a woman head. If she's up for it, have her sit on your face while you lie on your back -- this allows her to control the bumping and grinding and you can rest assured she's finding a rhythm that works.
Get yourself a finger vibe
Sometimes, you want to get creative and that's OK. When I say "finger vibe," I'm not talking about a vibe your stick to your finger -- I mean a small, palm-sized vibe you can utilize when you want to change it up. The vibe goes great with a little G-spot stimulation from your fingers and just kind of get us there when the going gets tough.
This here is an advanced move and I commend you who have the cojones to pull this one out of your bag of tricks.
Get your teeth out of this business
A vagina is not chewing gum. It does not want to be nibbled. Now is not the time for sweet bites.
No.
You keep your tongue on the clit and your teeth tucked behind your lips where they belong. It's a vagina, not a rack of baby back ribs.
Let's talk later, babe
Dirty talk is amazing, don't get me wrong. But not during the actual act of cunnilingus. If you want to know if something is working, you can ask before or after. DURING, you need to just pay attention to vocal cues and body language.
If you're not sure about whatever it is you're doing, do this: stay on her clit with your tongue. Move it in consistent, counterclockwise circles. Make sure there is a lot of pressure so she feels it. Thaaaat's it.
Keep it consistent
Once something is working, we mostly want you to just keep on doing it until we have an orgasm. It's totally OK to try a couple of different circular motions, zigzags, etc. to see what your lady enjoys. But once you hit a stride, just keep going. We like to concentrate on that working sensation -- and love to feel the pressure of a building orgasm. This isn't a good time to interrupt with some new move you want to try out.
Do not stop until you are FINISHED
When she has an orgasm, you will know. Under no circumstances are you to try to move onto sex until you're finished with the task at hand -- ahem, mouth. Of course, if she's over it and isn't going to climax (hey, it happens) then, yeah, do the sex. If she's pulling you up toward her face, she is done having you down there. Throw her a bone.
Otherwise, you finish the job you started so everyone can have a lovely, orgasmic experience. Can I get an amen?
Sign up here for our daily Thrillist email, and get your fix of the best in food/drink/fun.