Relationship Advice From People Who Have Been Married Forever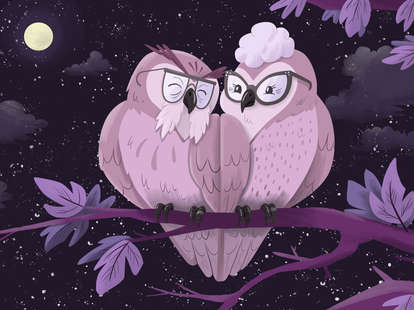 Jason Hoffman/Thrillist
Jason Hoffman/Thrillist
If there is one thing we all know for sure, it's that old people are insanely adorable and wise. They've been through so many things and have so many lessons to teach us.
So who better to take relationship advice from than our parents and grandparents? For most of us, those relationships are the longest-lasting marriages we've ever seen! We asked people who have been married pretty much forever for their best pieces of love advice.
Put your phones away and talk to each other
"Communicate. Make time to really talk, uninterrupted by devices, every day if possible. When you aren't on the same page, that's when real trouble happens." -- Diane, married 35 years
You're never too old for sex
"When in doubt, always find each other in bed. Just because you're older doesn't mean your sex drive slows down." -- Beth, married 29 years
Always know when to ignore the annoying habits
"Ignore each other's faults! Bury your head in the sand like a goddamn ostrich!" -- Viv, married 33 years
The person you love should be your home
"Love is a marathon, not a sprint. In a real relationship it doesn't matter where you are as long as you're with that person because you'll always feel like you're home." -- Michael, married 38 years
Your wife is always right
"The most important thing you'll ever say to your wife is, 'You're right.' And THAT is how you stay in a marriage." -- Clyde, married 28 years
Being apart is a no-no
"My mother's folks were the exact embodiment of love. On our wedding day, they were prompted to give advice, as is customary for the longest-married couple in attendance, and they said, 'Never sleep in separate beds.'" -- Chris, whose grandparents Ned and Suzy were married more than 60 years
Listen to each other no matter what
"Don't assume that your spouse knows what you are thinking. And don't assume you know what your spouse is thinking. Risk real conversation, which means learning how to resolve conflict." -- Norma Jean, married 59 years
Always think like the younger you
"Be good parents. Do things you mutually enjoy doing. Respect your differences and keep a good sense of humor, even when dealing with routine matters. Always think young. And don't focus on the little things. Over a lifetime, they do not matter. Your loyalty should always be to your spouse, and then to your kids." -- Danny and Carol, married for 33 years
Don't take everything your partner does so seriously
"The best advice I can give is to apologize when you're wrong, remind him to apologize when he's wrong, and don't take everything so fucking seriously. Who else would put up with your shit?" -- Julie, married 38 years
Enjoy the good stuff, and let go of the bad
"Relish things that are great, enjoy good things, deal with real negatives, and adapt to things you can't change. Responsibility is the foundation on which the beautiful building of freedom and marriage stands. Responsibility to respect the partner, let go, and work hard to know each other. It is a union of two souls forever! Realize that each is a different person with a totally different personality; and give each other space and respect." -- Urvish, married 30 years
Be with someone who makes you laugh
"Realize that it's better to be happy than it is to be right. And if you don't have a good sense of humor, forget it." -- Jane and Peter, married 46 years
Know who you're dealing with
"Men are either horny or hungry, and if they're neither, they're asleep." -- Ella, married 55 years
Be with someone who really knows and understands you
"Once something is resolved, bury it and don't let it raise its ugly head again. Nothing is gained by dredging up old stuff. And be kind, because you can't take back what you say if it's hurtful." -- Bill and Mary, married 38 years
Be loving and kind
"Renew your vows to each other in your head every single day, and keep this in mind when things aren't going so easily. Squeeze their hand when you've had a bad day to remind them of your love. Always reconnect before bed, and always kiss and give each other big bear hugs!" -- Siobhan, married 28 years
Stay friends first
"I think it's important to stay friends and have patience! Enjoy those areas where you agree and accept those areas where you have differences… not always easy! When something really good or really bad happens in life, my first call is always to [my husband]." -- Mary, married 38 years
There may not be just one perfect person for you and that's OK
"There isn't one perfect person for you. You could be married to any one of 50 different people, and you'd just have a different relationship and issues with each. There's no person ringing your doorbell who's perfect for you, and that's it for you. Marriages and relationships take work, but my relationship with [my husband] is a good deal, and I didn't want to let it go. I know somebody else would take him!" -- Geri, married 44 years
Tell her she's perfect
"Tell your sweetheart she is perfect every day of your life. I tried to remember, but I wish I had more." --Lou, married for 60 years before his wife Lorraine passed away last year
Be honest when you're hurting
"Grow a thick skin. If your partner forgets something you think is important, forgive them with your heart and mind. Let your partner know they hurt your feelings. You have to say it out loud because your partner can't read your mind. You have to be willing to grow and learn from your mistakes, together." --Cathy, married 30 years
Never go to bed angry
"My grandmother used to always say that the key to everlasting love is never going to bed angry. So, I never have and never will." -- Melisa, whose grandparents Bret and Erin were married 59 years
Have a common goal
"The most important thing to remember is that you need to have common goals with someone before you get married. Make sure you and your partner can look 10, 15, or even 20 years down the road and see a common outcome and life together. Never stop making plans for the future, and never stop believing in each other." -- Benjamin, married 31 years
Sign up here for our daily Thrillist email, and get your fix of the best in food/drink/fun.