Hometown Holiday Hookups: How Likely Is It That You'll Get Some This Christmas?
Is your hometown hot or not? How likely are you to get some ass this Christmas? With these extremely important questions in mind, many of us will trudge home for the holidays ready to do nothing but eat... and hook up. These are stressful times, after all.
While you're back home, you may as well get on a dating app and find out what all the boys from high school have been up to. All your girlfriends' unmarried exes are fair game, right? With holiday anxiety settling in around us, what better way to blow off some steam than with a guy who you will definitely see again because you're from the same place? What could possibly go wrong?
Why you want some hometown action
You definitely need a distraction from Aunt Helen taking her wig off at Christmas dinner after one-too-many glasses of sherry. We get it.
And anyway, you already have a reputation from high school. Aren't you curious to see what that hot girl from band class it up to these days? Did the quarterback ever get married?
You will definitely have to see this person for the rest of your life, every single time you come home, but whatever. You do you.
It's the most wonderful time of the year! People are stressed from the election, emotionally and financially worn out from Christmas shopping, and yet are still full of love for their friends and family.
This obviously points to wanting some holiday dick. I don't see how you could draw any other conclusion here. It's logic.
How likely are you to get some ass when you go home for the holidays?
If you're wondering just how likely it is that you'll hook up with someone from home this holiday season, our favorite dating app, Hinge, found that single people are 5% more likely to connect with someone from their hometown and twice as likely to go on a date with someone from home. It makes sense when you noodle on it: You're drawn to the familiar. It's a sense of calm when you retrace your coital steps.
Plus, every single person your age is ALSO home and at the SAME local dive bar. It's a recipe for ill-advised hookups. You may be in your 20s now, but you can still make the same mistakes you did in high school.
Where you're mostly likely to get some
I know what you're thinking: Which towns have the most action? More importantly, is where you grew up the prime spot for casual sex? According to Cambridge Analytica's Holidata, DC and New York are the top spots for casual holiday flings and have the most outgoing singles; about 50% of residents identify as unattached in these two spots as compared to all other states.
Hometowns are another story. Hinge found that the app is blowing up in Dunmore, Pennsylvania; Highland Park, Texas; and Wenham, Massachusetts; making these the hottest spots to get some. Who knew these small towns would be the hottest places to land some ass? If you're curious to see if your town made the cut, check out the full map below.
Hinge
Which hometowns have the hottest guys?
The most sought-after guys on Hinge are mostly on the East Coast. Good, corn-fed boys from Wenham, Massachusetts, Ligonier, Pennsylvania, and East Hills, New York are what the ladies are after. If you happen to be living on the East Coast, working in New York City or Boston, you might want to make a day trip to one of these small towns if you're looking to get some dick.
If you happen to hail from one of these towns, get ready to find the love of your life on Hinge this holiday season, maybe. Check out the graph below for the full map of the most desirable male birthplaces.
Hinge
What about the ladies?
According to the data, the hottest and coolest ladies are also from small towns. I guess it's those homegrown values or whatever. Hinge found that Argyle, Texas, Millis, Massachusetts, and Nutley, New Jersey were the sexiest hometowns for women.
If you're interested in seeing where you can find your future wife, check out the map below for the full list. It's the holidays, man. Desperate times.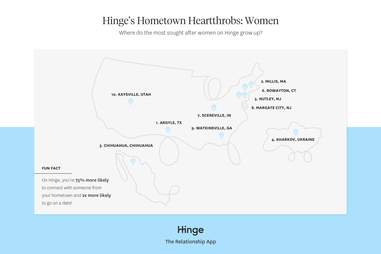 Hinge
Just remember to be safe
Before you go out and pillage that guy you always wanted to bang from algebra in 10th grade, heed a holiday warning from your Auntie G: Don't drink and drive, use a condom, and definitely don't tell your mom about it. She will probably call his mom (because aren't they best friends?) and then they'll talk shit.
Good times.
Also, try to remember that you WILL have to see this person again. There is no anonymity in small towns. Agree to never talk about it again and go back to awkwardly avoiding each other like you did after prom night.
A merry Christmas to all and to all a good night.
Sign up here for our daily Thrillist email, and get your fix of the best in food/drink/fun.