The Biggest Dating Change You Can Make to Stop Getting Rejected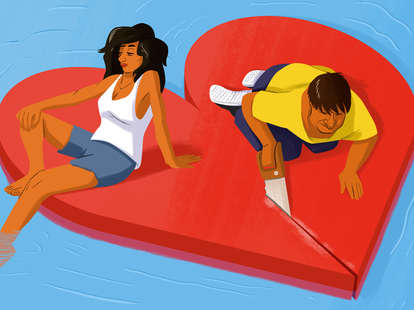 Jason Hoffman/Thrillist
Jason Hoffman/Thrillist
After my last breakup, dating again was a clumsy and painful process.
I fumbled my way back into the scene by downloading (then deleting, then re-downloading, then re-deleting) the essential apps. I shamelessly hit on the hot ref in my soccer league. I lobbed out a few "how ya been?" texts to old hookups. And for the next six months I found myself attracted to men who lived on other continents, struggled with depression, had girlfriends or wives, or were workaholics or misogynistic jerks.
I mean, I get it: I was dating in New York. But there was more to it than that. I know I'm not everyone's cup of tea, but I know I'm not Draino, either. I swear I've had several healthy, connected relationships. I'm a psychotherapist and wellness coach, for goodness sake. I understand how this stuff works.
The truth? I was setting myself up for rejection by seeking out emotionally unavailable people, which was a reflection of my own emotional unavailability. It was only when I realized this that I also learned I could stop being rejected as soon as I got over my own refusal to let people in.
Emotional unavailability grows out of past hurt
In order for dating to evolve into a relationship, there must be a level of mutual "needing," presence, and responsiveness. If you don't present these qualities to your dates, you're going to run into a lot of people who are unwilling to commit to you.
Withholding vulnerability is usually in response to past betrayal or abandonment, or growing up in an abusive, emotionally inconsistent, or unsupportive home. This results in troubles with needing and being needed, as such past experiences have taught them that vulnerability equals pain. Other times, a person is just content in their work, non-romantic relationships, and passions -- and they're not interested in feeling needed by anyone else.
Emotional unavailability is perpetuated within the (broken) online dating system. Swiping culture is an emotionally unavailable person's dream! You don't have to feel vulnerable; you can feel total control over how much of yourself you share, and you can disappear at any time.
And when we're afraid to be vulnerable, we seek other people out who will perpetuate this state of being.
People who are emotionally unavailable are easy to spot
In going after the asshole, or the guy who lives on the other side of the globe, I could be confident I wouldn't lose myself in the relationship. I wouldn't seek his support during a challenging time and risk the hurt of not receiving it. My heart wouldn't be broken because I'd never totally depend on him. He wouldn't need me, and I wouldn't feel guilt.
But ultimately, I wanted someone who would let me in. And after a series of rejections, I took a step back. I had to learn (and relearn) all the warning signs that I was chasing the wrong people.
Someone messaging you at 12am telling you to Uber over is probably not ready to be with you. Same goes for people exhibiting drug and alcohol abuse, over-reactivity (like how they behave if the server screws up their order), resentment toward all men or women, jealousy, controlling behavior, or an unhealthy preoccupation with sex. Just stay away from these people: Their problems aren't yours to fix.
Someone else's issues can't be fixed -- but yours can
If you try to change someone else, you're setting yourself up for a frustrating road. Instead, focus on what's in your control: the partners you pursue, and learning to open up.
The work of this starts by confronting your past. It's helped made you who you are, but it's by no means who you always have to be. Talking about the things you've been through (with friends, family, or a therapist) will help you make sense of the patterns -- and company -- you keep.
Meditate on exactly what it is you want in a partner, no matter how casual. A baseline is always a good reference point to have, even if it's as simple as saying you'd like to occasionally see them during daylight hours, hear back from them in a timely manner, and be treated with the same amount of respect you'd expect from your friends. If your baseline needs aren't being met, stop seeing this person.
And let go of being too analytical and judgmental. Feeling gun-shy after getting out of a tough relationship is normal. But assuming everyone is going to cheat, lie, and hurt you? Just impractical… especially if you're staying away from those red flags we discussed.
Eventually, I realized holding everything in was more work than it was worth. Shedding my misgivings, and relearning how to be vulnerable, was the most empowering thing of all.
Sign up here for our daily Thrillist email, and get your fix of the best in food/drink/fun.