Dating in the '80s was easy. Here's how to survive in 2014.
Thirty years ago, dating was relatively simple. Yeah, they had weird matchmaking services where you had to send in a videotape of you talking about how much you enjoyed aerobics and monogamy and curling up in front of a nice warm fire but, compared to now, it was cake. Here's our breakdown of why it was easy, why it's gotten so tough, and -- courtesy of the panel of experts we enlisted for our very Mandy Moore-esque "How to Deal" tips -- how you can slice through the BS and make it easy once again.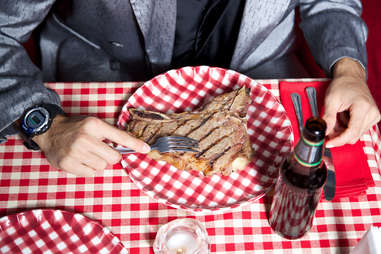 Anthony Humphreys
30 years ago...
Deciding where to go was easy. For a casual date, you took her to Bennigan's, named after a Gaelic term for "fun." To class things up, you treated her to Steak and Ale, where they served steak, the beer was called "ale", and for a while the menu was dubbed the "Bill of Fare for Lords and Ladies." Needed something more adventurous? No problem! There's this hot new thing called "fondue".
Anthony Humphreys
Today…
There are infinity restaurants, with infinity more opening every week. Unlike almost every American in 1984, your date will know a ton about food, and your selection will be held to intense scrutiny. That means you have to actually research where you're going to take her, with zero guarantee your hard work will score any points. What's Gaelic for "this sucks!"?
How to deal
Ignore the temptation to pretend you know what you're talking about and just eat. Says Jo Piazza, author of
Love Rehab: A Novel in 12 Steps
, "Just because you have access to all of the information in the entire world, doesn't mean we want to hear it come out of your mouth -- we know how to Google, too. We would much rather discover the food together and have an awesome conversation about it than have you tell us that the salmon was sourced in a small river southwest of Portland."
Anthony Humphreys
30 years ago…
You waited three days to call her on your giant rotary home phone.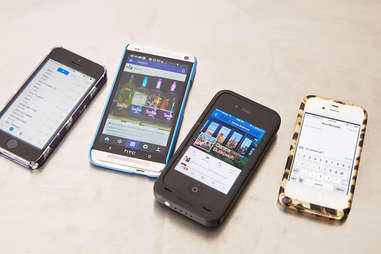 Anthony Humphreys
Today…
Do you call? Text? Facebook message? "Like" her Instagram post? If you drop that "like" will she assume you're interested in marriage? That you're a stalker? That you're doing the bare minimum to keep the possibility of a noncommittal hookup alive? Oh and what about Snapchat? It seems a little forward to send pictures of your anatomy after one date but if that's what people are doing these days who are you to judge?

How to deal
Piazza's advice: "Do you like her? Do you want to see her again? If so, send a single text. Tell her you had a great time. Tell her you want to make plans again. Ask when she is free. Stay away from every social network on the planet until at least the third or fourth date (maybe longer). Be straightforward in your communication. Just because you CAN communicate 19 different ways doesn't mean you have to."
Anthony Humphreys
30 years ago…
She actually waited by the phone for three days.
Anthony Humphreys
Today…
She could go on 37 dates over the next three days -- she'll be by the phone, because we're all
always
by our phones, but she won't be waiting. This can induce the sort of panic that makes an apparently not insignificant number of men send that lewd Snapchat five minutes after the first date ends (though in our defense, is it ever too soon to do something you probably shouldn't do ever?).
How to deal
"There's an almost infinite number of ways she can meet an almost infinite number of men in three days," says Tracey Steinberg, aka,
The Dateologist
. "You can't think about that because it could make you crazy with insecurity and you need to come across as confident." All you can really do, says Steinberg, is to "keep yourself busy by enjoying the almost infinite number of ways you have an almost infinite number of women available to you."
Anthony Humphreys
30 years ago…
You stood a decent chance of winning over women with the mesmerizing lines and cunning "techniques" you learned in a class taught by a guy with a smallish pony tail in the basement of a copy machine repair center.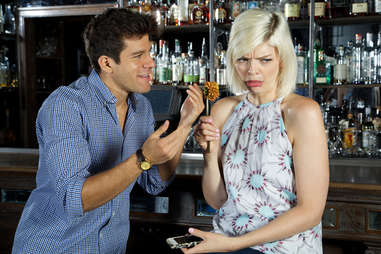 Anthony Humphreys
Today…
Every woman on the planet knows "The Game", and has either developed game of her own, or dismissed game entirely on account of how stupid it is. "There is nothing more annoying than when a guy tries to pull The Game on you," says comedy writer
Sarah Walker
, "which means that they just start a conversation by insulting you. Guess what women hate? Men who play games. Except for Balderdash. So fun."
How to deal
Break out the Balderdash. Or do what comedian
Sam Jones
suggests: "Just be authentic. It's sexy and it shows that you've got balls."
Anthony Humphreys
30 years ago…
If you had no game and were just generally kind of dull, you could simply be polite and still stand a chance of getting many, many more dates.
Anthony Humphreys
Today…
Women are better educated, more financially independent, and under far less pressure to get married by, like, 23. Being a single woman is way more fun (and less stigmatizing) than it used to be. And thanks to right-swiping, etc, it's a lot easier to meet guys who aren't you. If you're going to impose yourself on her actually enjoyable, self-sufficient single life, you've got to prove you're worth it. Politeness alone won't cut it anymore. As one single lady puts it, "You could hold ten million doors for me, if you don't have an edge to your personality, it's not going to work."

How to deal
Lucky for you, "edge" is a more expansive term than it was in the '80s. "These days, even if you're into traditionally dorky things, like cosplay or Entourage, there is a girl out there who thinks that's super sexy," reassures Walker. "But you still better dress well and shower. And pay for drinks."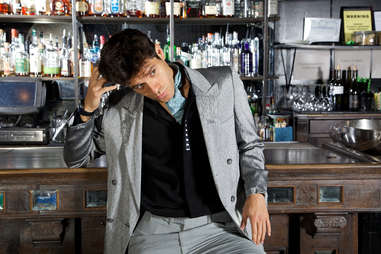 Anthony Humphreys
30 years ago…
Blind dates were actually doable -- you had to wear your special blind-date ascot just so she'd recognize you when she showed up. Even if you'd met before, you could still start the evening as an object of mystery because the only way she could find anything out about you would be to hire a private detective.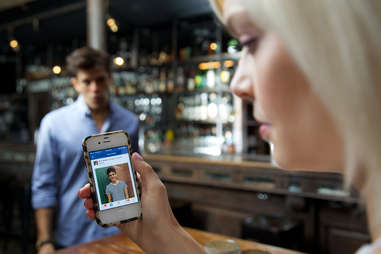 Anthony Humphreys
Today…
Ha ha ha. "Blind date." Good luck with that. By the time you say, "Are you Sharon?" she'll have googled and social networked everything about you (and you her). She doesn't need to have that "how many girls have you seriously dated?" conversation, because she's already tallied them up. Also, if you're on Twitter, she'll already know all your hilarious one-liners about how old Greg Oden looks, so don't count on that arrow being in your quiver.
How to deal
Pamela Wiznitzer
, president of the New York chapter of the United States Bartenders' Guild and huge advocate of dates actually working out, has this on lock: "Never give everything about yourself away online -- keep some quirks private so you can share them with someone who really means a lot to you. Don't post that you're seriously into architecture, or that you played rugby in college, if you want to use those things as talking points."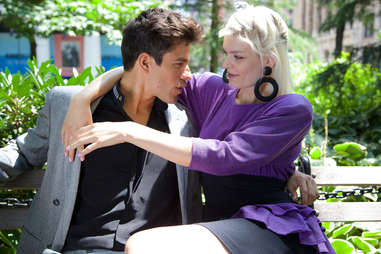 Anthony Humphreys
30 years ago…
If you wanted to become exclusive, you just stopped dating other people.
Anthony Humphreys
Today…
The process is much more complicated. Now you have to deconstruct your entire dating existence online -- taking down profiles, de-tagging incriminating photos, etc -- and then if you break up you have to rebuild it again. It's a lot of work.

How to deal
If you're really going to go through with all this (see below for alternatives), you're kind of screwed -- and it's going to be even more arduous than you think, because apparently despite this being a new millennium you still have to have an old-fashioned conversation about your new relationship status. "Taking down an online dating profile does not an exclusive relationship make," says Steinberg. Damn it!
Anthony Humphreys
30 years ago…
If your crazy ex- disagreed with you becoming exclusive with someone else, she could call you repeatedly, but that was fine, because Caller ID didn't even exist yet and you could just say it was your boss, or the President -- unless your giant answering machine picked up the call, in which case you were kind of screwed.
Anthony Humphreys
Today…
Long after you think you've dismantled your dating history, your ex- could still tag a random photo of you from 2006 and even though it was clearly a long time ago because you weighed 20 less pounds and hadn't yet abandoned your short-lived mustache experiment her online activity could still cause all kinds of commotion.

How to deal
Jones says to just freaking own it -- and maybe consider not bothering to de-tag old pictures in the first place. "Your past is your past, those experiences make up a part of your story. If a woman asks you to remove them, you'll soon come to realize that she's a jealous, insecure, overbearing pain in the ass." And that's totally your job.