Match's 'Singles Greetings' Cards Are the New Most Depressing Part of Being Single
Match/Nina Gonzales/Thrillist
I'm 35, single, and have never had my own holiday card.
That's cool. I mean, getting to be part of my mom and stepfather's holiday postcard featuring collaged photos of them and their Brady Bunched "children" -- my middle-aged stepbrothers (and wives and kids), my 37-year-old sister (and husband and kids), and a random headshot of yours truly -- has been super-fun. But I gotta wonder, isn't there a holiday card for single folks like me?
Answering that prayer -- surely shared by millions of desperate, lonely single people with virtually no purpose in life -- is Match. The dating service just came out with its very own line of pokers-to-the-eye holiday greeting cards JUST FOR SINGLE PEOPLE LIKE ME!!
Forget having to come up with some clever thing about your sucky year in review. "Singles Greetings" from Match let you just pick a theme, fill in the blanks ("I actually… got off unemployment!" or "I only… went back to my ex twice!"), or use one of the pre-designed cards, like "Naughty" or "Nice." Which pairs a photo of your choice with nuggets of Christmas cheer like "I dated some people and let down my guard," or "Here's hoping 2017 is the year I get laid."
Not satire.
This is a great way to fill all your important contacts in on this year's milestones; like organizing your bestie's third baby shower or getting ID'd at the liquor store.
Those guys at Match pretty much have singledom on lock. How'd they know I've been looking for the newest, most depressing part of being single during the holidays? THANK YOU, MATCH. THANK YOU. Really.
But seriously, guys. Who the fuck over at Match thought this was a good idea? At least it will entertain the hell out of your friends on social media. Bah, humbug.
Ah, screw it. If you can't beat 'em, right?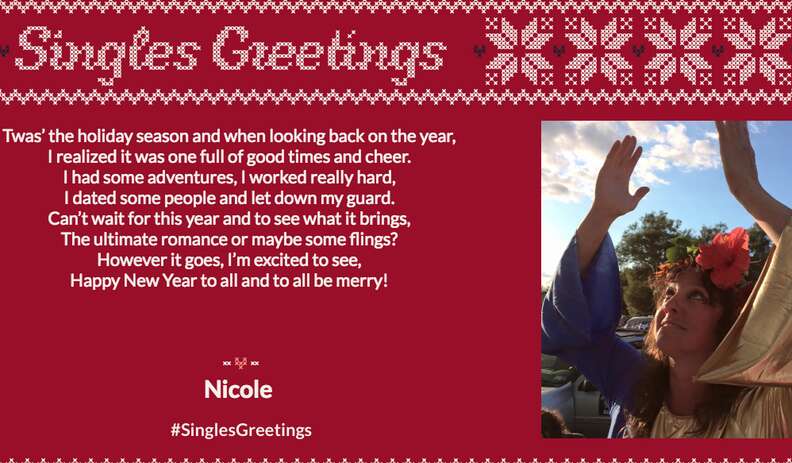 Sign up here for our daily Thrillist email, and get your fix of the best in food/drink/fun.
Nicole Caldwell is Thrillist's Sex & Dating editor. She's just kidding about being bummed over that single life. Check her out on Twitter @nicolemcaldwell.