10 Next-Level Destination Wedding Locations That Put Your Hometown to Shame
Somehow destination weddings have gotten a bad rap -- like you're forcing guests to spend tons of money to travel long distances just to satisfy your own selfish wanderlust. But, um, every wedding forces guests to spend tons of money to travel long distances, usually to satisfy the couple's selfish desire to wed in a no-name suburb. And wouldn't you rather your guests grumble on a tropical island than in Bum Fudge, Ohio? Shrug off the guilt cloak and start perusing global locales that might even convince your parents to ditch the backyard wedding idea.
Amalfi Coast, Italy
What couples have married in Italy? Oh, just George and Amal Clooney, Emily Blunt and John Krasinski, and Kimye, to name but three. (Also TomKat, but we won't go there.) For our lira, the Amalfi Coast is the place to be, owing to the redonk views, picturesque Mediterranean beaches, charming fishing villages, and the smell of lemon groves all around. The Belmond Hotel Caruso in Ravello was once an 11th-century palace and now is basically built for wedding FOMO, with its cliffside terrace, frescoed rooms, and enormous infinity pool.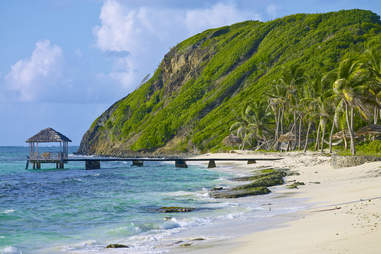 Courtesy of Petit St. Vincent
Anyone can have a Caribbean wedding. But a Caribbean wedding on a private island, without Wi-Fi, television, or phones -- and with a world-class diving facility founded by no less than a Cousteau? Petit St. Vincent, a 22-cottage retreat in the Grenadines, truly earns the title of "respite," with barbecues, yoga, sailing, and myriad diving excursions serving as the lead-up to a perfectly unhurried beachside ceremony. And yes, as it so happens, you can rent the whole damn archipelago for your vows if you so desire. (If we had the means, we would so, so desire.)
Denton Rumsey/Shutterstock
Are you about to inherit a wackadoodle assortment of in-laws with disparate politics, interests, and booze tolerances? Off the Georgian coast is an island getaway that will pretty much satisfy every proclivity -- and, if necessary, help certain guests keep their distance. There's beach swimming. There's golf. There's tennis. There's a 65,000sqft spa. There's a skeet-shooting school. There's sailing. There's fishing. There's horseback riding. There are many, many bars. You get the idea. And as Sea Island resort actually plays host to a variety of accommodations, you have many choices for the ceremony setting... and can house each side of the family far, far away from one another. Plus, there's a full-time, in-house event design team that can pretty much do all the heavy lifting for you, giving you more time to knock off a few clay targets when the going gets stressful.
Tasmania, Australia
Tasmania is basically Australia's Brooklyn, with elements of Scotland thrown in. You have a newly celebrated dining scene, lush rolling hills and rocky moors, and outdoor activities galore -- plus a populace far friendlier than any you'd encounter stateside. Your guests will arrive and start perusing real estate listings within a day. As for venues, you could do worse than Quamby Estate, a 150-acre property dating back to the 1830s that includes tennis courts, hiking trails, an onsite chef, a golf course (where one Sir Richard Branson holds a membership), and a 10-mile, tree-lined driveway that demands a dramatic ceremony entrance. Horse-drawn carriage? White Rolls? In the pouch of a 'roo? Your call.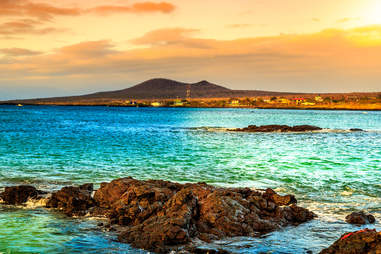 RHG/Shutterstock
You can go to the Galapagos for your 40th birthday -- as pretty much all your friends will threaten to do at some point -- or you can go now. Amidst all the Darwinian nature struggle, couples have wed on catamarans, at tiny boutique hotels, and on pristine beaches astride iguanas while herons fly in the distance. We say, invite your nearest and dearest to start the adventure in the capital city of Quito, then spend a couple days cruising the islands before landing on the archipelago venue of your choice. Maybe the Finch Bay Eco Hotel on Santa Cruz Island, with its own vegetable garden and yacht?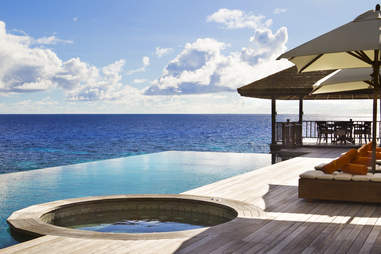 Courtesy of Oetkerasset Library
We kind of can't get enough of private islands as wedding locales, and this one's a doozy. For starters, people can arrive by helicopter, ensuring that yours will be the only wedding guests remember on their deathbeds. Once you land, you're in a conservationist's paradise in the middle of the Indian Ocean: the island serves as sanctuary to birds, turtles, and endangered tortoises. You can, once more, rent the entire island, complete with its yacht club, mountain hiking trails, SCUBA certification, and seven pristine beaches. And the about-to-be-celebrated duo truly gets treated like royalty, with complimentary extras like a couple's spa treatment, a sunset cruise, a beachside candlelit dinner, and a drawn bath post-ceremony with a chilled bottle of wine at the ready.
Martin Valigursky/Shutterstock
Tahiti, French Polynesia
I mean really, do we have to sell you on this one? Outriggers, jungles, thatched bungalows, white sand beaches, and cartoonishly emerald lagoons -- and just an eight-hour, direct flight from LA. Our vote is for the glass-bottomed wedding chapel on the island of Bora Bora, but you could also go for a traditional Tahitian wedding complete with flower crowns, leis, and painted sarongs followed by a feast of fish, chicken, pork, and breadfruit steamed for hours in an underground pit.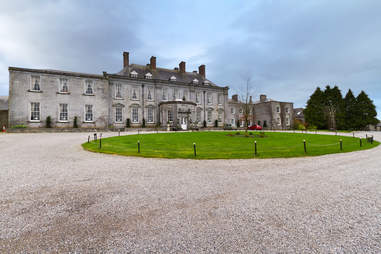 Patryk Kosmider/Shutterstock
You're one of those people who's always dreamt of getting married in a castle, right? Well, Ireland is the only true place to execute that vision. We vote for Castle Durrow in Laois, about an hour outside Dublin. The approximately million-room property includes a ballroom, grand staircase, enclosed courtyard, gorgeous manicured grounds, and master suite straight out of a period drama. It's Downtown Abbey without all the drama, tragedy, and blood-vomiting. We hope.
javarman/Shutterstock
Mendoza, Argentina
OK, so first off, Argentina is responsible for the single greatest wedding trend of the 21st century: the fake wedding, or #falsaboda. Look it up, for real. Speaking of real, the really beautiful wine region of Mendoza makes for a particularly stunning "I do" spot. At the Vines Resort, you can marry next to the infinity pool with the snowcapped mountains in the background, then chow down on classic Argentine barbecue before topping off the night with hours of tango dancing.
Wata51/Shutterstock
Zanzibar, Tanzania
This is definitely for the near-eloping set, as Zanzibar does not lend itself to large affairs. But that's sort of the point: the pristine island nation off of the coast of Tanzania is Shangri-La for those seeking a picturesque and intimate event. Imagine taking your vows beside the Indian Ocean, perhaps with a group of Maasai performing during the ceremony, then sitting down for a four-course seafood dinner with 20 or so of your nearest and dearest. The Z Hotel, a boutique resort on Zanzibar's northern tip, can then set you and your guests up for diving and fishing trips and tours to nearby animal sanctuaries and historic ruins.
Sign up here for our daily Thrillist email, and get your fix of the best in food/drink/fun.
Meaghan Agnew ended up having her own low-key island ceremony after losing patience with the inanities of wedding planning. Follow her on Instagram and Twitter: @meaghandeth.