A Guide to Every Kind of Nipple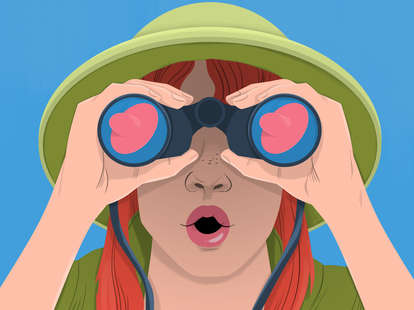 Nipples are odd things: little balls of tissue, just kind of hanging out on our chests. Of course, their chief job -- to develop and produce milk for babies -- is super cool. But we've all got nipples. Even men.
When humans are about four weeks in utero, breast tissue begins to form around the milk lines, which run from under your armpits to the sides of your belly. Donnica Moore, MD, president of Sapphire Women's Health Group, tells Thrillist that, "Breast development is stimulated by increasing levels of estrogen. During the breast bud stage, the nipples and breasts are slightly raised. Milk ducts begin to form, fat tissue accumulates, and the areolae begin to enlarge and may appear puffy."
And though women are (usually) the only ones to grow fully developed breasts, all nipples have about the same number of nerve endings (800!)... making them very real erogenous zones for all genders.
Nipples and breasts are as unique as you are! "No two breasts are alike, breasts contain different amounts of breast tissue," says Dr. Rebecca Brightman, of East Side Women's Associates.
They're nothing to be self-conscious about -- variety is the spice of life, people. But while they're different, there are also a few main types of nipples, which I've outlined for you below. Chances are good that your nips fall into one of these categories, or a combination of a few. And whether they're cone-shaped, inverted, bumpy, hairy, or flat, they're chock-full of flavor and personality.
Free the nipple! Sorry. Had to.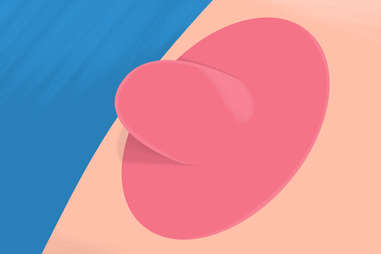 Protruding nipples involve the areola and top of the nipple forming a ball. My mom's nips are like this and I remember thinking this was a very mature, adult kind of nipple to have. It isn't. I was just a freak.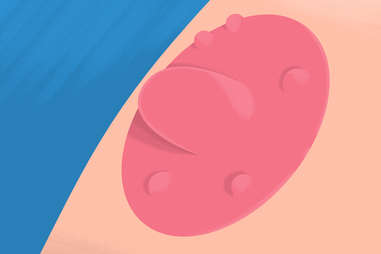 Bumps are totally normal. So if you've got some, don't freak out. Dr. Moore says the bumps are called Montgomery glands and while their function is relatively unknown, if you fall into this category of nip, you are fine. The bumps I'm referring to are when you've got small bumps peppered around the areola. You can have bumps and have protruding, flat, inverted, or cone-shaped nipples as well. It's all a bit confusing and weird.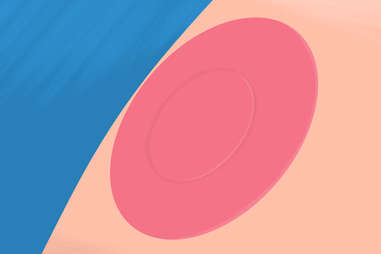 Flat implies that the entire nipple lays flat, and is one consistency (can still get hard though!). They vary in size. "Women who are more mature, who have larger breasts, can have larger areolas. You know, it depends on the amount of underlying breast tissue, it's really varied, there's a real spectrum in terms of what is considered as normal," Dr. Brightman tells us. You might have pancake nipples like me, or little bitty ones like Kate Moss (I assume). You can have large, flat areolas on small boobs or on big boobs. Everything is one big ol' mixture.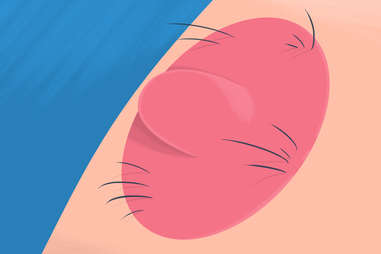 Hairy nipples are also really normal, though Dr. Moore points out that it isn't the nipple itself that grows hair, but the areola. The hair is usually around the areola and can be peach fuzz or more coarse hair. If this is something that bothers you, you can always shave it or use a hair remover. Just be sure to be VERY careful with a razor to avoid nicks. Check with your dermatologist about types of hair removers because nipples are very sensitive and you could potentially get a rash. OUCH.
Also referred to as "puffy nipples," cone-shaped nipples are when the entire nip is puffy and protrudes from the rest of the breast, in an oblong or cone-like shape. This is also normal so stop freaking out.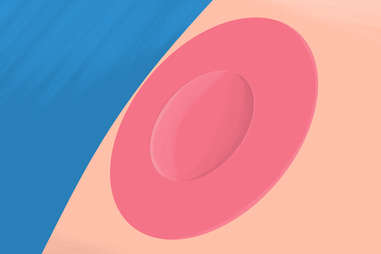 Sometimes your nipples are not totally out and about to hang. Inverted nipples are when the tip of the nipple slips inward, pointing inside of the body. "If you can manipulate the inverted nipple so that it sticks out, it is most likely fine," Dr. Moore says. In other cases, the entire nipple might be inverted, though this is more rare.
Last but not least, combo nips
Sometimes your nipples are a combination of these types. Other times, one nipple may fit into one category while the other does not. Nipples can even change. One day you might find you have bumps on your areola that weren't there before or that your nipple has moved inward. Just call your doc if anything starts to hurt, changes color, or sees a dramatic transformation.
Healthy nipples = happy nipples. Dr. Moore tells us there are instances when you should see a doctor, "if a nipple that was typically outward pointing becomes inverted, this may be a sign of breast cancer." Sorry to scare you, but you should definitely get checked out if this happens.
Sign up here for our daily Thrillist email, and get your fix of the best in food/drink/fun.