Sex Tips for Boring People: Is It Really Possible to Have Two Penises?
Do people actually have two penises?
Mmm... no. Though when Googling this you might stumble upon a slew of websites all spotlighting the same man who claims to have "diphallia" and goes by "DoubleDickDude," there is no actual medical evidence to realistically back this up. Even when consulting with two general practitioners and a urologist, we were unable to substantiate the claim.
What IS possible, however, is that a man might have something known as "ambiguous genitalia," which is actually a thing and could possibly be misconstrued as a second penis. Ambiguous genitalia is still rare, but is more of a legitimate thing. It's a condition in which an infant's external genitals can't really be determined as male or female (read: ambiguous).
Foiled again, DoubleDickDude.
How do you handle a depressed girlfriend or boyfriend?
Toeing the line between supportive and selfish in a situation like this is quite difficult. On the one hand, you want to be there for your partner all the way. On the other hand, you have to think about how this affects YOU in the relationship. This does not make you an awful person.
"You have to think about it as kindness with boundaries," says Dr. Judy Scheel, PhD, LCSW. "You have to make sure your partner knows you love and support them, but if their depression is affecting the relationship, it's also important to take care of yourself. Make sure they know their options in terms of counseling and therapy. Let them know that you aren't going to leave them, because you love them, but that a relationship is not a solo act. Don't treat it as an ultimatum, but let them know you are there to support and help them, but that you are in the relationship together."
This, of course, is true of a garden variety of depression. If your partner is suicidal, it's most important to get him or her to the hospital as soon as possible. "If you're talking about acute depression," Dr. Scheel says, "then you pull out all the stops to get that person to the hospital."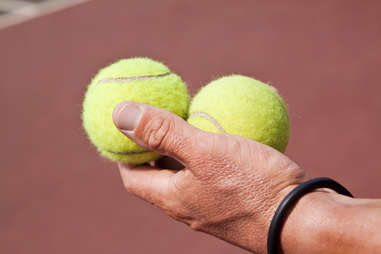 What is the best way to handle a man's testicles during foreplay?
I don't speak for every woman, but I know when faced with a penis I'm meant to pleasure with my mouth, I tend to ignore the balls. They just sort of… hang there. I know they're important, but their role isn't AS clear. But if you want to give a truly epic and unforgettable blow job, you're going to have to throw a little love to the sack.
The best way to handle balls? "Gently!," says Claire Cavanah, co-founder of Babeland and co-author of Moregasm: Babeland's Guide to Mind-Blowing Sex. "Unless he asks for more pressure, of course. The balls are very sensitive. During a hand job, stroke the testicles up as you glide your hand up the shaft. Making everything slick with lube helps. You can use a mini vibe to add some sensation, too. Many men enjoy that kind of stimulation. Licking or sucking the balls is another way to incorporate them into the action. While you're down there, try holding the vibrator to your cheek. He'll feel the vibration that way, too."
Sign up here for our daily Thrillist email, and get your fix of the best in food/drink/fun.