In celebration of Hulu's new original comedy series, Casual, which explores the wondrously crazy world of modern dating, Thrillist did the only thing we could do and not feel ashamed of afterwards: rent a party bus, stock it with casually minded people, and drive it around all damn night, making stops at three of Los Angeles' smoothest bars. We also sent along a special correspondent, writer/comedian/rock star/person-from-Cleveland Dave Hill. Here's Dave's recap of his special, special night.
Dating -- will we ever really understand it? Probably not. But one thing I can tell you for sure is that if you are looking to meet a bunch of smoking hot ladies and -- who knows -- maybe even a few dudes who are awesome to party and take brocations with, you could do a lot worse than to fly to LA and hop on a totally sweet party bus. Which is why when Thrillist called to ask me if I would ride on this totally sweet party bus that was going to be driving around Los Angeles, I was just like, "Yes. How is this even a question?"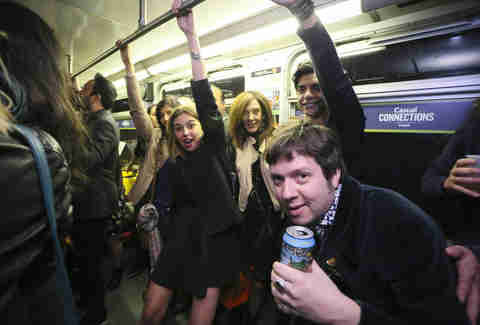 My mission, they explained, was to get some intel on what dating was like in the modern age, what with the coming of Tinder and other digital aids that assist young people in finding love and/or "love". There would also be free drinks and maybe even snacks. In short, I was super pumped. I couldn't wait to get on that thing and start partying with women I was hoping would totally want to make out with me and maybe even make lunch plans for later in the week while we were at it. My buddies Dan and David came along with me because they wanted to party on the party bus too, as everyone knows party buses are like the disco version of Caligula on wheels. For some reason, Dan wore a polar fleece and I was just like "Hey, buddy, how about saving some of the action for the rest of us?" It was great.
Anyway, the bus was leaving from SLS Hotel, a place so classy I'm surprised they didn't unleash trained dogs or ninja bellboys to chase me away what with my rock look and all, so I decided to roll up to the hotel bar with my buddies for a cold one until we got the go ahead to start partying on the party bus. It was at this point that I met this superfox named Bridget, who it turned out was in Playboy, which is awesome. Normally, when I find out that someone was in Playboy, I don't immediately step into the corner and start Googling pictures of her because I am a gentleman. But since I was technically working as a journalist that night, I really had no choice -- this was a prime opportunity to understand in a deeper, more meaningful way exactly how the world's most powerful search engine affected the way we interact with people IRL, especially when you type the word "nude" right after their name. Still, I kept things quick, rejoining the group 15 minutes later to get on the party bus and disappear into the sexy night.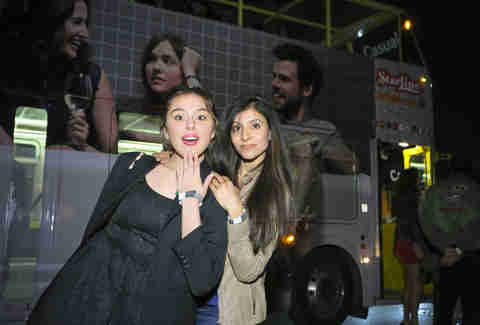 Once the party bus pulled out into the streets of Los Angeles, I decided I should probably start focusing on learning a little something about dating and love and whatnot, so I sidled up to this pretty young thing named Jennifer and took a shot at some conversation.
"Who's got the paperwork on you?" I asked her. "Cuz I wanna sign up!"
As you can probably imagine, that instantly won her over, so I decided to keep the questions coming.
"Are you on Tinder?" I asked her.
"Yes," she said.
"What's that like?" I asked.
 
"It's good if you just want to sleep with someone," she explained. "But it's really hard to meet someone on there who is interested in something more."
"You mean like going to the farmer's market?" I asked her.
"Yes," she said. "Exactly."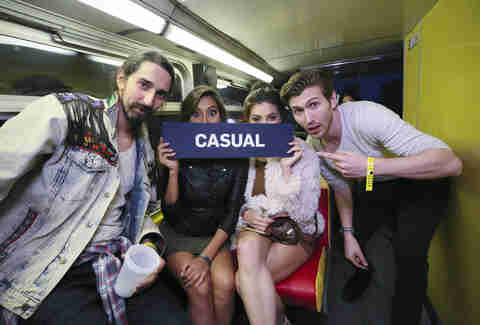 As stunning as I found Jennifer, I was surprised to hear that every guy she came in contact with wasn't interested in "something more." I wanted to tell her that I would take her to the farmer's market whenever she wanted. And that I was swiping right on her in here (I am pointing to my heart right now). But it was at this point that the bus suddenly made its first stop at a cozy little place called Good Times at Davey Wayne's. I couldn't wait to get in there because my friend Dan had been there before and said it was "chill" and also had really good grilled cheese sandwiches. There was even a tarot card reader there, which was great because I had a beef I needed to sort out with the Genghis Khan and Abraham Lincoln and was also getting more and more curious if I might end up making out with any chicks later.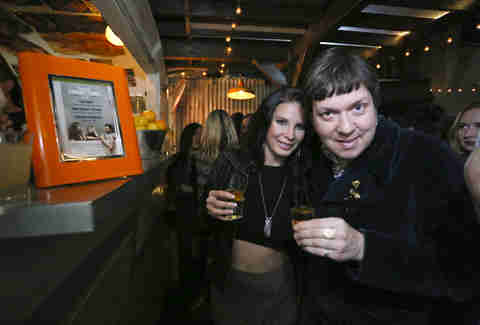 When I walked into the bar, pretty much everyone in the place was just like "Who is that totally sweet dude and how can I start partying with him immediately?" It was pretty cool. It was at this point that I met this major babe from the party bus named Morgan. We got to chatting and quickly agreed to knock back a delicious shot together at the patio bar out back as we stared at the moon and contemplated romance. Or at least that's what I was doing. Morgan was wearing this fun top that bared her midriff so I said, "I almost wore that exact same thing." Then we both laughed because it was so funny. We were having the best time and you could totally tell that a lot of people wanted to be friends with us.
"Would you like to see my home computer?" I asked her, just trying to connect a bit more.
"What?" she asked.
"I said dating in the modern age can be pretty complicated, huh?" I continued.
"Yeah," she sighed all sexy like. "It's easy to hook up with guys but hard to find a real relationship."
 
"Morgan, you give me one shot at a real relationship with you and I'll be harder to shake than Hep C," I smiled.
"What?" she asked.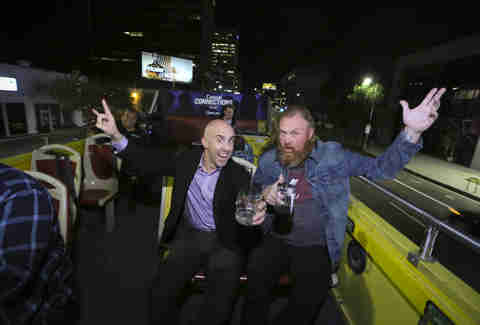 "Nothing," I said, winking at her before excusing myself to hit the boy's room. And as I did, it saddened me to think how Morgan had pretty much told me the same thing that Jennifer did, that finding a real connection -- and maybe even that elusive thing some call love -- is tricky business in an age when within a matter of seconds you can find out who within walking distance is up for a little friction just by pulling out your phone and drooling a bit. The more I thought about it, I almost burst into tears right there in the men's room, but then Dan told me the bus was leaving, so I gave the general a quick shake, pulled myself together, and headed back outside.
Our next stop was a place called Genesis that had a sexy, loungey vibe and a magician that dazzled any and all takers with card tricks and other sleights of hand.
 
"So you're a magician, huh?" I asked him, just trying to sound in the know.
 
"Yup," he said.
 
"Then how about making this disappear?" I said, pointing at my crotch. I'm honestly not even sure what I meant by that but he was cool about it. Afterwards, I chatted up an attractive young lady named Stacy, who was not only a model and an actress, but also new in town, what I like to call the Hollywood Trifecta.
 
"So are you dating anyone?" I asked her, cutting to the chase.
 
"I'm really trying to stay away from that sort of thing at the moment," she told me.
 
"Well, I guess you'll call me when you're ready," I whispered before backing away all sexy like while doing this weird thing with my hands. I'd like to think that made a lasting impression on her but as I sit here typing this, I'm honestly not sure, which only serves to remind me that love can be a funny game and none of us are safe. Also, get tested.
After pretty much owning Genesis, I got back on the bus with all the other young attractive people, some of whom we had picked up along the way because the power of the bus compelled them, and continued on to our final destination, this sultry and mysterious place called No Vacancy. When we got inside, this super excellent hostess was all like "You must leave through a different door than the one through which you entered" like she was from some especially sexy character from Middle Earth who I wanted to have like 68 babies and eat fondue with. But by the time I figured out my approach (it was can't-miss, trust me) it was getting late and I was kind of worried the party was gonna leave without me, so after a quick lap to take in the sweet vibes, wink at a few ladies, and exchange knowing glances with a few dudes I could totally see getting into a fantasy football league with, I hopped back on the bus.
Turns out I got back to the bus a little early, but that gave me a chance to get the male perspective on modern love by talking to the DJ, who was taking a quick break from cranking out all the best jams.
"So how about you? You dating anyone?" I asked him, just trying to be a bro.
"I just broke up with my girlfriend," he sighed while staring off into the night. "Also, today is my thirty-first birthday."
I gotta admit he kind of blew my mind. After all, if a totally sweet DJ playing totally sweet jams on a totally sweet party bus can't find lasting love, then what hope is there for the rest of us? I tried to offer him some sort of comfort by going in for a mostly non-threatening hug, but then he said something about how he had to go check his iPod and ran back upstairs to the DJ booth quicker than a damn jackrabbit.
As the bus fired up its engines and began heading back in the direction of the hotel where this whole crazy night started, I decided to chat with Bridget from earlier.
"How about you, Bridget," I began. "Are you dating anyone?"
"I just got engaged," she told me.
 
"Who is he?" I said, crushing my plastic drink cup in my hand for emphasis. "I'll stab him."
"What?" she asked.
"I said who's the lucky fella?" I continued. I honestly don't know what she said after that because I was too heartbroken to listen. But after a couple minutes, I pulled myself together and Bridget started to tell me more about herself and how she is German and even once had her grandmother stay overnight with her in the Playboy mansion.
"That is the sweetest thing I've ever heard in my entire life," I told her.
"I know, right?" she said.
As the bus dropped us off in front of the hotel and Bridget and I said our hard goodbyes, I suddenly realized something: Sure, dating in these times we live in can be tough. You can engage in traditional sexual positions and maybe even some other stuff pretty much whenever you want. But if you want more than that, you really have to want it and you really have to work for it. And sometimes, even when you find it, like I'm pretty sure I did with Bridget the more I sit here thinking about it right now, sometimes it really is all about timing. And while it didn't work out for me that night, I know it worked out for whatever the hell that guy's name is who's marrying Bridget. And I just want him to know that I think he's the luckiest guy in the world and he better never ever forget it or I will crush him like a grape without thinking twice about it.
Also, if I decide to check out some more pictures of his wife on the Internet in the interest of further journalistic research as soon as I finish typing this, I'm just gonna need him to be cool with that.