Sex Tips for Boring People: Facials, Squirting, and Spotting STDs
Sex Tips for Boring People will take your sex life from vanilla to passion fruit. Or at least from vanilla to vanilla bean. Find more sexy advice right here.
How do I ask my girlfriend to let me give her a facial?
There are times when it's OK to get experimental in bed without any warning. Finishing off on a woman's face is NOT one of those times. But you already knew that. Broaching the subject of facials can be shaky ground. Some women are TOTALLY willing to try it, while others find it straight-up demeaning. You might offend her if she's the latter. Chances are if you're having loud, sweaty, somewhat kinky sex on the reg, she's probably going to be down. Or at least will compromise by letting you do that on another part of her body, if not her actual face. But, as it is with anything sexual, communication is the only way to handle this. "Honey, I'd like to jizz on your face," is probably unnecessary. If you are a porn-watching couple, perhaps find a porn that has that particular aspect to it and tell her that you think that's hot. Her reaction will tell you everything you need to know. If you're feeling really ballsy (pun?), consider asking in the heat of the moment.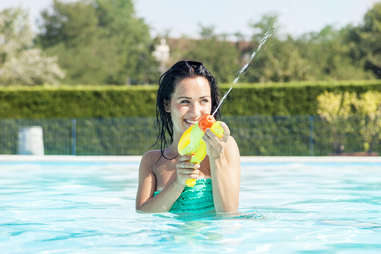 I realize I'm a little late to the party, but can you explain female ejaculation?
You never forget your first squirt. You're there watching your porn, minding your business, when all of a sudden homegirl just starts liquiding all over the place. WHAT IS THAT? Easy: it's female ejaculation, and it is a thing. "The most recent scientific study that they have [has] determined that female ejaculation is not urine, like many people think," says Dr. Laura Berman, LCSW, PhD, and assistant professor OB-GYN and psychiatrist at the Feinberg School of Medicine at Northwestern University. "It has PSA [prostate-specific antigen), which is what is found in male semen. What is believed is that all women ejaculate when they reach orgasm, specifically G-spot orgasm. Most women who don't ejaculate do a retrograde ejaculation, meaning it goes back into the bladder. All women can do it but only a few do it outwardly."
What are the signs of STDs on a partner's body, besides the obvious open sore?
Are you ready to be real scared? Because honestly much of the time there are no signs. Like, zero. So unless you've been tested there's no 100% way to know. Yeah, that shit is real. "You can't assume your partner doesn't have an STD," says Dr. Berman. "A lot of STDs don't have any signs. You can be asymptomatic. That's true with herpes, gonorrhea, chlamydia, and even HPV -- which causes genital warts. Condoms will protect for a lot, but not against herpes or HPV. Upon looking, you're looking for sores, unusual bumps, anything that looks like a wart, or any irritation." But the only way to know FOR SURE is to get tested, and to have an open and honest conversation with your partner, which isn't always realistic if you absolutely must have them RIGHT NOW. But still, it's a good habit to practice because... that shit is everywhere. Wear condoms. Get tested. Oh, and have fun!
Sign up here for our daily Thrillist email, and get your fix of the best in food/drink/fun.
Meagan Drillinger is a contributing writer for Thrillist and personally is not into STDs. Follow her on Twitter, Facebook, and Instagram at @drillinjourneys.