Yes, Women Love Porn, if It's Actually Good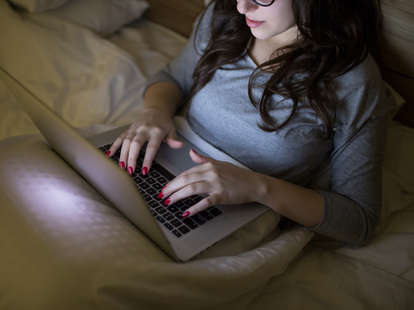 As a pornography researcher, people often explain to me with great conviction why women will never, ever, ever, no, like, seriously never, enjoy porn. "Women don't like porn because they just aren't visual like men," they say. "It's just science," they say.
I never understood the confidence with which sane people believe this. Is there something about ladies' vaginas that somehow interferes with our eyesight? Do our fallopian tubes get in the way of appreciating a shirtless Channing Tatum?
Yes, women are visual creatures too
Women (who are not on birth control) are in fact quite visual when watching porn, according to a recent study by the Kinsey Institute. These ladies actually spend more time looking at genitals in porn than men, who tend to look at women's faces. ALL HUMANS take in vital information (sexy and otherwise) through their eyes. Men and women are visual!
So why aren't more women watching porn?
Survey after survey suggests women don't watch porn as much as men. Twenty-five percent of men and 8% of women watch pornography, according to a 2013 Pew survey. While both numbers seem laughably low, other surveys show similar 15% to 20% gaps between men and women whether the populations are Danish college students or the American public.
If a woman doesn't like porn, perhaps it has more to do with the caliber of the product and whether it has what it takes to satisfy the rest of a woman's sexual appetite. Which is why so much feministy porn is surfacing... and why the scales are tipping. A recent online volunteer study of almost 5,500 people found that while more men than women consume pornography overall, the frisky young women aged 18 to 25 are actually consuming MORE porn than their male counterparts.
Either youthful experimentation will fade with age while men's interests stay put, or -- more likely -- we're experiencing a cultural shift in which women are more comfortable exploring pornography in ways not encouraged in the past.
And why are heterosexual women watching gay porn?
In the same way the internet has allowed gaggles of horny teenage boys (and men) to surf to their kinky hearts' content, it has also allowed women to explore different displays of sex in the private glow of their own computers. And so women have been exploring. And what they have been finding, and liking, according to Pornhub analytics, is mainly the gay stuff.
Women's porn patterns (collected using Google Analytics) suggest the top-two categories for women are lesbian and gay men, as noted in the 2013 Pornhub report.
As a porn researcher, this information fascinates me. So I asked my students: why are women clicking on gay porn? I should note that most of my male students just looked perplexed when I asked them this question, as if female sexuality is still a thing too complex to even contemplate in college. My female students, however, gave some interesting insight.
Gay porn is hotter, kinder to women
Some students told me they like lesbian porn because it generally has less spitting, gagging, and general ugliness than the "straight stuff." Another student told me in the most matter-of-fact way that lesbian porn is the "only way to ensure you actually see a woman really cum." The fact that women seem to be generally enjoying themselves and not faking it seems to be a turn-on to gay and straight women alike.
As for the gay male stuff, my students said this was simple: two hot men, genuinely enjoying themselves. Women told me that men in gay porn were more attractive than men in straight porn; they were less bulging neck veins and more smooth, lean men with handsome faces that were actually shown in the porn. Not surprisingly women seem to like to see the faces of men when watching porn. Traditional straight porn is infamous for the floating penis look, where they cut off the head of the male actor and focus on the smashing of genitals.
Interestingly to me, a few women said maybe women are just looking for stuff they aren't experiencing or seeing in life; maybe it is less about a turn-on and more about an exploration.
It is about seeing something totally different to them.
Mainstream porn is still set up for men
It is no industry secret that most porn is made for men; justified by producers claiming they don't cater to women because women don't like porn. And so the industry continues to make the same boring, often misogynistic porn decade after decade: hair-pulling, awkward positions, fake bodies, throat-fucking, and good Lord, the spitting. So. Much. Spitting.
Even men who don't like all the genital-slamming of porn will still watch it. While some men need and love that aggression to get off, that violent jazz doesn't get in the way of enjoyment for men who don't need or even like it.
Some women, on the other hand, may not be able to ignore that stuff (although let's be fair; some women probably do love all different kinds of porn -- and kudos to them!). Having to ignore or avoid all the distasteful elements of porn is enough to put a lot of people off the experience altogether. As for me? Even after researching porn for years, if I'm in the right mood I can ignore quite a few things in my pursuit of finding something just a little naughty and different to shake things up.
Porn is too often of one fantasy
The truth is, porn is often labeled as fantasy but for the most part it is one specific and rather lazy fantasy repeated over and over again. Not all fantasies are out there. Not all possible visuals to enjoy are displayed.
It is not that women aren't visual or that women don't like porn; it is that most porn has yet to offer us something that visually satisfies us, something that is worth our time.
Both men and women need more options. I focus on women in my research, but I've been shocked at how many men I've come across who also really don't like porn. They will watch it occasionally, but they really want something better.
The modern porn era has been allowed to be lazy and cheap. Other than a few pioneers, most porn is like bad Hallmark rom-coms; they have stuck to the same boring, tired script. And yes, we continue to get off, but the truth is we want more.
No one gets to dictate what's sexy
Women have been told for centuries what our fantasies are supposed to be; we have been told what we should like and shouldn't, how we should look and how we shouldn't, how we should act and how we shouldn't. We have been told, not asked, that we don't like porn, that we aren't visual, that we care more about a man's character than his cock.
But perhaps the world is finally opening up a bit -- finally allowing a little bit of space for women to create their own fantasies. Increasing numbers of young women watching porn possibly indicating that women are taking this opportunity to explore.
Porn manufacturers should take this opportunity to create something different. Stop using the tired tropes of porn past. Don't create something "for women." Don't create for men. Create something different, some different kind of sexy.
Sign up here for our daily Thrillist email, and get your fix of the best in food/drink/fun.
Niki Fritz is a writer of feministy and occasionally funny words, a drinker of coffee and whiskey, and a studier of pornography. (No legitimately! She's a grad student in the Media School at Indiana University.)