Debunking the Myth That 'Fifty Shades' Caused a BDSM Revolution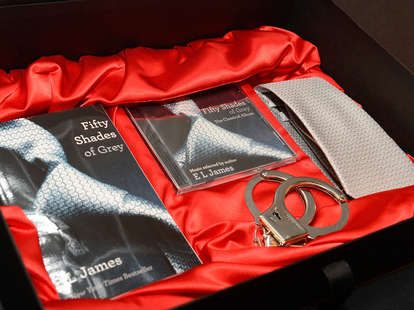 Andrew H. Walker/Getty Images Entertainment/Getty Images
So it turns out, the Fifty Shades of Grey franchise has not led to the BDSM revolution people think that it has.
I know this, because despite the multitude of misconceptions the books and films (Fifty Shades Darker drops in February) would have you believe, I'm in the down and dirty, sex-lovin' minority of a mere 19% of the population that tried rough sex and loved it. And when you're in this circle, you talk to a lot of people about how they discovered the world of BDSM. You're also privy to studies on the topic, like a recent one by adult site Harriet Sugarcookie, exploring how people actually get turned on to the BDSM scene. (Hint: It's not E.L. James' doing.)
To assume the Fifty Shades mania has somehow pulled back the proverbial curtain on rough sex -- after centuries of programming women to be demure creatures in bed and put patriarchal sexual needs before ours -- is just asinine. Here's why.
Fifty Shades doesn't owe its appeal to depictions of rough sex
Sure, Fifty Shades put the world of BDSM on the mainstream map; but don't think for a second that every soccer mom is now suddenly begging for rough sex.
According to that recent survey conducted by adult site Harriet Sugarcookie, very few respondents (3%) actually say they got turned on to rough sex by the books or their big-screen adaptation. Actually, the big thrust (if you will) of the film's appeal lay more in the thriller-esque stalking dynamic -- which, if you've ever been in a healthy BDSM scenario, you know has no place in respectful sub/domme relationships.
Kinky women in the study discovered the joys of BDSM from friends (5%), girlfriends (35%), or porn (55%)... meaning Fifty Shades ranked dead last in its impressiveness.
So while rough sex is relevant and E.L. James may have sold one million copies for the Kindle, the English author doesn't deserve all the credit -- or even most of it.
Sexual proclivities tend to surface in early adulthood
I became interested in sexy power exchanges in my mid-20s. Though I usually assumed a dominant role with my (then mostly male) partners, it sparked an interest in control and care.
My between-the-sheets tendencies have often battled my politics: as much as I'm a get-'er-done gal by day, behind closed doors I found what I really wanted was for someone to take charge. And as my sexual exploration progressed as an adult, my role as dominant and submissive ebbed and flowed with various players; and sometimes, even the same partner.
But whether BDSM found me or I found it, in my 40s I've succumbed to my inherent submissive tendencies, with the exception of occasional dominant role play. Simply put, rough sex does it for me. It allows me to be in control all day long, and relinquish power at night. The rush of forking over power to someone else is freeing. It isn't limited to BDSM play... though I admittedly enjoy this genre and many of its permutations.
When I see a movie like Fifty Shades, I feel mostly like the BDSM community is being totally misrepresented. I also feel angry that the series is touted as emblematic of sub/domme relationships, or seen as groundbreaking when there are so many better resources out there.
Attention, world: E.L. James didn't invent BDSM
At best, Fifty Shades has made B-grade erotica and R-rated porn mainstream. And I'll concede that the books and movies have probably created a "sex in the suburbs" effect for lots of middle-aged couples that needed to reignite some spark (though as of yet, there's no concrete data to support this theory). But the franchise is by no means an original story; it's been done before -- and better. Think Belle du Jour and Bitter Moon, for starters.
It also can't make people like sex acts they didn't before get turned on by. "I doubt a movie explicitly about BDSM would awaken a desire for kink in someone who wasn't already seeking out those themes elsewhere," says Kitty Stryker, kink educator. "I think there's some inherent interests we have, but I also strongly believe sexuality is influenced by our experiences and our environment." NOT, in other words, by the experiences of other people -- or what's depicted in movies.
Sign up here for our daily Thrillist email, and get your fix of the best in food/drink/fun.
Charyn Pfeuffer is a Thrillist contributor who will always prefer to be blindfolded, tied up, and spanked 'til it stings. Follow her on Twitter @CharynPfeuffer.