I Went Looking for Love at Walmart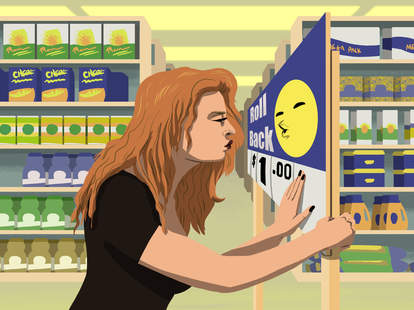 All those Craigslist missed connections, blogs, and bona-fide studies showing universal favoritism toward the grocery chain can't be wrong. Walmart is THE place to be: to shop, to hang out, and... to score?
Yup. Walmart is rated as the most popular place to find love in 15 states. True story.
 
Take LeAnne Shepard for example. She fell in love with her husband Curt at the Decatur, Texas, Walmart location... where she just so happened to work as an overnight stocker. Things got flirty one night as he loaded bags of dog food onto shelves and she put out a bleach display an aisle over. They got hitched within the year and are still together almost 12 years later. OK, I know. A love connection can happen anywhere, but still! It warms my heart that this match flowered after hours over discount dry goods. Cue all the feels.  
 
Los Angelino Donald Adkins is a Walmart regular, and for pick-ups, swears by the lunchtime crowd. "Lunchtime is the best," he says, "because that's when all the business professionals are out. If you need something from Walmart, that's when you go, during your lunch time." He doesn't recommend hanging out in sections of the store where males tend to shop, like tools or auto parts. Duh. Out of the 50 times he's tried to score, he's been successful... three. Those odds are as dismal as the batting average of the San Diego Padres -- but you've got to give the guy props for trying.
 
So, in the name of investigative (ahem) journalism, I decided to see what kind of attention I could stir up at my local Walmart.
Go big or go home
Until this experiment, I'm proud to say I'd only been to the mega-retailer exactly three times -- two of which happened during a road trip through Canada, because it was the only place stocking affordable cheese. (Damn the Canadian dairy cartel. I won't even comment on milk, butter, or ice cream prices.) 
I'm the kind of gal who supports small businesses, hates McDonald's, and refuses to buy toilet paper in bulk. Big-box retailers like Costco and IKEA have been known to induce full-blown panic attacks. Still, I like to save money, so I semi-understand the appeal.
Prior to my big Walmart adventure, I spent way too much time thinking about what to wear. Sure, I could've gone with something safe, like slippers and pajama bottoms (actual outfits seen on all my Walmart visits). Instead, I decided to wear something suggestive, but not overly so. I mean come on -- I was shopping on a Friday afternoon. And even though it was the week before Valentine's Day, I really didn't think fashion overkill would be necessary. There had to be some lovelorn dude shopping for lightbulbs in need of a date. I paired a scoop-neck top and a not-too-tight mini with just a hint of red thong. Frye ankle boots seemed like sensible footwear. In case my intentions were unclear, I wore a swipe of red lip gloss. Let me tell you: I looked pretty fucking hot. This was no trip to the dog park.
A shopping cart and a dream
I arrived at the Walmart Supercenter in Renton, Washington with a positive mental attitude and a skip in my step. Meandering the aisles, I made sure to offer direct eye contact -- and my best million-watt smile -- to anything with a dick. As I moved from produce to an endcap of $1 Pringles, I wondered if love really could be found at Walmart. Would I meet the Ryan Reynolds of my dreams who'd invite me out to the parking lot for a romp in his RV? A woman could only hope. (Walmart considers RV travelers among its best customers; many locations offer free overnight parking. Lots of impromptu booty-call opportunities right there.)
 
Thirty minutes in, my most promising prospect was a much older guy who looked like he belonged on an episode of Dateline. His dark, creepy eyes held mine a moment too long and I quickly scurried away. I'm a woman with boundaries and draw the line at getting chopped up into bits and stuffed in the trunk of a Buick. Thanks, mmm, no thanks.
 
Seriously. I didn't think it would be so hard to attract male attention. Damn you, Walmart and all your earnest money-saving shoppers! Eyes on the price tags, not on pussy.
 
Desperate times call for desperate measures, so I decided to telegraph my desire with a few single female stereotypes. (In real life, I don't buy into any of this shit, but this was an experiment, so I wasn't afraid to get down and dirty.) I stuffed a cat-scratching post into my cart, followed by bottles of Skinnygirl wine, pints of Ben & Jerry's, and every Hugh Grant movie I could get my hands on. Lube and condoms seemed too forward; ditto for lingerie. If my cart didn't scream, "I'm single and fuckable," I was all out of ideas.
Hot on the prowl
I proceeded to hang out in hardware for what seemed like an eternity, ready to play the damsel in distress. No one came to my rescue. The kicker was that it was shopping day for a nearby assisted-living facility. Surely, there was a spirited grandpa in the mood to spew inappropriate comments my way? Alas, I couldn't even rally some senior-citizen action. What was wrong with me?
 
The only guy that made a conscious play for me was flossing his teeth while delivering his barely coherent pitch. Trust me, I love oral as much as the next gal and I'm all for healthy dental habits, but public gum-grooming is a definite deal breaker.
 
After I managed to stuff more than $100 of unnecessary crap into my cart, another guy tried to chat me up in the checkout line. He was super stoked to score a bottle of Fireball (TGIF!), and all too eager to extoll the booze's virtues. (Note: He'd been out of college, if he even attended, for decades.)
 
"What kind of booze do you drink?" he asked.
 
"Real booze. Not the flavored kind," I snapped back.
 
Immediately, I realized that I sounded like a brat. But then again, there'd never be a match made in flavored-booze heaven for me. I'm a purist, and products like Pinnacle Cinnabon vodka don't exist in my world. Cinnamon + cream cheese in a vodka delivery system? Uh, no. That's fucking disgusting. I'm from Philly, born and raised with cream cheese practically coursing through my veins, so I'm allowed to say that.
Missed connections
In the end, I didn't find love, like, or lust at Walmart. Hell, there wasn't a single person I'd consider sharing a can of Pringles with, much less spit. Maybe I was too confident, outgoing, or stood too tall. All I know is that I left Walmart feeling like a failure for a hot second, until a reasonably attractive guy wheeling his shopping cart stopped to say, "Looking good. Looking good." Aww, yeah. Positive male affirmation. My day was complete. At least there was a hint of hope.
I kid.
 
I may not have scored digits or a date, but I left with my dignity intact. Besides, this was never really about true love, but more about testing a theory. So is Walmart really the best place to score a date? I guess it depends upon what you're looking for. And most definitely not in Washington State. There are far crazier, more fun places to meet a future ex.
Sign up here for our daily Thrillist email, and get your fix of the best in food/drink/fun.
Charyn Pfeuffer is a Seattle-based freelance writer with a pretty high bar when it comes to sex and relationships. As much as she likes $1 Pringles, she's not willing to settle or wear slippers in public. Follow her on Twitter: @charynpfeuffer.