F*$k, Marry, Kill Is Now a Dating App and It's Kind of Genius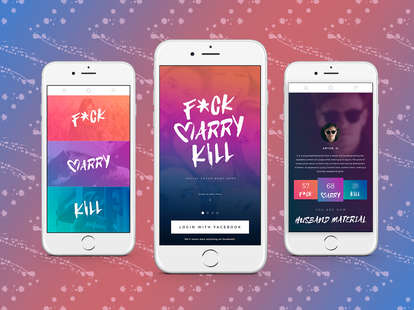 FuckMarryKill/Nina Gonzales/Thrillist
FuckMarryKill/Nina Gonzales/Thrillist
I don't know about you, but Fuck, Marry, Kill was in the top five for my all-time favorite games as a preteen. OK, I admit it. I definitely still play this with my girlfriends. It's fun. You know you love it.
So, why not apply the game to dating?
In a world so overcome with exhausting dating apps like Tinder, Bumble, and Hinge, wouldn't it be fun if we could play a game while finding a potential mate?
This is where the new Fuck, Marry, Kill dating app comes into play. It's the dating app to awaken your inner mean girl! We all know she's dormant in there, waiting to be released. Instead of choosing to screw, wed, or murder famous celebrities or people you work with, the app gives three pictures of strangers.
You have to choose one to fuck: the one-night stand, just-trying-to-get-that-dick guy. One guy to marry: the dude who's boyfriend material. And one to kill: the guy you wouldn't bang even if you were the last two people on Earth after a nuclear holocaust.
The app's creator, Portugal native Rui Gouveia, says it's a cool new way to meet people in a fun and playful manner, "We're seeing two types of users: the ones that use FMK just for the fun of it [and] others for the possibility of meeting new people."
Oxygen does not share that adoration, saying, "The very idea of 'killing' a total stranger (or being 'killed' off) is creepy and it opens up the issue of encouraging real dating-related crimes." I think that's pretty dramatic. Date-related crime? Come on. I don't care if this makes me a bitch: Sign me up. Don't be so butthurt, Oxygen, baby. We still love you.
So, where does the whole "finding love" part come into these shenanigans? Watch the video below and find out the possibilities this game has to offer.
The app lets you check your rating to see if you're more fuckable, marriabl,e or murderable. It then matches you up with the people who dig you and you can chat if you want to.
The concept is a little vicious, sure, but it's all fun and games. Just like the party-game version of FMK, the app does not intend for you to actually "kill" someone and if you're not intelligent enough (or sane enough) to realize that, maybe you shouldn't be on dating apps in the first place. We let 7-year-olds play Grand Theft Auto, so maybe we shouldn't worry about FMK.
Personally, I'm just ready for a new and fun game that can let the boring old swipe crap go by the wayside.
Sign up here for our daily Thrillist email, and get your fix of the best in food/drink/fun.