Adventurous Sex Positions That Are Actually Super-Easy to Pull Off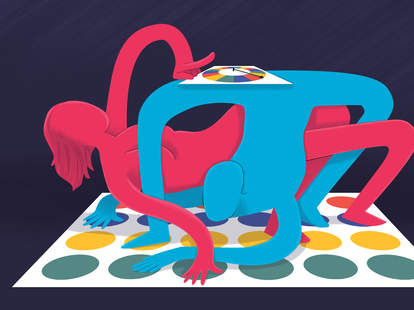 Everywhere you look, there's some new sex position being touted as a "must-try" move.
The problem is, the majority of those amazing, yoga-esque, Cirque Du Soleil sex positions are basically impossible to do unless you're a gold-medal gymnast or an actual pole professional. It's easy to fall into a routine when the alternative is a potentially mortifying trip to the ER.
So we went out, did the research (hehe), and found some adventurous-but-not-difficult sex positions. We all deserve to light the fire and try new sex positions without breaking a bone or dying. Here are seven sexy-ass positions even the most uncoordinated noobs among us will be able to pull off without a hitch.
Jason Hoffman/Thrillist
Lotus + vibe
For this one, the man sits down with his partner on his lap, facing him like a human pretzel. This limits your mobility and allows you to rock back and forth at your own pace, as opposed to bouncing up and down. Add something extra to the experience by bringing in a vibe to use with one hand.
It gets better! Your torsos being so close together will keep the vibe in place so you can rock against it. Hands-free fun for everyone.
Open-legged spoon
The spoon is usually a cop-out when you and your partner are too lazy for sex but too horny to just watch Stranger Things. Sure, spooning is totally sweet and intimate -- but it definitely doesn't have to be. Instead of having one partner enter the other from behind while you're both on your sides, the person being penetrated can roll onto their back. The penetrator should be below the partner's legs, which can be spread. This offers really deep penetration -- and excellent access for manual stimulation.
All-fours oral
Now, I think we can all agree there's no foreplay like a little oral sex. But, sometimes you have to spice up even the greatest of things. Instead of laying back for oral sex, get on all fours. The sensation of oral from below is a totally new experience than being on your back. A twist on regular oral sex is hot as hell and super-empowering.
Sidesaddle
An interesting and unique take on cowgirl, this position adds new depths (literally) of intimacy. Instead of sitting right on top, twist to the side so you're sideways to your partner. It gives slightly less range of motion for slower, more passionate sex. It also looks super-sexy. It seems a little bit complicated, but it's actually super-easy once you get into it.
Standing chair lift
In another welcome modification of standing sex, place one foot on a chair to add for easier access and less body strain. It's much easier to have an orgasm when you're not struggling to maintain an erection.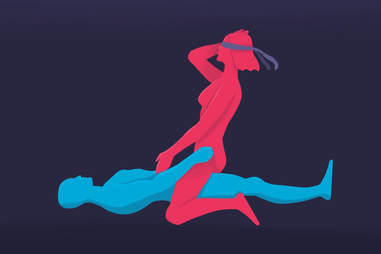 Jason Hoffman/Thrillist
The blind cowgirl
Take charge of the sexual situation like the badass you are and add a blindfold to your romp. One partner gets on top and puts an eye mask on. All the sexual sensations will take on new depths for the person blindfolded. The person without the blindfold is also free from all weird, naked inhibitions.
If you don't have an actual eye mask, a scarf or T-shirt works nicely.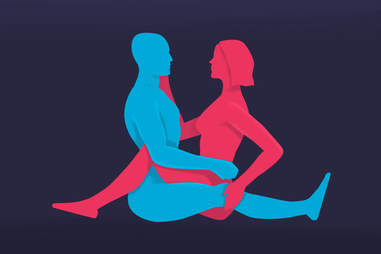 Jason Hoffman/Thrillist
Seated face-to-face
This take on the sexy lotus lets you have the same face-to-face passion with a shallower penetration, and better G- (or P-) spot access. Instead of sitting on top of your partner's legs, put your butt between them and slightly close your knees. It's a tighter squeeze for him and even less work for you. The angle is super-fierce and keeps the fire going.
Sign up here for our daily Thrillist email, and get your fix of the best in food/drink/fun.