My Office's IT Guy Accidentally Saw a Dick Pic on My Phone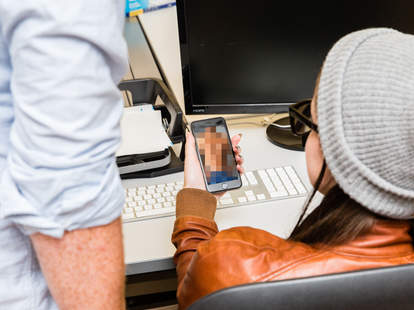 There is no shame like accidentally queueing up a dick pic on your phone in front of a co-worker. None.
And what are you supposed to do when that happens? I'm asking because I still don't know the answer. Quit? Suicide? Either seemed like a fair option in the moment. This was the IT guy at my office. Looking at a dick pic. On my phone. Keep your pants on and continue reading for the extended, completely uncut version of the story.
My day began normally enough
It was a Friday, the morning after I'd had my
iPhone
replaced at the
Apple Store
. I was having trouble accessing the office Wi-Fi on it, so I popped my head into the IT guy's office and asked for help. He told me he'd email the network password to my computer; so I headed off to my desk and waited.
Meanwhile, sans office Wi-Fi, I checked my phone and saw I'd received a Facebook message from an ex. Well, our relationship was more of a fling that dragged on for long enough to make severing ties extraordinarily difficult. Anyone else been there? After a series of dud dates and flakes I was backsliding, and took up texting him against my better judgment for some positive attention.
Don't worry, I fully plan on having my psychotherapist mom talk some sense into me later. Anyway...
Then the sexting started
He messaged to say he took the day off; teasing that he was still in bed, and I should have skipped work to join him. We flirted back and forth. I wanted him to tell me he wanted me -- I just never asked him to show me how much.
After my last response, I turned my phone over to put my titillating distraction out of sight and mind. I dove into my morning routine of responding to client emails. A few minutes later, the IT guy showed up at my desk with the Wi-Fi password.
With him standing directly behind me, I typed in my passcode to unlock my phone. Up sprang my message screen -- along with a palm-sized dick pic from my ex.
There was no way to unsee the image
"Woah!" my IT guy said in surprise, turning away and taking a step back. I gasped and covered my phone while trying to exit out of Facebook Messenger.
"Oh my God!" I squealed, total panic setting in. "I'm so sorry!" I said, wishing it would go away. I put my phone down on the desk as far away from me as possible like it was a disgusting creature and faced the IT guy. "I didn't ask for that!" I said earnestly, willing him to believe me. Without letting him respond, I continued my manic ramblings and incoherent apologies peppered with nervous laughter. "Can we please pretend that didn't just happen?"
"What?" he asked, playing along. "That was a banana, right?" Oh, dear God! I let out a hysterical laugh. "Not a very impressive one though…" he finished with a smirk. At this point I was ready to crawl under my desk and die. I thought that time he and I swiped right on each other on Tinder was embarrassing. No. This was a whole new level.
"No," I agreed in a near whisper, "I am not impressed by it at the moment." I needed him to go away. Why was he there in the first place? Oh, the Wi-Fi. Dammit! With a shaky hand, I grabbed my phone and re-entered the passcode. Had I closed the app? Would the dick pic still be there? Why couldn't he have sent his dick pic through Snapchat like everyone else? I held my breath and exhaled a sigh of relief when the phone came to life on the regular app menu. No dicks in sight. "What's the network and password?" I felt my face burning.
The IT guy told me to go to my Wi-Fi settings. I opened my email by mistake, followed by Bluetooth. Shit. I couldn't focus. He pointed on the screen to the correct office network. He told me the password but I wasn't hearing him. Instead, I was typing "password" as quickly as possible. Nope, that didn't work. He gave me the password again, which my fumbling fingers mistyped. Fuck.
IT guys see the craziest shit
He put his hand on my shoulder. "Relax," he said. "It's going to be OK." Would it? In what world would this
ever
be OK? Then again, I thought optimistically, maybe this wasn't the worst thing he had been exposed to on the job.
IT guys in my office have seen some pretty weird stuff. They told me about a laptop with a hole in the outer casing where a candle burned through it, and a CD in a former colleague's disc drive full of 100-plus images of a dog being photographed with a man dressed as Santa. What's weirder is that the guy maintained that this wasn't his disc of images at all -- and that he had never seen that Santa or dog in his life. Then there's the mysterious person in our office who keeps popping up on the list of available networks as "Booby Network," giving a whole new meaning to the term "personal hotspot." And those are just the PG stories they could share without risking their own trips to HR. For all I know they see nude pics on employee computers every day.
Still, the situation was bad. And I wasn't making it better. In an insane act of desperation: I hugged the IT guy. I don't know why. A crazy attempt to make things OK? Or my way of lumping us together as unsuspecting victims of this act of indecent exposure? I let go, took a deep breath, apologized again, and relinquished command of my phone for him to enter the password -- which of course only took him one try.
Let's pray HR never hears of this incident
I'm convinced my IT guy now thinks I sit at my desk at all hours of the day checking out dicks. I see no way to correct this misconception. Maybe if I call him over and open my phone to a picture of a vagina? No, that won't help. I'll keep brainstorming.
In the meantime, I'm not waiting around to hear from Prince Dick-Pic Charming. About a week after the incident, he texted to say we couldn't talk anymore because he is trying to "make things work" with his ex. Better her than me! The only call I'm waiting on now is the one from my office's HR department about appropriate work behavior and what constitutes sexual harassment. I seem to have stayed under the radar thus far -- but with my secret out, there's just no telling.
Sign up here for our daily Thrillist email, and get your fix of the best in food/drink/fun.
Lauren Boldt is a Thrillist contributor living in New York. She requests all dick pics between the hours of 5pm and 9am to avoid another incident like this. Follow her on Twitter @Life_of_LaurenB.