Everything Straight People Don't Realize About Gay Sex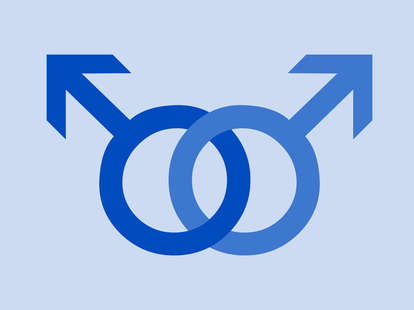 Oren Aks/Thrillist
Oren Aks/Thrillist
The basic mechanics of gay male sex remain a mystery to many.
It's not surprising, considering the lack of gay representation in entertainment and the disturbing void of sex education in schools. Ever hear of a "no promo homo" law? It's a heinous education law that expressly prohibits teachers from discussing LGBT issues -- including sexual health, which can lead LGBT youth to feel invisible, anxious, or depressed.
I don't know about you, but all I got from my health class in Catholic school was a small stick of Old Spice deodorant and the unsettling feeling that Jesus would know when I masturbated.
When a friend blurted out, "You can have sex facing each other?!" after we'd finished watching a racy sex scene on HBO's tragically short-lived series Looking, I knew it was time to take a stand. What follows are the building blocks of gay male sex, hopefully providing acceptable answers to all your questions about doggy-style, tops, bottoms, and who pays on a date.
Kidding -- don't you dare ask that last one.
Yes, we can perform missionary
And standing. And cowgirl. And spooning. These aren't hetero-patented moves, y'all. We can even "flip-flop," which means you each get a turn penetrating in one or more of these positions.
It might take a little more dexterity to pull them off, but shhh, that's why all gay men are so jacked.
Lube is a (gay) man's best friend
You know the famous scene in Brokeback Mountain where Jake Gyllenhaal and Heath Ledger (RIP) do it in a tent, and Heath simply spits into his hand before slipping it in? NOT HAPPENING.
Think of that move as the opposite of a slip-and-slide. That's a man's ass. There's no natural lubricant in the equation here, including saliva. Store-bought lube is absolutely essential if you want to avoid tearing and general discomfort.
Sometimes it gets, uh, messy
Yes, I'm talking about poop. YOU KNEW WHAT WAS GOING ON HERE. It isn't an inevitability, but it's certainly a possibility, and that's OK. As we all learned from the trenchant children's book Everybody Poops, everybody poops. You just shouldn't eat, say, a Chipotle burrito with extra guac or a heaping plate of Indian curry right before you have sex. And you should maybe take an extra minute to ensure you're all clean downstairs.
Some men even use a douche or enema beforehand to clean those hard-to-reach spots. It might not be super sexy, but it's better than the alternative.
Spontaneity, who?
Gay sex isn't Nike: You can't just do it. As I've mentioned, you have to think about things. What did you eat last night? How clean are you? Is there lube nearby? Anal is a bit more complicated and often more painful than vaginal sex. Therefore, gay men don't always have the luxury of getting it on at the drop of a hat.
Penetration isn't everything
Sometimes penetration isn't even in the cards. Maybe you don't really enjoy anal, or you have a medical issue like IBS. Or maybe you just don't feel like dealing with condoms, lube, and enemas.
That's totally fine, because extended foreplay, oral sex, rimming, and mutual masturbation are all excellent alternatives. They're less complicated, more spontaneous, and can be just as pleasurable.
Bigger isn't always better
Sure, a big penis might be nice to stroke or gaze at longingly. But if the penis is too large, it's not fitting in the back door. Ain't nobody got time for that.
Literally. It takes too much time to work up to it and stretch things out. Although, poppers -- a substance some gay men take to relax muscles to make anal sex easier -- can help with that issue.
Safe sex is great sex
An actual sentence someone said to me after I came out was this little gem: "Just don't get any diseases."
Years after the AIDS epidemic, there's still a pervasive misconception that gay sex is dirty and undoubtedly leads to STDs, which simply isn't true. Today, we even have PrEP: a pill that, taken daily, helps prevent HIV infection. Oh, and it ought to go without saying, but if you're HIV-positive, this doesn't make you dirty or unbeautiful. You can still have sex: with condoms, and with responsible sexual behavior that's less risky (e.g., oral sex or the HIV-positive person acting as the receiver).
We have preferences, like top and bottom
We want to know if our partners are tops, bottoms, power bottoms, or versatile. These aren't just arbitrary labels. They help us figure out who's comfortable doing what -- and that, my friend, is sex-positive. Helping your partner get the most pleasure out of sex is something we should all strive for, and when both are capable of penetration, it's even more necessary.
I know you're wondering, so: A power bottom is a man who both receives the penetration and dominates during sex, taking control of things like speed, depth, and position.
No, there isn't a guy and a girl
"So, who's the guy and who's the girl?" Smh. This is no place for heteronormativity, people. A gay man is still a man regardless of whether he prefers to top or bottom. Restrictive gender roles have no place in any relationship, and certainly not a gay one. If both men identify as men, then they're men.
It's incredibly romantic being with someone of the same sex, someone who so closely understands your body. One playing "the guy" and the other "the girl" is irrelevant.
But we do aim for a G-spot
Or, "P-spot." It's the prostate. We're not just sticking it in to stick it in (OK, sometimes we are) -- there's a goal involved. Maximum pleasure comes from stimulating the prostate, which can be intensely satisfying and lead to a more fulfilling orgasm.
Straight men and their fragile buttholes seriously don't know what they're missing, unless they've let their girlfriends strap on a dildo and peg them, in which case, I applaud their efforts.
Sign up here for our daily Thrillist email, and get your fix of the best in food/drink/fun.
Tom Vellner is an associate staff writer at Thrillist who hopes his mom didn't get this far in the article. Follow him on Twitter @tomgvellner.