A Brief History of Sexy Nurses
Shutterstock
Shutterstock
These days anything can be a sexy Halloween costume, and although scandalous pizza rat might be this year's trendiest choice, there's one scantily-clad stereotype that's never going away: the sexy nurse.
A quick search for sexy nurse returns 16,796 results on Amazon and infinity videos on less-kid-friendly sites, which begs the question as to how this class of hard-working, life-saving medical professionals became so intrinsically linked with the "Say Ahhh! Sexy Nurse Costume" and the late-night viewing habits of lonely dudes everywhere. Where did this begin? We did some vaguely NSFW research to dig up the primary cultural touch points for today's sexy healthcare practitioners. And then cleared our browser history.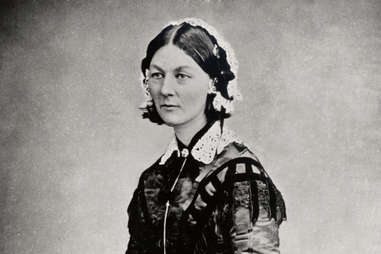 Many of the original nurses were also prostitutes
As unbelievable as it seems, the sexy nurse stereotype actually dates back to the Protestant Reformation in the 1500s. Women were generally expected to tend to their families, and thus only the lowest class of women entered the workplace. Due to the high risk of infection and dreadful working conditions, nursing was the literally the most dead-end job around. The only job it was a step up from was prostitute, which led the ranks of nursing staffs to be populated by workers of nebulous sexual morals who would often hold down two jobs, one providing healthcare, the other providing... something else.
This didn't change until the mid-1800s thanks to the advocacy of Florence Nightingale (pictured above), who, despite her adult film-ready name, was famously reported to be celibate. She made great progress toward making the field of nursing more professional, but nursing was still a popular career jump from prostitute, partly thanks to laws like a New York City policy of offering convicted prostitutes the option of either jail time or nursing work.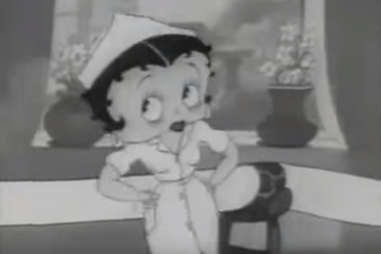 Nurses were even sexy in black and white
By the 1930s nurses were no longer turning tricks on the side, but the sexy rep still stuck. A common vaudeville trope was the cat-call of "Helloooooo, nurse" (which was later adopted as a catchphrase/character in the 90s series Animaniacs). Even in the 30s, cartoons were busy sexualizing nurses, most notoriously via proto-pencil-drawn sexpot Betty Boop, who famously squeezed her size-zero waist into a nurse's uniform, giving a whole generation of kids weird feelings that they'd long carry into adulthood.
V-J Day kicked off a sexy-nurse obsession
The day was August 14th, 1945. The place was Times Square, and the photo was of a sailor doing what those filthy seafarers do best: tongue-kissing a beautiful woman, who happened to be wearing a nurse uniform. The image symbolized the elation of triumphing over Japan in WW2 and went on to become one of the most enduring photos of the 20th century, but also set off a recurring nurse theme in pin-up photography and earned a place in the mental spank bank of Navy men for years to come.
M*A*S*H turned up the heat on military nurses
The juxtaposition of military men and their sexy female saviors hit another mainstream touchstone in 1970s M*A*S*H, where Margaret "Hot Lips" Houlihan earned her nickname thanks to steamy sex talk with Robert Duvall. It shouldn't be much surprise that the only female-dominated role on a stressful military base would become objectified given soldiers' lack of sexual outlets and longing for girlfriends back home.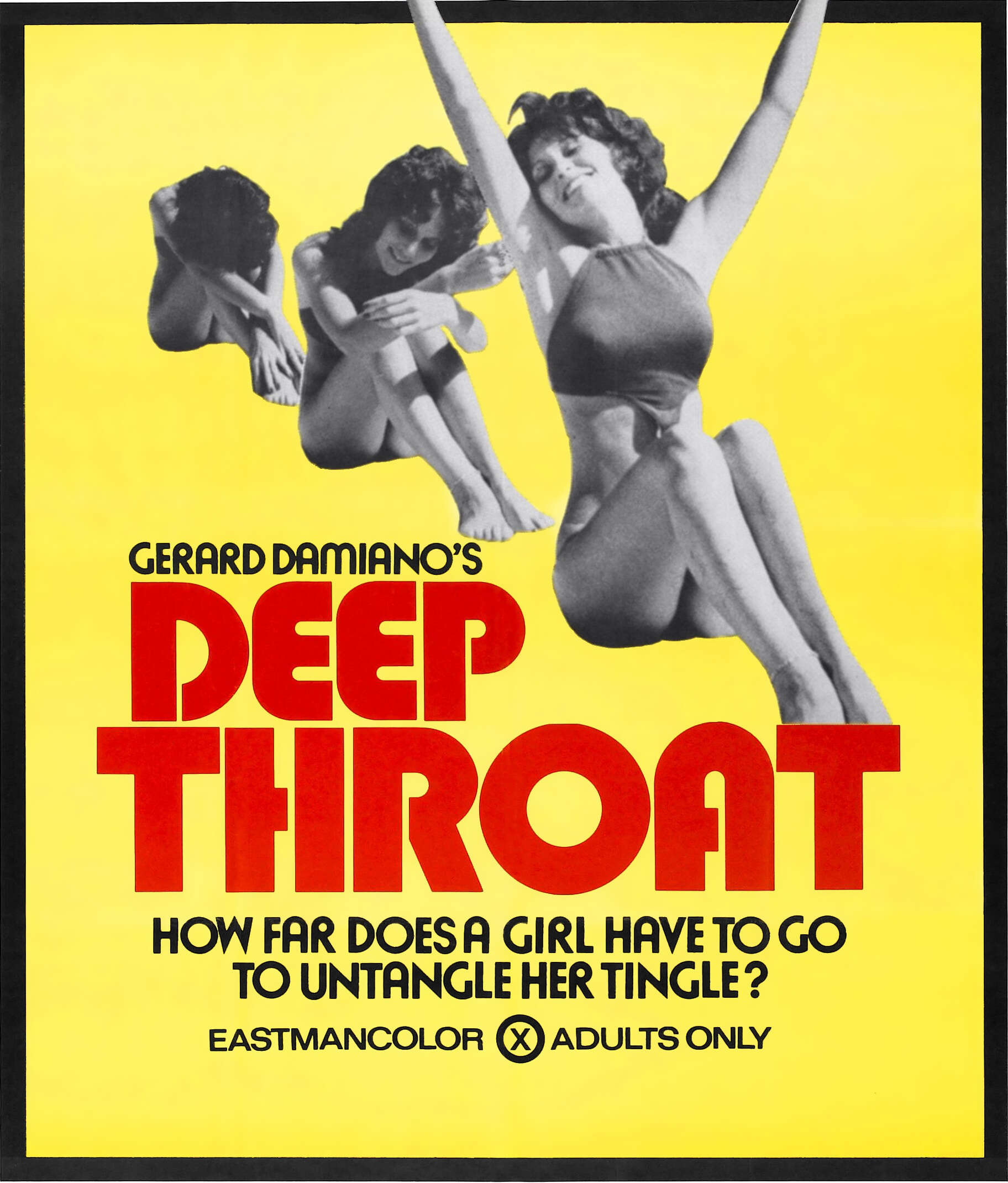 Deep Throat introduced nurses to porn
The 1972 film Deep Throat took pornography into the mainstream, and although the "plot" focused on the oral fixation of Linda Lovelace, it did include some hospital sexiness thanks to Carol Connors' portrayal of the uniformed object of a doctor's workplace, um, affection. It's hard to say whether this was a catalyst for the modern-day stereotype or a boiling point of other media depictions, but Connors's sexy nurse is certainly the inspiration for millions of gigabytes of medical-themed online fetishism.
This was also followed up with a string of more mainstream sexed-up nurse films, including exploitation classic Night Call Nurses (1972), Italian sex comedy The Sensuous Nurse (1975), and American sex comedy Candy Stripe Nurses (1974), the tagline of which claimed it would help viewers "keep abreast of the medical world." Adult movies: at the forefront of medical fetishes and sharp puns since 1972.
It's an easy cameo to nail
If it seems like every on-screen nurse has been prescribed specifically for arousal, it's not just your dirty imagination. According to a study in the Journal of Advanced Nursing, 26% of the film depictions of nurses between 1900 and 2007 showed them as sex objects. Some of our favorite cultural touchstones by decade include the singing nurse ("who likes to f*ck) from seminal 80s comedy Ferris Bueller's Day Off, '90s porn star Janine dressed in skimpy digs on the cover of Blink 182's Enema of the State (and the "What's My Age Again" video), E! News anchor Maria Menounos as an objectified love interest of Human Torch in the 2005 version of The Fantastic Four, and Paz de la Huerta as a murderous vixen in the hospital horror flick Nurse 3D (2013), which seemingly existed purely to show women in vampish white uniforms.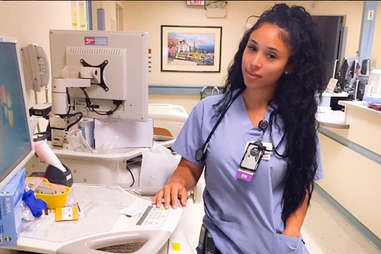 "The hottest nurse alive"
Today TV and movies aren't the only path to celebrity, you can also become famous on social media. In September of 2015 the phenomena of the sexy nurse became a meme thanks to the Instagram account of Kaicyre Palmers, a registered nurse in New York City who also happens to be an Instagram model with 255k followers. She's proof that real scrubs aren't at all sexy... but her revelations of what's underneath have made her famous.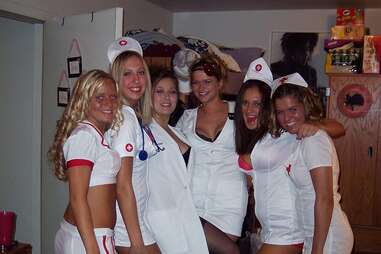 The deeper meaning of the sexy nurse
The underlying significations of the sexy nurse are hard for anyone with half an English degree to ignore. If you're looking for a 10,000 words on the subject, consult the loquacious healthcare blogger behind Sexy Nurse Reports, but our personal analysis concludes that long after the nurses' original roots in the world of prostitution were shed, the erotic nurses most likely began as a way for male patients to cope with feelings of helplessness and the self-consciousness of their masculinity being threatened by a woman in a position of power.
Add a twist of dominatrix battleaxe stereotype (think Nurse Ratched from One Flew Over The Cuckoo's Nest), chase it with some white-laced slut/savior complexes, and you've got yourself a hell of a Halloween costume. Or just a lazy one.
Sign up here for our daily Thrillist email, and get your fix of the best in food/drink/fun.
Dan Gentile is a staff writer at Thrillist. He learned his state capitals from an Animaniacs song and how to play bass poorly by listening to Blink 182. Follow him to all the sexy costumes at @Dannosphere.