In Bed With Gigi Engle: How Can Women Be Sure to Get Off During a One-Night Stand?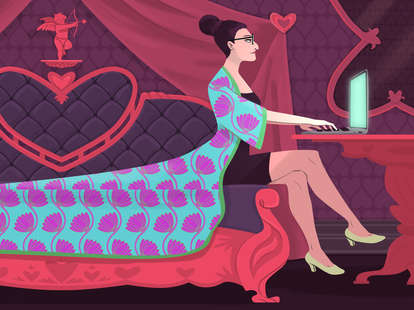 Welcome to In Bed with Gigi Engle, a weekly column in which sex and relationships writer Gigi Engle answers your most intimate questions. Nothing is off-limits! From threesomes to anal, unrequited love to cheating: we want to hear it all.
For questions on relationships, sex, or anything else, email Gigi at AskGigi@thrillist.com.
Dear Gigi,
After a long dry spell, I said screw it and went home with a co-worker. He had some of the right moves and ideas, but he didn't go down on me, was pretty rough, and generally just acted selfishly. I'm super frustrated with the fact that he acted that way -- and that he's got a lot of company. I know I should speak up more in situations like this; but I'm just wondering when people will stop thinking that rough hand jobs and hard thrusting are pleasing moves to a woman.
I'd love some tips on how to take control in the bedroom when something like this happens without leaving the man offended. Help a girl out!
-- N
Dear N,
Selfish people are the WORST, I totally agree. Unfortunately, they roam free in this big, big world. A strong woman ought to be looking for more than a guy who treats her vagina like a masturbation tool fitted only for his pleasure. It sucks to hook up with someone only to regret it later because he didn't know what the hell a clitoris was and you couldn't get off.
Every human being has the right to an orgasm in every single consensual sexual encounter. But it doesn't happen automatically. While you have the right to an orgasm, girlfriend, you're not asking for what you want. And that means (more often than not, in sex and the world) that you're not going to get it. I know you want me to give you tips on how to get him to focus more on your pleasure without having to say you want him to, but that isn't right. Ask and ye shall receive!
Everyone deserves to have an orgasm in every single consensual sexual encounter.
Tell the next person you're with that you want him to warm you up. If he's into getting you off, he'll do it. Honestly, if you're not telling him what you want there's no way to be sure he has any idea. Not even his fault, to be honest.
Most people don't know the first damn thing about vaginas. Yes, it sucks, and yes, it's frustrating; but until we have better sex ed in schools that actually focuses on the importance of PLEASURE, a guy won't know how to handle the "elusive" and "mysterious" vagina. We are forced to teach men ourselves. Which means the onus is on us to figure out exactly what works for our specific bodies first.
Now, a lot of women like you want these "warm-ups" to include head. If you want to come and head is the most enjoyable way for you, tell him you need it to get wet and/or off. Just keep in mind that he isn't obligated to go down on you, ever -- any more than a woman is obligated to give a man a blow job. No person is required to perform any sex act he or she's not into.
We're third-wave feminists up in here. We aren't making men bow down to us, we're making men treat us like the equals we are.
Personally, I don't give blow jobs to guys I'm not into. Oral sex often feels more intimate to me than regular sex; and if I'm having a casual encounter, I'm in it to get off and leave. I'm not trying to get on my knees for some bar-dude I'm never going to see again. If he wants to go down on me, I'm certainly not going to say no -- but I'm not giving him a BJ. He can decide what he's feeling or not feeling.
Don't fuck a guy who would try to shame you for understanding how your own body works.
Moving on, let's chat about taking charge and the male ego.
If you want to take charge in the bedroom, then you have to TAKE CHARGE. Or at least show him! Guide his fingers to the right hotspots, or rub them yourself. Own your sexuality. If you're hooking up with some idiot who can't understand what you're telling him or showing him and he gets offended, please never call that guy ever again.
There are a lot of jerks out there who try to make us feel like shit when they can't please us sexually. Slut-shaming is vile, but very prevalent everywhere we turn (and bang). Don't fuck a guy who would try to shame you for understanding how your own body works. You are a strong and sexy woman who doesn't have time for the lame-ass male ego. You should not be tiptoeing around a man.
Love your favorite internet auntie,
XOXO Gigi
Sign up here for our daily Thrillist email, and get your fix of the best in food/drink/fun.