Hickies, Rats, and Judaism: When Meeting the Parents Goes Poorly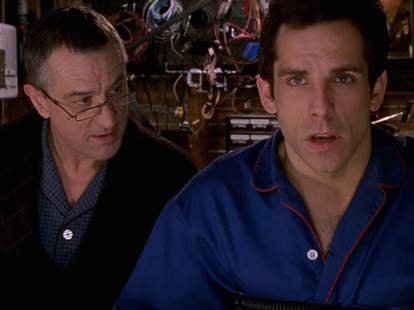 'Tis the season to drink freely in the basement of your childhood home and endure Uncle Ted's semi-racist remarks at the dinner table. Ah yes, the holidays are that special time of year we take pause to spend time with those whom we share nothing else with but genetic material. And if you're doing life by the book, it's also the time you introduce the person whom you've been sharing your bed and Netflix password with to Mom and Dad (and maybe Uncle Ted).
To those of you making parental introductions, good luck. The rest of us can take heart in these stories of when meeting the parents went hilariously wrong.
Shutterstock
"When I was 16 or 17, I had my first Jewish girlfriend. I knew they already hated the idea of me not being Jewish and that I never brought her home on time. One night, they came home early from dinner, and practically walked in on their daughter going down on me on the couch in the living room. Her face popped up out of my lap, and she pulled a pillow over me. The dad came right over and sat down next to us, and I just clung to the pillow awkwardly." -- James, 37
If you're reading this, hopefully you're over the age of 16 or 17. In any case, those late teen years are especially formative, particularly when it comes to learning the dos and don'ts of going past second base at your parents' house. No matter how old you are, remember to give yourself a nice cushion of time after they leave and before they come home. The only thing anyone wants to see get stuffed during the holidays is a turkey. But if you find yourself in a situation like James did, just be mindful of which hand you use to shake her father's.

"A guy came to my birthday dinner with my family. I had never invited someone I was dating or interested in to meet my parents. [When he showed up] his entire neck was covered in hickies. Both sides. Dark purple. He tried to cover it with a high-collared shirt. No dice. They were NOT from me. [My parents] didn't say anything, except later that he was an asshole. But my family is cool." -- Lola, 25
Cool is an understatement. More like New York winter (remember those?) cold. I don't know how most fathers would react in that situation, but let's just say mine leans towards the right on the issue of gun control. If you're a behickied philanderer, maybe do everyone (especially yourself) a favor and turn down the invite. At the very least invest in a scarf.

"When I took my first serious girlfriend home to meet my family, my parents were cool. We were young so they didn't take the relationship too seriously. But my younger brother, was like, 'She's kind of disgusting. I don't like her personality. She kind of looks like a rat almost. Yeah, dude. She's ratty.' And then one time she came over and he tells her to her face, "Honestly, I love my brother. I don't think you're worthy of him, and I have a nickname for you, and it's 'Rat.' That's all I have to say." -- Brian, 28
I guess the moral of the story is that if you're bringing someone home, just make sure no one in your family suddenly channels Jack Nicholson's character from The Departed. Siblings and other relatives aren't neutral parties. And given the fact they didn't birth you and raise you for 18+ years, they're a lot less likely to bite their tongue if you bring someone home they don't like. Beware.

"I met this girl when I was studying abroad in Argentina. We started dating, and her mom and grandma were flying in to visit. She goes, 'They're so excited to meet you, and they're so glad that you're Jewish!' And I tell her, 'Uh, I'm not Jewish.' And she just put her head in her hands and went, 'OH MY GAWD. Just don't tell them your last name.' She ended up telling them after they left, we broke up eventually but my Semitism was the least of our problems." -- Joey, 27
If your family takes the Old Testament so seriously that they wouldn't approve of someone who's a fan of the sequel, make sure to dot your I's and make sure your partner doesn't cross themselves (or eat pork). Unfortunately for some parents, religion can be a deal-breaker, even if it isn't for their kids. The truth is you're going to have to tell them eventually, but best to get on the same page before you wind up at a Kosher restaurant together, and your boyfriend asks for cheese on his burger. Oy vey.
Sign up here for our daily Thrillist email, and get your fix of the best in food/drink/fun.
Julia Reiss is a writer and stand-up comedian who once let a boy she was dating talk to her mom on FaceTime. Follow her romantic missteps on Twitter: twhttp://twitter.com/@thereisspiece.