How I Took My Sexuality Back From Jesus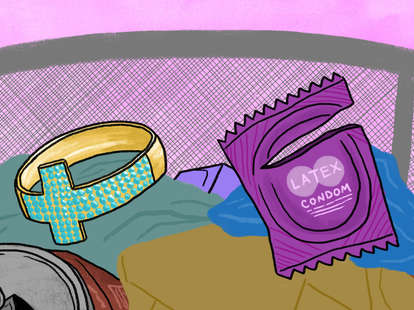 At 12 years old, my parents gave me a promise ring.
With it, I pledged before them -- and Jesus -- that I would "remain pure" until marriage. I was raised being told that all I needed to know about sex was not to have it. Educators from my church berated fellow classmates and me, insisting we experience guilt and piety anytime our desires threatened to distract us. Such is the case for abstinence-only education.
The effects of all of this religious sex-shaming were varied among my church friends. Some of us bought into it, hiding our questions and curiosity from our parents while our hormones raged. Others, like me, felt haunted -- quite deeply, at times -- by judgment (adults' and our own) of our own sexuality and bodies.
As for the pledge itself? Needless to say, that didn't quite work out.
It was a "true love waits" rallying cry
In Sunday school and youth group at my Baptist church, my friends and I sat, silent and deeply uncomfortable, as adults told us how "special" sex was between a husband and wife. They compelled us to promise again and again that we would wait until marriage. We even had a "True Love Waits" rally at our church.
By the time I was in high school, our church youth leaders had grown obsessed with policing our sexuality. Every hand job was a scandal. When a girl a year younger than me gave my best friend's brother a blow job, my parents talked about it in hushed tones as though she had been caught torturing puppies. The youth minister met with both families, and then the whole youth group had another "talk." Even still, the boy's friends laughed about it. The girl was treated like a pariah.
In one particularly cringe-worthy instance, our youth minister showed up at my friend's house and asked, in front of her parents, if she'd "stimulated" her boyfriend's penis "to the point of climax." She denied it, and her parents, wisely, told him it wasn't his business.
An abstinence-only upbringing meant more guilt and bigger risks
The shame I connected with my own urges was unrelenting. The summer before I started high school, I had my first boyfriend and felt his boner -- once, through his pants, while we were making out. That night, I had a dream that a gang of men was coming after me.
As our hormones raged, we hid our wants and wonderings from our parents -- the very people who should have been teaching us to navigate relationships and develop healthy patterns of sexual behavior. But hiding and doing are two different things -- and no amount of pressure has ever kept teenagers from experimenting. And with so little accurate information about sex, we weren't exactly being safe about it.
It's been widely shown that when youth receive abstinence-only-until-marriage sex education, rates of unintended pregnancies and sexually transmitted infections (STIs) are not reduced. So while the messages we were given didn't keep us from engaging in sexual behavior, they also didn't teach us how to have safer sex.
A lot of my peers sought out "God's loophole"
In retrospect, it's kind of shocking what some of my friends were doing while still considering themselves "virgins" -- a totally BS socially constructed and heteronormative concept to begin with, but I digress.
Many of my friends gave guys hand jobs and blow jobs in high school -- fairly normal teenage sexual behavior rarely reciprocated. But what is concerning is that more than one of my friends were having unprotected anal sex in high school, and because it wasn't penis-in-vagina sex, it "didn't count." Yep. Anal sex. Before the other stuff.
Come to find out, when I went to a Baptist college, having anal sex instead of vaginal was rampant among my generation of white evangelical youth who grew up, as I did, in a sex-shaming religious purity culture. People in college called it "backpacking;" though I'm more fond of "God's loophole."
Nearly everything I learned about sex was from older friends whose parents let them buy Cosmopolitan and be alone with their boyfriends. We were so ashamed of our desires that we didn't even tell each other all that we were doing with boys until years later. And for me and several others, there was the additional shame of knowing that we weren't only attracted to guys.
It took years for me to undo the damage
By the time I graduated high school, I still hadn't had sex. But thanks to an excellent therapist my senior year, I steadily worked through the guilt of knowing I absolutely intended to have sex before marriage.
My therapist helped me understand that the promise I made to Jesus and my parents was one made with inadequate information. My 12-year-old self barely knew what sex was; much less how I would feel about it as I got older, or how my relationship to religion would change. How could I make the vow I made, when I didn't yet understand what it meant?
Even then, I didn't have sex or even successfully masturbate until I was 20. My "first time" was with an older man with whom I was in a relationship and was able to communicate with openly about my sexual experience (or lack thereof). I was ready, and it was good.
Fifteen years later, I'm an openly queer, sex-positive, agnostic feminist who somehow manages to have healthy and fulfilling sexual and romantic relationships -- all without guilt and shame.
And to be sure, Jesus has forgiven me that.
Sign up here for our daily Thrillist email, and get your fix of the best in food/drink/fun.
Beth Sherouse is a writer, recovering academic, and social justice activist. You can follow her on Twitter @DrGBeth.