Sex Tips for Boring People will take your sex life from vanilla to passion fruit. Or at least from vanilla to vanilla bean. Find more sexy advice right here.
Is it possible to be allergic to sperm?
So your girlfriend ALLEGEDLY doesn't like blow jobs because she's "allergic" to sperm. What a joke, right? Maybe. But also, it may be entirely truthful. Technically this is possible, if extremely rare. "Yes, it is rare but possible for women to have allergic reactions to their partner's ejaculate," says Dr. Laura Berman, PhD and assistant clinical professor, OB/GYN & psychiatry at the Feinberg School of Medicine, Northwestern Memorial Hospital.
Common symptoms include redness, swelling, pain, itching, and a burning sensation in the vaginal area (or oral area, as the case may be). "One way to avoid this problem is through the habitual use of condoms -- a good idea for everyone, even those without a sperm allergy," says Dr. Berman.
What's proper protocol if a condom comes off inside the woman during sex?
Welp, this is awkward. This other rare occurrence is easily fixed. But be forewarned! The removal is equally awkward. Lie back, unclench, and basically... dig right in. Either one of you can head up the search party. If the lost condom is not right at the entrance of your vagina, don't freak out. It WILL NOT get lost in the nether realms of your body. That's not physically possible. But depending on at what point it fell off, it could be at the very top of your vaginal canal. Delish. To get up to this dark and elusive corner of your body, squat with your feet flat on the floor and try to pull it out manually. If you STILL can't get it, then it might be time to take a quick trip to the ER, all the while still not freaking out because you're not in any danger. It's just a bad ending to an otherwise successful date. FYI, a good explanation for why this happened might be because your guy isn't familiar with proper condom sizing. Allow us to help.
What you MIGHT be concerned about is pregnancy or STDs. If your partner made his deposit, there is a chance that it has leaked inside of you, so getting a round of testing or a dose of Plan B might be appropriate if you're not on another method of birth control.
And speaking of Plan B...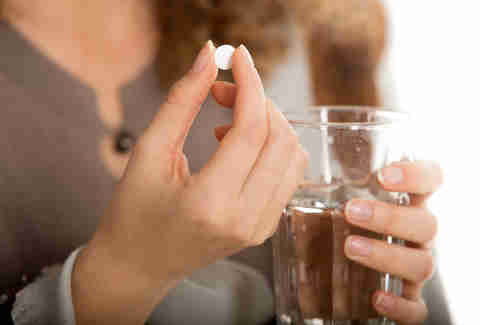 How frequently can a woman use Plan B?
While Plan B is a glorious invention saving the uteruses of America from unwanted pregnancies, it might not be a great drug to get hooked on. It's called Plan B for a reason. You know, in case Plan A of NOT having unprotected sex goes awry.
"The risk of frequent use of Plan B is that it can wreak havoc on your cycle, and as with any hormonal birth control it could also impact your mood, weight, libido, etc.," says Dr. Berman. "Many women also report nausea as a side effect. In short, it's not a good choice for effective long-term birth control. Why mess with the hormonal roller coaster and waiting in line at the pharmacy weekend after weekend when there are other options, which are effective in the long term and come with few side effects? The IUD is a great choice, as are vaginal contraceptive rings and implants."
Sign up here for our daily Thrillist email, and get your fix of the best in food/drink/fun.
Meagan Drillinger is a contributing writer for Thrillist and has her gynecologist on speed dial in case of any sexual mishaps. Not even a joke. Follow her on Instagram, Facebook, and Twitter: @drillinjourneys.