What Working as a Dominatrix Taught Me About Dating Men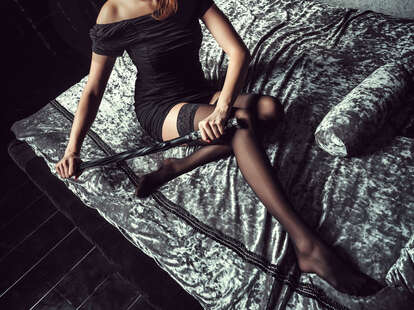 I've been working part time as a dominatrix for two years. Though the endeavor originally started as a simple indulgence of my naturally bossy self and plethora of kinks, I quickly realized that I could be charging men for the pleasure (or pain) of my services -- so I did. Six months ago, I took out several Craigslist ads and trawled through furtive adult sites in search of submissive men who needed a steady, firm hand in their lives.
Despite a persistent rash of (ugh) Fifty Shades of Grey obsession, society is still incredibly misinformed about BDSM and its practices. In my years on the scene, I've seen people cross over to the dark side for many reasons that have little to do with depraved fantasy sex. Some crave the serenity that comes with surrendering control, or simply wielding it in a safe and sane manner.
Contemporary ideas of a dominatrix are largely about super-sadistic women brandishing whips. It's a popular representation, but not the only one. Of the 20-plus men I've sessioned with, I've only involved corporal punishment into my sessions twice. Instead, much of my domination involves the mental/emotional play found in kinks like erotic humiliation, tease and denial, sensual domination, and body worship.
Naturally, I've learned a lot about dating men from hours of "hurting" them (so to speak), and much of this knowledge has seeped into my dating life. Dating men as a dominant woman has sometimes earned me a bunk reputation; but understanding what makes men tick has helped me avoid undesirable partners who would be turned off by my "unladylike" behavior. I'm building healthier relationships that speak to my standards. Here are some key truths I've learned so far:
Communication is key
Communication is paramount to having a great BDSM session: you need to know what your submissive likes, what they hate, what makes them tick, and what their limits are. There is no faster or better way to gather this information than asking upfront.
After a few dates and a couple of rounds in bed, I take the time to pose similar questions to my partners: what are you into? What would you never try with me? What do you expect in this relationship (if anything)? Yes, sometimes partners are weirded out, but it always works out for the best. My partners and my subs tend to feel more open with me, are more likely to address concerns they may have, and feel less self-conscious about sharing suggestions or fantasies. Communicating openly means less time fumbling about, and more time building a relationship we both flourish in.
If you're not a particularly forward person like I am, take comfort in knowing you'll be introducing an overall healthier practice your partner can use in his or her own life. Turn your questions into pillow talk or sexy foreplay, or sneak them in between commercials -- whatever works for you. You can save yourself a lot of time and energy by understanding what your partner wants and deciding if it works for you, too.
(Some) men will rise to meet your standards
This is a big one for my girlfriends; sometimes, I'll tell them about the perils of booking a session with me and they'll ask incredulously: "Did he really do that?" Later, while they're complaining about their own boyfriends/friends with benefits/one-night stands, I'll find myself asking: "Wait, why did you let him do that?"
The truth is, everyone has expectations for their relationships -- even if they say they don't. Physical, personal, and sexual standards help us decide quickly if a relationship is worth pursuing or how we feel about a partner. My professional relationships with subs are no different: there are certain rules I expect them to abide by or it's bye-bye. Likewise, if a potential partner immediately pushes against key boundaries, I'm out the door in seconds flat. There will always be another partner, and there will always (always!) be more subs.
Safety is of the utmost importance for me, so I build my standards around protecting my body, time, and energy. The men who don't understand this tend to complain about or ignore my expectations: two big red flags for terrible subs and -- even worse -- partners. Think about it: if he'll complain about how you carry yourself, then what else is fair game?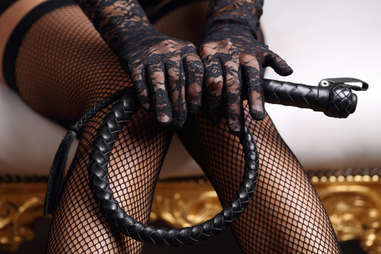 References are essential before any relationship -- or tryst
Don't knock the internet stalk. A simple Google search can be the difference between the best first date of your life and a horrible disaster. I'm not saying you have to keep a database of every piece of information you have on the guy, but it doesn't hurt to run with what you know. Give his username or full name a cursory Google glance, poke around his LinkedIn, read up on his Facebook account. If there's something you should know, you can bet the internet has already found it. There's a reason why we tend to research or crushes or dates: we want to know more about them to ensure things like compatibility, authenticity, and -- yup -- safety.
I always ask subs upfront for references. With vanilla dates, I pay special attention to the way he talks about himself and his exes. If every last one of his exes is a "crazy bitch" who hates him "for some reason," I'm going to assume that he has displayed some pretty unsavory behavior that has rubbed many, many women the wrong way. Likewise, if a sub doesn't have any references -- or all of his former dommes just happen to hate him -- I never "play" with the sub, no matter how much he offers.
People will tell you the truth in one way or another. You just have to listen and decide what's best for yourself.
Actions don't lie
Dominants know the delicious irony of watching subs try to "top from the bottom" -- essentially, claiming to be submissive but wanting to control or direct the domme/me into doing what they want. It's the literal antithesis of professional domination, and ruins the entire idea of, you know, paying someone to control you. But, it speaks to that rebellious nature in all of us.
Even the most submissive man has a little (or a lot) of bite in him; and dommes understand this. This is why we pay little mind when you claim to be the most obedient, meek, and doting -- all of that can change when your ass is (literally) on the chopping block.
Vanilla relationships utilize the same senses: hear your partner out, but also see things for yourself. If he claims to be into your favorite fetish but grimaces through every session, that's a red flag. If your beau's a self-professed feminist with nothing nice to say about your peers, two words: red flag. Take note of his actions, and then decide where you draw the line.
Sign up here for our daily Thrillist email, and get your fix of the best in food/drink/fun.
Miss Elle is a professional brain-bruiser (dominatrix) and freelance writer. Follow her on your knees: @thepredprincess.