Dating ADD: How Choice Is Keeping You Single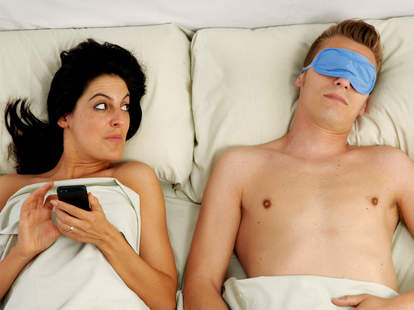 You're entrenched in the dating pool, regularly visit multiple dating apps, and have lost count of all your first dates. So how come you're still going stag to friends' weddings?
The answer may surprise you: you actually, inexplicably, have too many options.
The singles scene is oversaturated by millions of swipeable singles and an endless barrage of happy hours or coffee dates. The options for romantic prospects are overwhelming -- and the cruel irony of choice is that too much of it hamstrings our ability to actually make one.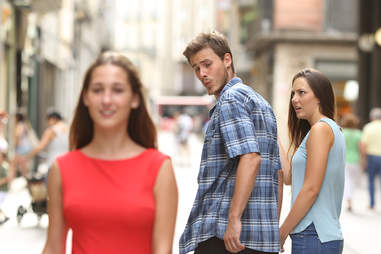 Shutterstock
"The paradox of choice"
It sounds counterintuitive, but mounting studies show that we have a depreciating ability to make selections when options are in abundance.
A populated dating market limiting your hook-up odds is due to this crazy phenomenon experts like Barry Schwartz call the "paradox of choice." In his book by the same name, the professor of psychology at Swarthmore College says after a certain point, options limit our ability to make coherent decisions. Schwartz's book, which came out a decade ago, has renewed relevance in a world where we're fast approaching 50 million users on Tinder alone.
The thinking goes like this:
When we only have a few choices (i.e. the "stranded on a deserted island" scenario), we will pick that which is closest to what we want. The selection may not be perfect, but it's reasonably close and we're willing to make it work. As in, she has a pulse and I'm on a deserted island. But anyone who's ever wandered into a hardware store to pick out paint color can attest that the more options with subtle differences, the waaay more difficult the decision.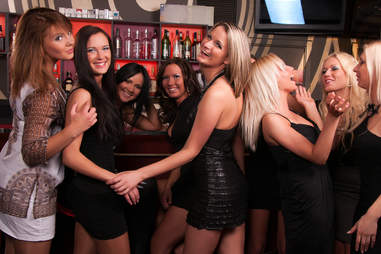 Shutterstock
"Dating ADD"
"Oversaturation is creating a condition I call Dating Attention Deficit Disorder," said Dr. Ian Kerner, a licensed psychotherapist and über-famous sexuality counselor. "We [are] always in search of that hot first date and in a permanent state of dating distraction."
The main factor in all of this is the complexity of comparison. If there's one hot girl in the bar, it's easy to determine she's the one to talk to. Fill that bar with 50 attractive women, and... okay, bad example. But in general, a rise in choices means a tougher time finding differences -- and making a selection. It also makes you pickier. If you can swipe, ignore, or reject any six on your way to discovering a Perfect 10, you may miss out on tons of (read: any) perfectly decent dates because you're so caught up in finding The One.
The sense of what your decision is costing you (who are you missing out on? What else is out there?) creates a lowered sense of satisfaction with the choice you eventually make. And it might be why you bail when things get boring or difficult instead of working things out.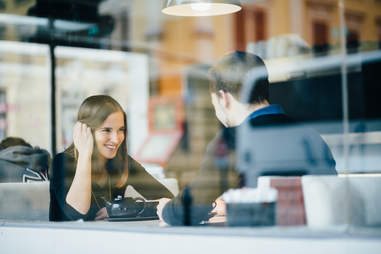 Shutterstock
Dig in your heels
But all's not lost. There are ways for you to find someone decently interesting to spend your time with, without giving up on dating altogether or resigning yourself to being the third wheel in perpetuity.
"For every five first dates you go on," Kerner suggested, "pick someone to go on a second date with before you go on another first date. Get in the habit of limiting your options and exploring the depth of the dating pool -- not the diameter."
Also, take a breath and give more chances. Limiting your judgments to a five-second profile perusal or sucky first date doesn't take into account the nuanced world of photogenics, first-date jitters, "off" days, and actually getting to know each other. Forgive awkward conversation or one-liners that rub you the wrong way. And don't stop at a second date -- if you see even a little potential, allow yourself time to see what develops.
Sign up here for our daily Thrillist email, and get your fix of the best in food/drink/fun.
Nicole Caldwell is Thrillist's Sex & Dating editor and a devoted second-dater.