An Erotic Hypnotist Can Make You Orgasm Just by Touching Your Wrist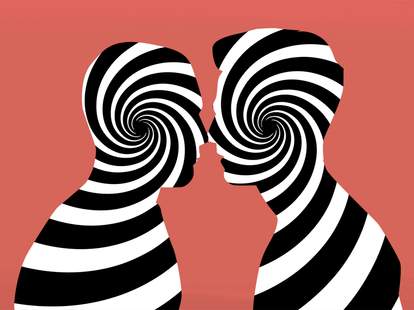 Neil, the erotic hypnotist, is one of the top search results when you search "erotic hypnosis" on Google. The guy is a pro who's been doing this for 15 years and describes himself as "clean, good looking, professional and very open minded" on his website.
Neil works full time as a hypnotist, with some of his days devoted to the art of erotic hypnosis. He caters to a wide audience with his non-erotic hypnosis, and mostly caters to gay men for his more risque stuff.  We recently met at a coffee shop near my office to discuss the specifics of hypnosis... and how it relates to triggers, hand orgasms, and BDSM.  
 
What made you interested in hypnosis?
Hypnosis has always interested me. It's been a fascination of mine ever since I was a kid. I remember taking out library books about hypnosis when I was like 9. It always interested me, but it kind of fell by the wayside. I discovered computers and got into that in my teens.
Then, a little over 15 years ago, I randomly stumbled upon an online forum about hypnosis and sex. That instantly piqued my interest, putting it lightly. I decided well, maybe I can study this and see. I downloaded a few tutorials at the time, bought a book, read up, studied, and then found someone to practice on. It worked and I was instantly hooked.
Then I did it for fun for quite a while. It was just... it was one of my major sexual outlets. I'm a gay guy. Hooking up is pretty easy in New York City. It gets old very quickly. Instead of just regular hookups, I would offer to hypnotize people. I'd say, "Well, I'll give you 10 orgasms," was my pitch at the time. It worked and I got a lot of practice. I did probably at that point hypnotize a few couple hundred people…
 
Wow
At some point I decided to make things official by taking a hypnotherapy certification course.
 
Just a course on regular hypnosis or erotic hypnosis?
There's no official course [in erotic hypnosis] or anything like that. Basically my fantasy, the fantasies of the guys I was hypnotizing, and developed a sort of repertoire that I just found was fun. Even until now, I'm still adding stuff to the repertoire, if I get a client who is into very particular things, then I will try something new with him and then say, 'Oh this is fun. Maybe I'll try it with another person.' There's no one thing that constitutes erotic hypnosis, and two erotic hypnotists would do some very different things.
I like to do stuff when the person is awake using posthypnotic suggestions, or we call them triggers. I find it more fun both for me and for them, because when they're under, sometimes they'll remember, sometimes they won't remember, but when they're awake they'll definitely remember, so that's already more fun. They'll also be less lethargic.
 
Do triggers work when you are not hypnotized?
When you're not hypnotized. Yeah, completely awake. I like to grab someone's wrist and give them an orgasm. That's one of my favorites.
 
And you also do non-erotic hypnosis... what kind of people do you see?
I deal with a lot of sexual dysfunction, because a lot of times people just don't want to go to a regular therapist to deal with that. If I had a dime for every time someone tells me, 'I can't talk to this really with my regular therapist,' I would have quite a few more dollars. I've had people who have gone to hypnotists but couldn't mention their sexual issues.
If you're going to a female hypnotist and you're a man, and a gay man, you're uncomfortable. If it's for smoking cessation, you're not going to mention that you have troubles with erections or something like that. A lot of those erectile dysfunction, premature ejaculation, inability to ejaculate, which is something that's not even talked about a lot. There's no drug for it, so it's not talked about. That's an actual surprisingly common problem that people can't ejaculate when they're with someone. It's an intimacy issue and hypnosis is the perfect tool for that.
 
What's the process like for fixing this?
With hypnosis, I deal with performance anxiety through a two-pronged approach. One is to give people the confidence that it will work, that things will be fine, and they will get hard, they'll be able to come, whatever the particular issue is. The second prong is to give them a backup trigger for themselves to use to remove stress, anxiety, worry, nervousness, a really useful thing to have.
 
A trigger they can use by themselves?
Yeah. Typically, I give a breathing trigger. Just take a deep breath, slowly exhale, because we do it anyway, and then all those nervousness, anxiety, all that disappears. Then you can focus on what you need to get done.
 
Do erotic hypnosis sessions and regular hypnosis sessions work the same way?
The state of mind is the same. Hypnosis is basically... it's a state of mind where your conscious mind retreats into the background, your subconscious takes over, and then we give the subconscious suggestions. That's the simple explanation, very, very simplified explanation, of what hypnosis is, one of the ways to look at hypnosis.
The subconscious is suggestible and so it readily accepts suggestions. What's filtering out the suggestions in regular day-to-day is the conscious mind, so in order to be able to give you suggestions, we let the conscious mind go into the background. We gently ask the conscious mind to go into the background using the techniques that will get the conscious mind there and then give suggestions.
For therapeutic stuff, you generally don't need a deep trance, and a deep trance is how far the conscious mind retreats.
 
Weird question, but, are you a prostitute?
I'm not an escort, but I advertise on gay escort sites. I don't offer my own body. I don't have any problem with escorting. There's nothing wrong with it. It's just not for me. I do put shirtless pictures up on my profile because nobody would pick my profile if it just had a picture of my face, and gay men being gay men, they need the visual.
People don't always read or people read and think well maybe there is some sex there, so that's why the FAQ specifically says that I'm not offering full-on sex.
 
Cool!
But, it's erotic. The session is erotic. It can be very sexual in a sense. Clients often get naked. They often actually ejaculate and that's fine. There can be... some touching can happen as well, but I'm not offering anything more than that. That's beyond the scope of what I do.
 
Do you have a favorite client?
I have a lot. Almost all my sessions are a good experience for me as well as for the client, but I don't think I can think of a really bad one. Also, in my personal life, I'm a dominant top in the BDSM scene, so I definitely enjoy sessions that are BDSM sessions. A lot of people come to me for that.
Although, I don't market specifically just for that, but the BDSM aspect of using hypnosis as a form of bondage or control, things like that, those are stuff that I enjoy in my personal life, so I would enjoy it with a client as well.
 
Aha! So how does BDSM hypnosis work?
Typically, I'll have a freeze trigger where they can't move anything at all. One of my favorites is a handcuff trigger, which they'll just feel like their handcuffed, they can't pull their wrists apart. Things like that. Anyone who enjoys bondage would enjoy that because it puts you in a vulnerable state.
 
Do you ever hypnotize women?
Rarely get women. I don't really advertise to women, but once in a while, I'll get women as well, very rarely for an erotic session.
 
Why is that?
Generally, it's not a service that women seek as much, I would say. I had a straight couple come to me for me to hypnotize her, to give him triggers to use on her. They were a BDSM couple, and they were dom-sub, so I hypnotized her for his pleasure.
 
Do people remember these sessions?
Everyone's different. A lot of people don't remember the things while they were under, but they'll remember the things that they were awake for, which is why I do the fun stuff when they're awake.
Some people might not remember the things they were under immediately but then the next day, they will remember, like after a good night's sleep, suddenly it'll be like, 'Oh, I remember that. There was something with a beach there,' or something like that. A lot of times people remember bits but won't remember other bits. That's the more common one.
 
What's the biggest misconception about erotic hypnosis?
You can't get someone to do something that is completely against their base personality or feels really dangerous to them. There's a lot of wiggle room of things we can get people to do that they wouldn't normally do.
 
I'm sure you can't hypnotize someone to kill someone else...
Right, because that would be something that would be against their base personality, unless they were already inclined to do it.
 
Sign up here for our daily Thrillist email, and get your fix of the best in food/drink/fun.
Jeremy Glass is a writer for Thrillist whose closest firsthand experience with erotic hypnosis is listening to Biggie Smalls during a hookup in college.