In Bed With Gigi Engle: How Much Sex Should You Be Having in a Relationship?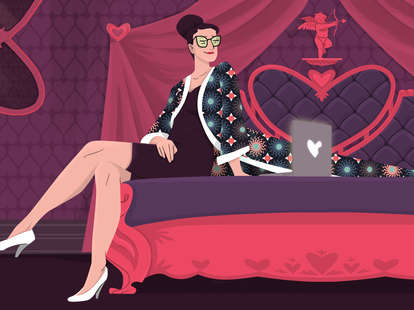 Welcome to In Bed with Gigi Engle, a weekly column in which sex and relationships writer Gigi Engle answers your most intimate questions. Nothing is off-limits! From threesomes to anal, unrequited love to cheating: We want to hear it all.
For questions on relationships, sex, or anything else, email Gigi at AskGigi@thrillist.com.
Hi Gigi,
How much does sex actually affect a relationship?
I've been married for five years and lately, my sex life hasn't been so great. It's not like when we were first together and the sparks were really flying. Now it's just dry. Both of us work full-time and when we get home, we're almost always too tired to have sex. I'd say we have sex an average of once a week.
Here's the thing: Neither of us is complaining. Still, it seems unhealthy to be having it so infrequently. We still get along, but do you think this is bad for our relationship?
I have old ladies in my family who tell me how their husbands had affairs after menopause. I could understand that because when a woman goes through menopause, sex isn't fun anymore, right? But that's a long way away for me -- if my husband and I don't fix this, am I at risk for being cheated on too?
C
Hi C,
Thanks so much for writing in!
Let's start with the basics. If you're worried about your sex life and wondering if your husband is satisfied, ASK HIM. This is a guy you're going to be with for (hopefully) a very long time. You have to be able to have an open discussion about sex.
Start there. If he says yes, he'd love to be having more sex with you, then you guys can figure out how to make that happen. Everyone has a right to sexual fulfillment -- and one of the keys to long-term relationships is figuring out how to keep your sex life interesting. You can't do that without talking about it. And if he admits he'd like more sex than he's getting, I'd definitely say you need to find a way to please him… or run the risk of him being pleased elsewhere.
If you're both happy having sex once a week, then you're good. Once a week is totally normal, especially when you've been married for five years and are working full-time. Forget anyone else's opinion about what makes a sex life healthy. It's YOUR relationship and therefore, it's your business. And please, stop taking advice from sexually stunted old women who don't know what they're talking about.
Which brings me to my next point: Menopause DOES NOT put you out of business for sex. This is a myth. It is not real. You don't go through a hormonal change and then never get laid again.
Menopause is a natural cycle all women go through when they stop menstruating. It is a part of the great female circle of life. The hormonal changes during this period can lead to vaginal dryness and a loss of sexual desire, which does not mean your sexual relationship with your partner ends at that time. If you're in a long-term relationship, you have a mutual agreement with your partner to satisfy their needs. This includes sex.
Forget anyone else's opinion about what makes a sex life healthy.
Should you have penetrative intercourse when you're not feeling like it? No. There are many ways to experience sexuality. You can masturbate together, watch porn together, or engage in oral sex. These are just a few ideas and by no means do they comprise all your options. Sexuality is limitless.
When you experience a loss in desire and it bothers you, it is called female sexual dysfunction (FSD). Sixty percent of women will experience FSD at some point between the ages of 24 and 60. In many cases, it is treatable. You don't have to simply accept that you don't want sex and that your partner is now free to cheat on you. That's a little bit absurd. No, this is definitely not the case.
Despite what you've been told, you can be sexually adventurous and experiment inside of a monogamous, long-term relationship or marriage. This is true before, during, and after menopause. Do more internet research, ask questions, and, of course, read my column. Never stop looking for answers.
Love your favorite internet auntie,
XOXO Gigi
Sign up here for our daily Thrillist email, and get your fix of the best in food/drink/fun.