The Weird, Wet Story of How the Waterbed Made Waves Across America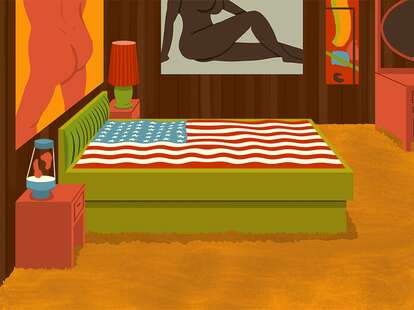 About a century before the waterbed was put into production as a spot for guys named Fast Jimmy to have sex with hookers named Brenda, Mark Twain reported on the bed's initial use as a treatment for the sick: "In the infirmary will be kept one or two water-beds (for invalids whose pains will not allow them to be on a less yielding substance) and half a dozen reclining invalid-chairs on wheels. The water-beds and invalid-chairs at present belonging to the church are always in demand, and never out of service."
Every well-to-do bachelor in the '70s and '80s either owned or yearned for a waterbed. Sure, they were uncomfortable... but they made a statement. A very watery statement. The waterbed meant you were single, ready to mingle, and absolutely interested in the idea of getting weird on a sloshy surface.

So, how did a bed full of water catch on?
The waterbed was formally invented by a man named Charlie Hall in 1968, who actually first experimented with the idea of water-filled pieces of furniture by a pouring a cornstarch-based gel into an enormous vinyl bag.
"I was a grad student in product design in San Francisco," says Hall. "My undergrad was in history. A lot of furniture was more sculptural than comfortable and a lot of chairs don't take into account if you're comfortable, so I took apart the aspects of human comfort and tried to design furniture that was comfortable."

Hugh Hefner reportedly even had one covered in green velvet and Tasmanian possum hair.
The effects were less-than-satisfying: the bag weighed more than 300 pounds, stank after a few days, and was actually pretty impossible to move around. But all it took was a group of Hall's friends and a few bottles of wine to see that the waterbed could absolutely catch on as an alternative to the regular bed. Within a decade, his creation made up 5% of the mattress market.
By the '70s and '80s, companies touted the bed as the accoutrement to the modern-day Casanova, even if that Casanova had dried coke on the insides of his nostrils. They were paired with slogans like "Two things are better on a waterbed. One of them is sleep." Hugh Hefner reportedly even had one covered in green velvet and Tasmanian possum hair. By 1986, waterbeds made up an astonishing 20% of the market.
Why did this godforsaken thing sell?
"I think it's because counterculture things were really in vogue -- they really were," says Hall. "There was a different kind of way of looking at things in America and a non-conventional bed fell into that.That was the good part of marketing -- people had expectations that the waterbed changed."
And the sex?
"Early waterbeds had a lot of movement -- so people thought it was good for sex. It was very wavy, they look sexy, when you looked at them in a store. And you saw the wiggling movement, people thought it would be a good place to get laid." It was all about timing: a perfect cocktail of counter-culture, explored sexuality, and a deep desire to do away with the status quo.
But whether you want to call it liberating or not, the advertising of yesteryear quite clearly favored men and led them to believe that they could, in fact, bed any woman of their dreams with a waterbed.
"I would not recommend a waterbed to any patient."
"[Ads in the 1970s] were very blatantly sexist," says Jean Kilbourne, creator of the film seriesKilling Us Softly: Advertising's Image of Women. "In those days," Kilbourne says, "there was no consciousness about the fact that this might not be a good idea or that this might be offensive. So [advertisers] were able to get away with an ad for a feminine hygiene spray that said, 'Feminine odor is everyone's problem.'"
That, combined with America's budding sexual revolution, sold these puppies like hotcakes -- or the even hotter alternative -- Paul Bunyan's Flamin' Bread Discs. Waterbeds were tied to the idea of sex -- which is kinda Advertising 101 -- which is why so many print ads featured half-naked women looking lustfully into the camera as if they'd just had the most intense sex of their lives.
The waterbed dries up
When the early 1990s came, waterbed sales because to recede and the very same nautically inclined Casanovas were abandoning their dreams for a more practical, less-expensive, totally dry mattress.
"I would not recommend a waterbed to any patient," says NYC-based chiropractor, Dr. Steven Shoshany, "A waterbed is bad for your back because it does not offer the support necessary for a restful night's sleep. I personally use a Tempurpedic mattress -- it would be either that, or Sleep Number mattress that I usually recommend… I would also mention that sex in a water bed is not so great, either."
Owners are also urged to pour in Clorox to ward off algae...
Not only are they bad for the back, but a king-sized waterbed can weigh up to 1600 pounds when filled. Owners are also urged to pour in Clorox to ward off algae, and most beds come with repair kits similar to those used for inner tubes. Who has time to devote that much energy to a bed?
Now, the waterbed is a joke. Seriously, do you know anyone (who isn't on parole) with a waterbed in their house?
"They didn't adapt to what the consumer wanted," says furniture salesman Jim Hettinger. "People didn't want to slosh around in a bed any more. Even with the addition of baffles,which provided a more 'waveless' experience, that made the bed cost more and people weren't willing to pay."
Hettinger suspects he sold his last waterbed in 1999, and recognizes that there's just no place for them in the bedroom anymore. Hall, however, believes the waterbed will make a comeback.
"People who don't remember waterbeds growing up are like: isn't that the '70s porn thing? I think they're really due for a comeback -- the comfort really is undeniable. Plus, they've evolved. They used to be a very simple bag full of water in a frame." Still, that doesn't change the fact that an improperly take care of waterbed could wreak havoc on one's back.
Now we have companies like Casper and Leesa, who specifically bank on customers wanting a simple, comfortable, and -- most importantly -- light surface to sleep on.
"The clunky knotty pine used in the '70s probably added to the decline of waterbed," adds in Sonno Bed CEO Dino Corella. However, Charles Hall believes they're on the right track -- after all, he says, people are done sleeping on the uncomfortable surfaces of yesteryear. Does this change in comfort mean the waterbed could, indeed, become popular once again?
Hey, if JNCO jeans can do it, anything's possible.
Sign up here for our daily Thrillist email, and get your fix of the best in food/drink/fun.
Jeremy Glass is a writer for Thrillist and sleeps on a mattress made of bugs and straw.