Your Complete Guide to Buying Women Lingerie
Gifting that special girl in your life with lingerie is a win-win. When done properly, she'll feel sexy and prized in a decadently minimal number, and you get to sit back and take it all in... before taking it all off, of course.
But first comes the stressful part: actually buying the lingerie. I recognize that look of panic in your eyes because I worked as a Victoria's Secret sales associate for three years. To alleviate your anxiety, here's a comprehensive guide to corset shopping, boob sizing, and setting the mood this Valentine's Day.
Teddies vs. corsets: what's what?
The only thing more overwhelming than navigating the mesh frontier of a lingerie boutique is learning its vocabulary. Let's start with the basics.

Corsets and bustiers are the bra's exotic cousins. With cups and adjustable straps, they also have curve-hugging mesh or lace at the waist. Complete the outfit (and earn brownie points) with a garter belt, matching thong, and thigh-highs.

Babydolls, slips, and nighties are like miniature dresses. Such options provide your lady with full midsection coverage, and you with sizing wiggle room since they don't fit skin-tight. Flowy hemlines, decorative necklines, and racy combos of silk and lace trim prove that sweet can be sexy.

Teddies and bodysuits resemble one-piece swimwear for the daring. They feature cutouts, see-through bits, and even themes for role-play (if French maids get you going) -- but tread lightly here if she's a lingerie virgin.

Consider her personal style
Lingerie is an extremely personal gift. Keep her individual tastes in mind so she knows you thought of HER and not Jenna Haze while shopping. Take cues from her daily wardrobe: if you've never seen her wear pink, don't buy her a pink corset; if she's a demure lover-of-lace, then a mesh bodysuit isn't your best bet. Consider the kinds of things she wears under her clothes on a daily basis, and work from there. When in doubt, find something black or red that isn't over the top.

Also, her Pinterest page is your cauldron of answers. Women spend hours on that site "pinning" wish lists of all their favorite crap under the sun... including lingerie.

Who are you really shopping for?
Yes, buying your girlfriend lingerie is partly self-fulfilling. But come on -- that's half the fun. If the thought of her in a black negligée gets you going faster than a brick on a Ferrari accelerator, then by all means buy it. Just remember to present it with a coy whisper in her ear about why you chose it for her specifically.

BUT! Her comfort comes first. I always asked male clients what their women's favorite features were. That way, a guy can pick something out to accentuate that body part. Does she love her ass as much as you do? Great, get her the cheek-skimming booty shorts. If she's self-conscious about her tummy, I don't care how much you love that little bralette! A nightie will ensure she feels sexy and comfortable.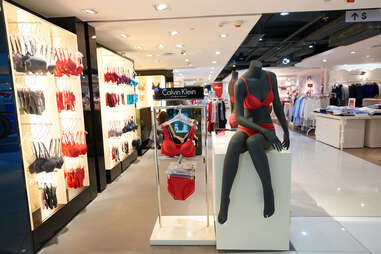 Size matters
Nailing her size from the get-go is crucial. If you buy a garment too big, she'll assume you think she looks larger than she is (NOT good). Too small? She'll cry chardonnay tears when she can't quite squeeze into that bustier.
There are several ways to figure out her size. Sneak a peek at her bra and underwear tags after your next bedroom romp while she's obliviously basking in euphoria. Or, ask her sister or best friend to take her for a professional bra fitting (they're free at any lingerie store). If you're the direct type, it also always works to just ask.

Lingerie-sizing formulas can be a headache to the unfamiliar, so here's a cheat sheet. Sizes for bras and bustiers with built-in cups include a number, which is the distance in inches around her ribs just below her boobs, plus five (women's sizing sucks). So a 27-inch measurement means she should wear a 32 band size. That number is combined with a letter (cup size, designated by letters of the alphabet), equaling a complete size like 34B. Each also has a "sister size," so if the bra isn't available in 34A, a 32B fits very similarly. Underwear's easy: thong and panty sizes run just like your boxer briefs: XS-XL and beyond.
Sales associates are helping, not judging
To you, Victoria's Secret is a daunting detonation of pink and lace. You feel out of place and creepy, wishing you opted for the Amazon gift card. Speaking from experience, rest assured that sales associates don't think you're a perv for perusing women's undergarments. In fact, assisting a nervous male client is basically our favorite thing to do.

Don't be bashful when approached by staff. Inform her of colors or styles you'd like to see, or describe your girlfriend's body type and personality. She'll present you with all kinds of options. Seriously, it's our pleasure to help you -- anything is better than the boredom of putting sensors on panties.

Sealed with love (or at least thought)
With sexy gift-giving, there's a fine line between thoughtfulness and objectification. Presentation is key! Wine and dine her first to set the night's mood. After a bottle of half-decent Chianti, she'll be eager to try on whatever you bought her. Don't just hand her a shopping bag and say, "Here, put this on," making her feel like a flank steak. Flank steak is good... except when it's your girlfriend.

I always gift-wrapped lingerie for nice male clients in my store because a box and bow go a long way. Don't forget a sweet card, either: the end goal is to let her know she's desirable and the ONLY girl you're dying to see in this red corset. When she does emerge wearing it and your jaw drops, say anything except, "That was worth every penny." Put a price tag on love and sex, and you'll be spending Cupid's day in the doghouse.
Sign up here for our daily Thrillist email, and get your fix of the best in food/drink/fun.

Brooke Sager is a contributing writer for Thrillist and former Victoria's Secret employee who still hasn't a clue why it's called a "teddy." Follow her adventures in NYC and beyond on Instagram and Twitter: @HIHEELZbrooke.