I Got Into Porn on a Dare. Here's How I Got Out.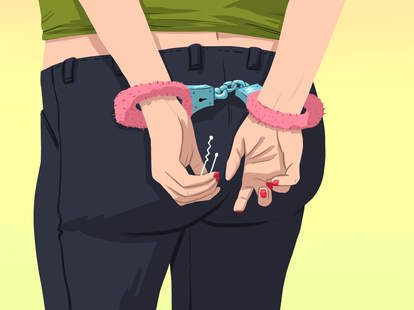 Lexi Love (not her real name, by the way) got into porn on a dare and spent a few years of her life as a bonafide porn star. Google her now and get it out of the way. OK, you good? Great. She's out of porn, now -- happily out of porn. It wasn't an easy transition to make, but Lexi made it happen.
Now, she's working as an actress and marketing consultant, and just finished working on a film with Penn Jillette and recently played Prostitute #4 in Grand Theft Auto V. She admits that getting out of porn isn't the easiest thing in the world, but has moved on in a way that kept bridges from being burned and having a permanent scarlet "P" on all of her clothes.
We chatted for a bit about why she left, how she did, and what she's up to now.
 
How did you get into porn?
My friend dared me to go take naked pictures and see if they would get published in High Society magazine. This was back in 1999 -- so, not too much Internet back then -- so I did… I went and took pictures in this dentist's office in Boston, and this dentist would send in amateurs to High Society. And they got published and High Society asked me to come to LA to do nude modeling. I told them no at the time -- I was in college, I had a long-term boyfriend, and it was just a dare.
Then five years later, I moved to San Francisco and met a guy in my building who was doing porn, I was dating him a little bit, and he asked if I was interested in doing movies. I said sure, we shot a few scenes, I had one really bad BDSM interaction and I moved to LA to do porn in a less kinky environment.
 
So, it became more legit in LA?
Yeah, I got a full-time agent, and it was a full-time gig. It was before things were going digital -- this was when things were still print and DVDs.
 
Was it fun?
Um... to me, it was just a job like any other job. I'm very much a Tomboy, so I had this huge learning curve. I had to learn how to be "pretty," and learn what people wanted for porn. Yeah, it was a lot of adjusting and -- I'm a perfectionist -- so, I always wanted things to look good, I never focused on it being fun. Look back now, though, I wish I had had more fun. It's a multi-billion dollar industry… and if you work in that industry and you're more business-minded, you're probably going to be thinking about business rather than having fun.

Why did you get out of it?
My mother passed from an STD. It was a blessing in disguise. It's one that the industry doesn't test for all the time. It's not on your regular test and now there's a cure for it, there wasn't then... it's Hepatitis C. So, she passed away from that and I could have gotten that any day going to work.
"Going condom-only stopped people from calling."
It was scary to watch and if other people could see how the body breaks down from Hep C, they would always test for this and shoot porn with condoms.
What did you do next?
I went condom-only and then there were only two companies that would hire me. At the time I was working two or three times a day. I was in my prime, the height of my career and I just stopped. I couldn't go to work and put my life at risk. So, no one was hiring me and I didn't want to feature dance anymore, because that's hard on the body. So, I quit.
 
Did you go cold turkey or...
Going condom-only stopped people from calling. My agent would call once in awhile, but anyone wanting to book would asked that I shoot without a condom and I never did. After a while, I just stopped filming. Then I opened up my own marketing/consulting firm.
 
What's life like after porn?
Directly after, it wasn't very good. I was in New York at this point and I'd get recognized on the street and it was just kind of weird. I moved back to SF and decided that I wanted a regular job and no one would hire me. Grocery stores, restaurants, tech… I was unhirable. I was a walking sexual harassment case waiting to happen. You're not supposed to Google people, but people did. It was a real fiasco. And I was really, really careful about anonymity. I finally found a nightclub, worked coat check, and also went to school.
Nowadays, porn is much more accepted. You have Fifty Shades of Grey, Miley Cyrus, and other sex-forward people are helping to bridge sex. Plus, the younger generations talk about sex all the time -- porn just always comes up. America is changing their opinion on sex.
 
How do you feel knowing that anyone anywhere can see you naked online?
I don't care, it's kind of cool. I have a legacy forever for being this hot, naked chick. I can look back and go 'wow, I looked really good.' I get upset when fans post naked pictures of me on Facebook or Twitter. And it's like -- come on, guys, that was six years ago -- there are people online who don't want to see this.
"... The world still isn't very accepting, once you go in, you have to commit to it."
Not that I think people should keep porn in their closet, but I did it, it's over. I don't know why people want to share my nakedness with me.
 
Yeah, you were there!
I mean, I guess if someone took a picture of you and started sending you your own picture… wouldn't that be weird?
 
Sure, I looked like an idiot six years ago
There are young people out there, too! I don't mind showcasing my personality or my thoughts, though. I can talk about sexual health and sexual topics all day long, but sometimes it leads to me having to bat people off, because people just turn into perverts. Not that there's anything wrong with being a pervert.
 
Has your view on porn changed?
I'm still pro-porn, but if somebody asks me if they should get into porn, I say no. If you're going in to explore, if you want to go in and try and do your thing, that's cool too. But, the world still isn't very accepting. Once you go in, you have to commit to it. It's not going away and it could hinder you from doing things… so I always suggest not to get in unless you have a degree or a backup plan. If you don't, there's just no longevity in it anymore.
 
So, what's your plan now?
Well, I'm going to continue acting for a bit while also doing marketing and consulting.
"I don't want to have sex with every person out there."
I've done some work for Grand Theft Auto V as Prostitute #4. It's fun and I'm very lucky to have good friends who are in mainstream Hollywood -- it helps a lot. It's not necessarily an easy transition.
 
No, I'm sure it's not
I think of it like child stars… when they grow up, people are like 'no, we really liked you in this role and now you're an adult.' Porn is similar, because the audience grows so close to the stars they watch. People might not think about porn as intimate, but I have a very intimate relationship with tons of people that I've never met. I think that's awesome and it's great, but -- hi -- I'm also a real person.
A big part of it is making someone realize you're a real person who does real things… you're not just sitting around masturbating all day everyday. I don't want to have sex with every person out there.
 
OK, so for anyone in porn out there who wants to get out... how do they get out?
Honestly, just do what you're passionate about, do what you do well, and other people will naturally gravitate towards that and you'll still be happy. That's all I've done -- I mean, I've had days where it sucks going to bed late and getting up early for school and work, but that's just life. Find something to work for, set goals, and find something you can complete everyday.
Porn is a magical place -- once you enter a world where you're put on a pedestal and people are really interested in you, and you leave, you're not going to have that as much. It's important to find something obtainable you can do everyday. I think that's my best advice for leaving… and don't leave a big dramatic exit… just in case you want to go back.
Sign up here for our daily Thrillist email, and get your fix of the best in food/drink/fun.
Jeremy Glass is a former writer for Thrillist and probably has an unsavory picture or two floating around there.