How to Be Good at Getting Head, Which Is Almost as Important as Giving It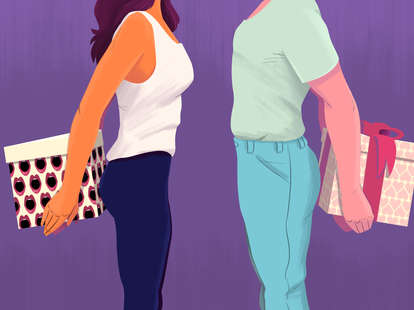 Jason Hoffman/Thrillist
Jason Hoffman/Thrillist
If you want more head, you should be good at getting it.
I've given (and gotten!) great head and terrible head. But you know what? More often than not it had absolutely nothing to do with anyone's skill level. Sure, everyone's always talking about how to give your partner the perfect blow job or figuring out ways to become an oral-sex master. But what about the other half of the equation?
Being good at receiving is actually just as important as giving. So, listen up.
Be enthusiastic
Enthusiasm is where the magic happens. This is what will determine whether your partner enjoys or detests going down on you.
No one is going to want to give you head if you're going to act like it's only half-enjoyable, or like I'm annoying you by trying to pleasure you. I once had a guy literally push my face away when I went in for a BJ. "Not in the mood for that," he said coolly, as felt myself dry up faster than a California drought.
Don't make me -- or anyone! -- feel like giving you a blow job is somehow an inconvenience for you, bro. If you're not in the mood (which is perfectly OK -- we're all there now and then), find a way to be nice about it that doesn't make me feel embarrassed, insulted, or sad.You don't have to give me a sticker to make me feel appreciated, but you could at least show a modicum of interest. You can smile. You can be loving.
And when you are in the mood, you can make sure I know how great this is for you. Your active enjoyment of what I'm doing is the hottest part of any "job."
Make some noise!
You know what makes blow jobs awkward? Silence. Do not lie there like a dead fish. This is not a library. You are not a corpse! I'm doing the heavy lifting here -- your task is to be engaged and excited.
Much like cunnilingus, not all men prefer the same sequence of blow job practices. Blow jobs invite a diverse skill set; from mixed-up licks to vibes and varied rhythms. Help me out by telling me what you want. I want to make you feel good, remember? Kind of what I'm doing down here in the first place...
So be vocal! Moan when I'm doing something right. Tell me what feels good. And for goodness sake, if I'm doing something wrong, by all means, point me in the right direction.
Don't push my damn head down
The only way you're getting head is if someone gives it to you. And NOTHING is going to make me want to go down on you less than pushing my head down. It is so rude and presumptuous.
Now, if we've discussed that I think it's hot when you do that and it is consensual, OK. You can push my head down if I said you could. Consent is sexy. Every relationship is different and people are into different things. If you're into head pushing (or anything else), just make sure I am, too.
Reciprocate
Don't ever assume you're getting a blow job without giving your partner head, too. Get out of here. It's a sad reality that blow jobs are considered status quo while giving a woman head is a proportional rarity. This needs to change.
A rule's a rule: If you want it, you better be ready to give it. You gotta give some to get some, I always say. "Do unto others," and all that.
Get your dirty talk on point
Not sure if you noticed or not, but my mouth is full right now and that makes talking a bit of a challenge. But that's not a moratorium on chitchat! This is when you should be talking dirty to me.
The kind of dirty talk you do is subjective. It totally depends on what you're into. And it DEFINITELY depends on what your partner is into! If you're cool with talking about this ahead of time, you can find out what's safe to say and what's going to be a complete turn-off. When in doubt, don't go over the top. An "Oh yeah, baby" or a "Just like that" really will suffice in most cases.
It's all about making your partner feel sexy. So break out the compliments! Tell them how hot they are. How good they are. How insanely perfect this feels. When in doubt, just use the same dirty talk you use during sex.
Keep the magic alive by being a part of it. Bottom line: You'll get more blow jobs if your partner actually enjoys giving them to you.
Sign up here for our daily Thrillist email, and get your fix of the best in food/drink/fun.