How to Keep a Threesome From Ruining Your Relationship, Maybe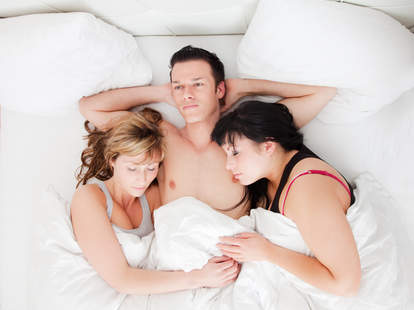 Even for those of us who sucked at math, we still know that most of the time 2 + 1 in the bedroom = drama. Having a threesome without destroying your relationship is like 69ing and actually enjoying it: many have tried, few have succeeded. The simple truth is that relationships, unlike bicycles, tend to be a lot more stable without a third wheel.
So how can you bring a plus-one to bed without spoiling the party? No matter your orientation or three-scoop sundae combination, here are some ways to make sure one of you won't be sleeping on the couch after your guest of honor leaves.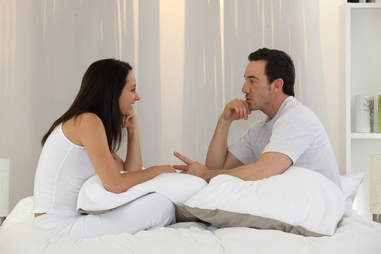 Shutterstock
Communicate before you fornicate
Sex educator/stand-up comedian, Kelly Stone – AKA "the lady that teaches people how to use condoms" -- explains, "communication and consent are the keys to any sexual activity." That may seem self-evident enough, but considering your relationship is at stake, take this conversation as seriously as a UN summit. All affected parties need to be present, including your potential third. Otherwise, he or she may end up crossing a boundary they didn't know existed.
PRO TIP: "No penetration" is a common rule for threesomes for first-timers and threesome veterans alike.

Make sure you're all tested before you share fluids
If you're monogamous, you may have become a little more laissez-faire about things like condoms. But every sex-pert I spoke with couldn't stress this point enough.
Carli [last name excluded], a doctoral student in human sexuality who runs the website honestlynaked.com, explains that when it comes to sexual health, "your intentions may be to be honest, but the lack of sex education that we have as individuals have in this country lead us to being dishonest."
STIs can have an incubation period of anywhere from a two weeks (think chlamydia and gonorrhea) to three months (HIV). So depending on how long you and your partner have been exclusive, even you two may not be totally out of the woods, medically speaking. Having a threesome just brings another person's sexual health and history into the picture. Whatever bonding experience you're looking to get out of this, I'm sure it's not one that's fostered by having to get the same prescription filled.
Oh, and STIs can be passed using sex toys, if you're into that too. So get ready to sanitize.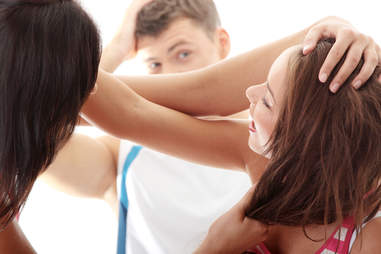 Shutterstock
Planned threesomes are better than unplanned ones
Tyler, 32 said it best: "I like it when things happen, and things typically tend to happen when you make plans."
Tyler has been in open, non-traditional relationships for the better part of the last decade. While he acknowledges people in his situation "don't have the same set of assumptions to overcome" when it comes to threesomes, planning things out will not only make sure they happen, but will prevent you from "dynamiting the relationship.
Think of threesomes as an investment, not an impulse buy you make when browsing on Amazon at 3am. One of Tyler's more recent threesomes included a woman he and his girlfriend had partnered up with several times: A woman Tyler had dated and who his girlfriend knew. Which brings us to our next tip...

It's all about who you know, or who you don't
Tyler offered some sage advice when it came to choosing a third partner: "These things tend to work out best with someone you know very, very well, or someone you don't know at all."
Our sex-perts agreed. While picking someone you know intimately can make both communication and the issue of safety easier, seeing your BFF naked with your significant other is likely to bring up some seriously mixed emotions. So to avoid potentially murky emotional waters, how do you go about finding a stranger who's willing to get down?
Well if you're a heterosexual couple looking for another woman, Austin-based sex educator Megan Church of The Downstairs recommends sending the woman to make first contact.
Women come off as far less predatory. It's an unfair double-standard, but one of the few that work in a woman's favor. Deal with it.
If approaching randoms in a bar seems daunting, there are professionals who may be of some, um… assistance. I'm not saying to pay for sex, because that's illegal and stuff, but even Stone admits of the sex workers she knows, "very often, the reason they're called upon is to help a couple."
Church is on the same page: "A sex worker can be a surprisingly safer route." Not only are they "more experienced, and better at reading body language," but many are extremely proactive about their health, as it is their livelihood.
iStock/illbusca
Beware the dangers of novelty
Amanda, 35, had been dating her boyfriend for about two or three months when the subject of threesomes came about. She had had been with two men before, but admits, "that was too many dicks for me." When her girlfriend, who had experienced her own fair share of threesomes in the past, came into town, they all decided that it was Amanda's time to try this flavor of ménage à trois.
"It was really fun!" Amanda said. "It didn't get in the way of what the guy and I had, but it was very obvious during the threesome that, because my friend was new to the equation, she was getting far more attention than me, so I felt a little shafted, pun [intended]. But I got over it after he apologized about 15 times."
So remember: no matter what you and your partner share, it's hard to compete with something new and different.
"They just want the strange," says Chelsea, 28. Chelsea's first and last threesome happened in her early 20s with her then-boyfriend and ex-girlfriend, (Chelsea's bi). Unfortunately for Chelsea, novelty bred something much more, and that pretty much spelled the end of her relationship when her ex and her boyfriend started shacking up together.

Lower your expectations… this isn't Wild Things
First of all, no one is as hot as Neve Campbell was in 1998. Sorry, Denise. But much like sex in general, threesomes aren't what they're like in the movies, and more importantly, in porn.
Most of the threesomes depicted in porn are "highly misogynistic," says Stone. "[Porn] glamorizes group sex and creates a set of expectations that's not realistic… it's usually for the pleasure of one person in the group."
Even when one partner is participating as more of a favor than for his or her own pleasure, everyone needs to be enjoying themselves at least a little bit. If a threesome is your first foray into group sex, Stone recommends attending a swingers or fetish party, where participation is not mandatory. Go with your partner for the previews instead of the main attraction, to get a more realistic idea of what to expect.
Shutterstock
Don't expect it to fix a flawed relationship
Before you start drafting your Craigslist ad (just kidding, definitely don't), consider the reasons why you want to have a threesome in the first place. "Adding another person to a relationship does not make it easier. It compounds [the problem]" should one exist, says Church.
A threesome won't save your sex life, much like having kids won't save your marriage. Further, expecting your threesome to revitalize your relationship puts unfair and unnecessary pressure on both the experience and the third partner.
The only problem a threesome solves is the desire to have one just for the sake of it. And even then, it may cause more problems than it solves.
Sign up here for our daily Thrillist email, and get your fix of the best in food/drink/fun.
Julia Reiss is a writer and stand-up comedian who, despite being generally sex-positive, doesn't like to share her fries let alone her sexual partners. Follower her semi-SFW tweets @thereisspiece and check out her website for the next time you can catch her dick jokes live.