Sex Tips for Boring People: Pubic Hair, Sizing Condoms, and Girl-on-Girl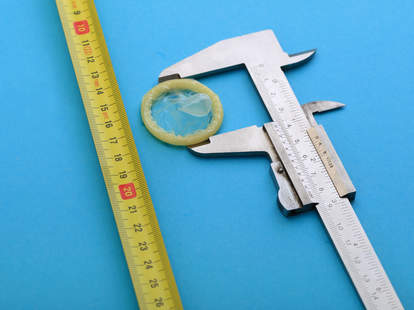 Sex Tips for Boring People will take your sex life from vanilla to passion fruit. Or at least from vanilla to vanilla bean. Find more sexy advice right here..
Doesn't anyone like pubic hair anymore?
Sure they do! While we live in a world where everyone is shaving/waxing/lasering their bits to near pre-pubescent status (thank you, porn) there is still a market for those who believe that human hair was put there for a reason. Really, as is typical with most things sexual, it comes down to personal preference. There is no right or wrong to this hairy question (see what I did there?). Though it would seem that the trend these days is to skew toward bald/barely there, if you like a full bush then embrace it. The general consensus, no matter what you choose, is to keep it neat. If you need a weed whacker and a map to find what lies beneath, no one is going to go looking for it.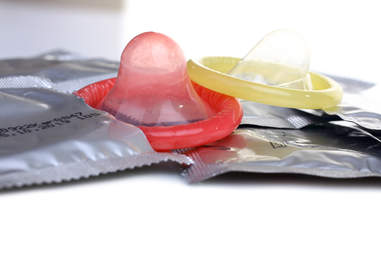 Shutterstock
How can I figure out the right-size condom to wear?
Gentlemen, we know that you like to believe it's bigger than it is, and we will tell you so if it makes you happy. BUT: condom shopping is not the time to stroke your ego. Contrary to popular belief, one size does not fit all. In fact, a 2010 study from the Kinsey Institute for Research in Sex, Gender and Reproduction in Indiana discovered that a poorly sized condom doubles your risk of losing an erection as well as breaking and/or slipping. FYI, neither of these things are good for sex. Also, if you're unsure about whether or not you should wear a magnum, chances are you should not. 
So, how to properly size a condom? One frequently touted test involves putting the empty cardboard tube from a toilet paper roll over your full-on boner. If there's plenty of room, chances are you're a small. If it fits just right then it's regular-sized for you. And if we're busting at the seams then you have officially graduated to magnum status. You, sir, may leave your number in the comments, please and thank you.
 
In a girl-on-girl situation, what constitutes sex?
First I'd like to apologize to all the lesbians out there who have had to answer this question ad nauseam from a never-ending list of beer-guzzling straight dudes at bars. Truth be told, this is a tricky question for a heterosexual woman to answer because we gauge sex by penetration. With only women at play, penetration is a little more... challenging. No, lesbians do not need to use a strap-on in order for sex to occur. The end goal for most (all?) sexual encounters is orgasm. For women it's no different, though most lesbians agree that you're in the club if you enjoy going down on another woman. Did both of you/one of you do this? Did you come? Sex. 
Sign up here for our daily Thrillist email, and get your fix of the best in food/drink/fun.
    
Meagan Drillinger is a contributing writer for Thrillist. All of her dates are tax-deductible. Follow her on Twitter, Instagram, and Facebook at @drillinjourneys.