'Love at First Swipe's Producer Gives 4 Steps to Winning Tinder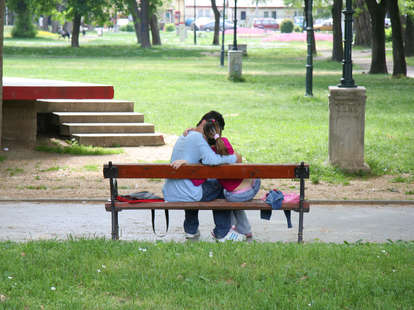 Ljupco Smokovski/Shutterstock
Ljupco Smokovski/Shutterstock
As a dating coach, I've worked with singles from all over the world who are totally frustrated by online dating. I tell them the same thing I'm about to tell you: meeting the person of your dreams on a dating app is all about proper marketing.
Basic profiles yield basic results. One badly lit photo, weird facial expression, or empty bio can take you from living happily ever after with the woman of your dreams to being the old guy at the pub that everyone calls "Old Yeller." I scored a fiancé on Tinder -- but almost missed him because he was alone in all of his photos. Did this guy not have any friends? I was about to swipe left, but his profile was intriguing and he was definitely attractive. Figuring I could always unmatch him later I swiped right. But we almost missed each other -- just because he didn't have a good balance of images.
To help you avoid easy mistakes and keep you from spending the foreseeable future alone, here's a four-step plan to make your profile more attractive and land you a date with the person of your dreams.
1. Figure out who you want
Who is your ideal partner? What are their interests? What do they do for work? How old are they? Where are they from? The more specific you are the better -- then you can use your resources to attract it. If you're looking for a beach babe, set your location settings accordingly. When I was single, I opened Tinder in trendy neighborhoods that I liked because I knew that the type of guy I was trying to attract would probably hang out in that area. Sure enough, my eventual fiancé actually lived in one of those neighborhoods.

2. Figure out why they'll want you
The same way you were specific about what you want, it's important that you show you can bring something to the table. Maybe you're a hard worker. Or an excellent cook. Maybe you're the undisputed karaoke king at the local pub. Make a list of your finer qualities, choose three favorites, and write one to two sentences highlighting them for your profile.
3. Post photos your mother would be proud of
Pictures are worth a thousand words. And since no one wants to read that much on a dating app, your photos are there to do the legwork. People read into photos more than they realize... remember how I almost swiped left on my guy because his profile made him seem like a loner? You wouldn't believe how many people do themselves a disservice with their photos. Every profile should have these four photos: a headshot, full-body shot, action shot, and social shot. I'm talking a clear photo of your face, a clear photo of your physique (no bathroom selfies please), a photo of you doing an activity that you enjoy, and a photo of you with people you enjoy. Natural light is your best friend so try to stick with photos that were taken outdoors. If you have these four photos on your profile, you'll come across as a well-rounded person. That's exactly what you want in order to stand out.

4. Make your message count
Sending the first message can be intimidating, but it's also your best chance to shine. The best message you can send is one relating to the person's profile, and asking a question. If you see they are riding a bike in their profile, ask where they like to ride. If they say they like to travel in their bio, ask about their favorite destination or most recent trip. Keep it simple and sincere, and please don't write something as stupid as "Hey what's up?"... unless you want to be ignored.
Sign up here for our daily Thrillist email, and get your fix of the best in food/drink/fun.
Devyn Simone is a dating expert, online dating coach, and the co-host of Love at First Swipe on TLC. Follow Devyn and get more of the online dating gospel: @DevynSimone.