Thou Shalt Delete: The 13 Sexting Commandments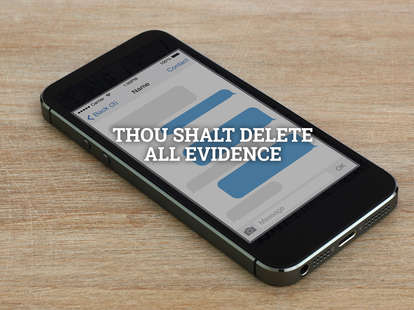 Come clean: we've all sexted. Thanks to this incredible thing called technology, saucy photo swaps and titillating text threads are at your fingertips 24/7... even when you're home wearing nothing but sweatpants and Cheetos residue.
But if you find yourself feeling frisky... don't just blindly hit send or save. Honor basic sexting etiquette to ensure it's as hot as the real thing -- and won't turn you into the next Anthony Weiner. Here are your sexting commandments.

Thou shalt set the stage
Sexy pics are like nachos: the bare minimum is satisfying, but any add-ons up the ante from good to fan-effing-tastic. Start with a flattering pose, aka the cheese. Upward angles are best -- lay on your back and take a full-body shot, showcase your booty with a mirror pic, or focus on your cleavage in a lace bra. Fellas, strong oblique lines paired with Calvin Klein bands and flexed biceps are always encouraged. Next, utilize dim, sultry lighting -- the salsa that spices things up. And finally, top it off with guac -- a Valencia or Lark filter -- and congratulate yourself on making someone's night.
Thou shalt not dive in blind
Putting yourself out there and getting shut down, especially sans clothing, is a Steve Harvey-crowning-the-wrong-Miss Universe level of humiliating. Stir the pot slowly! Send something suggestive that could be construed as non-sexual, like a photo of you in bed with f*ck-me eyes captioned, "I'm tired," or one showing a teensy bit of evidence that your "tan lines from the beach are crazy..." See where it goes from there. If the response is lukewarm, no harm, no foul because you didn't show any private parts. But chances are, you'll be asked for more.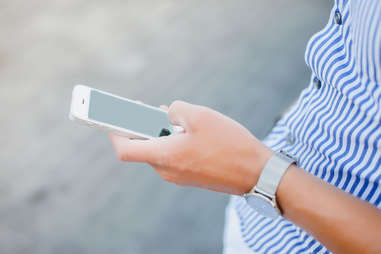 Shutterstock
Thou shalt honor the art of flirting
Sexting, like actual sex, is far more pleasurable with a slow build. Coming in hot with full-on nudes gets boring... especially if you've already seen each other naked IRL. Be coquettish. Pique his interest with a virtual strip tease, removing one more item of lingerie with each picture sent.
Thou shalt be properly groomed
Self-explanatory.
Thou shalt not mince words
If you're going to sext, throw caution to the wind and do it right. Don't be afraid to get descriptive with words like "hard," "wet," "slide," "ravage," etc. You'll both enjoy it more if you set aside embarrassment. We're all adults here. Don't be cute! They are tits, not ta-tas, and
do not call it a wiener
. Stay away from clichés like, "I have something big to show you..." Also, no emojis. Nothing kills a she-rection faster than a saucy text punctuated with a
cartoon eggplant
.
<a href="http://www.shutterstock.com/gallery-2064383p1.html?cr=00&amp;pl=edit-00">ymgerman</a> / <a href="http://www.shutterstock.com/editorial?cr=00&amp;pl=edit-00">Shutterstock.com</a>
Thou shalt mind your privacy settings
Repeat after me: password protection. If you lose your phone and don't have a passcode, that homeless man who finds it on the subway platform is in for a real surprise. Also, turn off your iMessage previews. Random pictures are all-things-yes, but when you're at mom's house and an unsolicited pic of Mike's crown jewels pops up on your home screen, have fun making awkward dinner convo.

Thou shalt delete all evidence
You should really delete a racy pic from your phone immediately -- sent or received. But if you live life on the edge, just don't let your friends or grandmother scroll through your pictures. And always, always, ALWAYS keep the first photo on your camera roll PG. If you have a few hall-of-famer photos you want to hang on to, store them in Private Photo Vault, an app that requires a password for viewing. For the rest of you, take a long, hard look (lol) at your photos of nether-region naughty bits, then delete all traces from your texts, camera roll, and "Recently Deleted" folder. Or, just don't send a photo of your penis at all. Because, newsflash: women generally don't find them hot.

Thou shalt recycle wisely
Capturing the perfect shot takes 20 minutes and a great hair day. Since sexting is often initiated when one party is bored and seeking immediate validation, recycling your favorite photo is bound to happen. But screenshot the pic first, then send that version to sidestep the 2012 timestamp.

Thou shalt avoid being blackmailed -- and stupidity
You can never be sure you won't get blackmailed, so there must be an established level of trust between you and your sexting partner. Significant others are more respectful of your privacy because they want you all to themselves. But if you cheat? Your naked fanny could be projected on the wall at his next party. I've seen it happen. Booty calls should be approached with extra caution. How well do you know him? Do you have any of his incriminating photos that could scare him out of exploiting yours? Unless there's a strong probability of you two dating, risqué snapshots serve as bragging fodder at wing night. If this prospect concerns you, don't press send.

Sexy pics are like nachos: the bare minimum is satisfying, but any add-ons up the ante from good to fan-effing-tastic.
Thou shalt not show your face
Especially if you're messaging photos to a non-significant other, don't show your face. Don't. Show. Your. Face. If I knew how to reiterate this vital point in French and Russian and Icelandic, I would.
Thou shalt not S.W.I. (sext while intoxicated)
After you find the bottom of a chardonnay bottle is
not
the time to send your hookup buddy the Full Monty. As we learned in seventh-grade health class, drinking impairs your judgment. I get that you feel uninhibited. But of course you do. You're hammered.
Thou shalt remember business hours
What's better than receiving a steamy photo when you're balls deep in Excel spreads at work? Nine-to-5 sexting is encouraged, especially if it's unprompted and you have plans to see each other later. But if you know his micromanaging boss hovers over him like a drone, save both of you the embarrassment and preface your pic with, "Want to see what I just bought? ;)" He'll answer favorably once the coast is clear.
Thou shalt reciprocate
Sexting is a two-way street requiring give and take. If she sets the scene with, "I'm licking your chest and slowly moving downward..." don't reply, "And then?" Um, and
then
it's your move.
Sign up here for our daily Thrillist email, and get your fix of the best in food/drink/fun.
Brooke Sager is a contributing writer for Thrillist living in NYC. Don't open the "Florida Ski Trip" album on her iPhone, but do follow her on Instagram and Twitter: @HIHEELZbrooke.