Attention Women: Stop Telling Me You 'Can't Manage to Stay Single'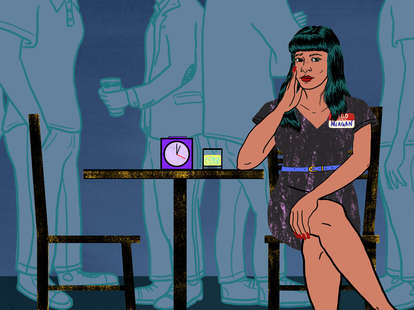 I am getting really tired of hearing women bemoan their inability to stay single.
There are a few variations of their disingenuous claims, but it goes something like this: "Oh my gosh, I am so jealous of your single life. It's like impossible for me to stay single."
Most recently I watched two women giggle their way through similar lines in a YouTube clip, as I sat on my couch in a set of cat-fur-covered pajamas illuminated by the glow of my computer screen. "They're clearly not trying very hard," I said aloud to the empty room, annoyed for the millionth time by people who are so envious of the uncanny ability of people like me to stay single.
Whether it's acquaintances saying how they just wish they could avoid being hit on all the time, people who bemoan not being single for more than three or four weeks in the last six years, or supposed friends telling me I'm "so lucky" to be able to avoid the pitfalls of men falling all over me constantly, it keeps happening. And it needs to end. Now.
Serial monogamists just look desperate
Listen, it's pretty easy to tell you don't MEAN you wish you were single. So what purpose is it serving to say it in the first place?
Patronizing perpetually single ladies isn't just offensive -- it's annoying. And hearing about you hopping from one relationship to the next tells me you're suffering from a few things, like loneliness, desperation, a need to escape from what's in your head, and a dependency on relationships to make you feel complete.
And as far as I can tell, each of these is a strong case in and of itself to spend some time single.
It's not actually raining men
What, are men just falling from the sky around your house? You walk outside to get the paper, one falls in your coffee mug, and you're like "Damn it! Fine, I was going to try sit at home alone watching reruns of
Sex and the City
, but I guess I'll go on a date with you, you good looking, funny, smart person."
Are you walking down the street, somehow avoiding all the weirdos and whistles, only to be respectfully complimented by the one guy who still believes in romance in Manhattan? I bet he has a dog too, a mutt he rescued when he first moved to the city. Does he?! Don't you lie to me!
Before you say it, I'll say it for both of us. Yes, I do sound like your crazy spinster aunt who quotes Charles Dickens and has never slept in anything other than a twin-sized bed. The thing is, most of the time I honestly don't hate being single. I actually really like it. But when someone ignorantly asks me why or how I'm still single, I can feel the fireworks go off in my head.
My singleness has been a fulfilling (and long) choice
You might benefit from actually spending time meditating on the real perks of being single. It has been a fabulous experience for me.
When I first moved to New York, I moved away from a very happy, long-term and long-distance relationship. That partnership hit a lot of the right notes; and nobody I met came close to seeming like a reasonable next move. I didn't feel the need to jump into anything quickly.
I filled my nights with yoga, writing, trying new bars, and traveling to hiking trails outside the city. I went stag to my friends' weddings, planned work dinners, went dancing, and reveled in my untethered freedom -- all while discovering new parts of myself inaccessible to me when I was putting a partner's needs so high up on my priorities list. Being single is valuable for that. And it's an experience all these perpetually partnered people around me are missing out on.
I admit, I sometimes wish I had a man in my life
Sure, it's hard not to look at these women who bounce from one partner to the next and not feel jealous. I picture them traveling the world together, making food on a Saturday night, never having to haul an especially heavy bag of laundry home by themselves, and having someone to pick up medication when they're sick. Someone to surprise you with Broadway tickets and hold your hand down the autumn-lined streets of the West Village...
Oh -- and never having to explain to the hostess that your brunch reservation for one actually means just one person who just really fucking loves brunch.
Being partnered up doesn't equal perfection
But being a twosome doesn't suddenly make your life perfect or easier than the rest of ours. That contentment comes from a self-fulfillment that accompanies you on a first date and all those to follow.
While I sit on my barstool absorbing the dates around me, I can't help but feel grateful for single life in New York City. By not having a continuous stream of partners, I've learned to stand on my own feet financially, physically, and emotionally. I found a job that could support me, planned trips for myself around the world, become handy at building furniture and fixing things, and moved apartments all by myself. I fail at things -- but now I know how to show up for myself and try again.
And that, I wouldn't change for the world.
While I'll try my best to not be your cranky single friend who mixes up your partner's names because there are a lot of them, I ask -- No! I beg you! -- to ask me how my cats are rather than how I can possibly manage to still be single.
One of these I promise to happily answer, while the other... let's just say you've been warned.
Sign up here for our daily Thrillist email, and get your fix of the best in food/drink/fun.
Carly Lanning is a freelance journalist and curation coordinator for YouTube. Follow her for cat photos and obscure YouTube videos on Twitter @CarlyLanning.