Any App Is a Dating App if You Try Hard Enough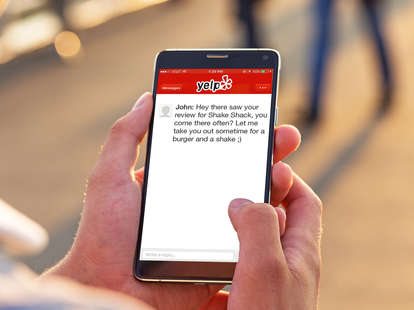 Preto Perola/Shutterstock (edited)
Preto Perola/Shutterstock (edited)
A friend of mine has a joke he uses in his stand-up routine about meeting women on Olive Garden's Yelp page. It's a great spot for picking people up, he jokes, because "you know they're family oriented."
He has a point, which got me thinking: what makes a dating app different from any other app? Can't any of these services be used for flirting and getting dates if you have the right angle?
To test my theory, I -- a single, straight, 20-something man living in New York City -- ventured off to pick up some women by politely approaching them on apps that are in no way designed for dating.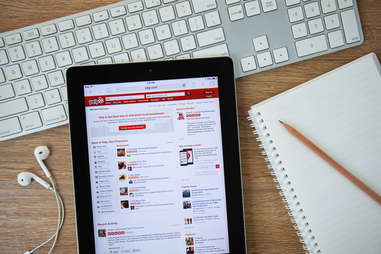 Yelp
I don't really use Yelp because I'm not much of a foodie; but if you do, you know it's extremely social. There are even power users who write essays about every single pasta dish at each Italian joint in Manhattan. My only review to date is of my dentist, who, while his hands were in my mouth, made me promise to write him one.
I searched my favorite bar near my apartment and began scrolling through Yelp reviews. One big advantage of this service is that you can pretty much guarantee these people live nearby, or at least in the city. Yelp also has pretty comprehensive profile pages, including links to personal sites for premium stalking abilities.
I scrolled through reviews until one caught my eye. She looked cute in her photo, and her review included a line about swooping in on one of the many first dates happening at this bar. Single is a box that needs to be checked, after all. So I beefed up my profile and sent her a message. Here's her reply:
Hey Andrew (do you prefer Andy?),
I don't typically like to use Yelp as a dating platform but I'm happy to talk a bit more. I've had a number of creepy/aggressive messages over the past year or so (yours is not one of them, don't worry), which is why I'm wary. But you're very sweet :)
I suspect the social and locational nature of Yelp has made DMs quite popular on the platform. If you steer clear of acting creepy or aggressive (advice for all things in life), you could end up on a date at a local wine bar with four out of five stars.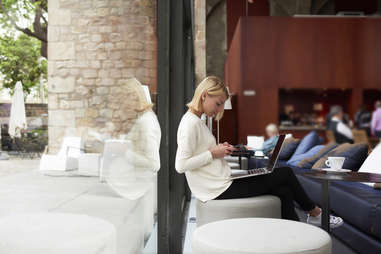 Goodreads
Goodreads is a virtual book club of sorts -- and if done correctly, can be an awesome place to meet someone who shares your literary interests. After all, what's sexier than bonding over some contemporary fiction?
It's a confusing platform, however. Authors and users have similar profiles, so it's tough to tell who's who. And though profiles have a location section, you can't search by that location... which means I had to click on a lot of profiles to find someone near me.
The reviews section of Aziz Ansari's new book on dating called Modern Love seemed like an apt place to begin my search for a date. I scrolled through pages and pages of reviews until I found one from a female user in New York whom I liked in particular. Off my message went, met with this reply:
Hi Andy! Thank you, but I'm in a committed relationship! I hope you find a great new book to read.
Eh; at the very least, I felt suddenly inspired to pick up a romance novel.
SoundCloud
Meeting someone on SoundCloud or Spotify is the virtual equivalent of meeting someone at a concert. Connecting over music is usually what I do on a first date anyway, so why not work backward? Spotify has a messaging feature, but presently you can only send songs or messages to people who follow you back. SoundCloud, however has an open-messaging platform. You can even reverse-search a song to see who has liked it.
All I needed to do was pick a song that would best define what I was looking for. I settled on "I've been Waiting For Her" by Mac Demarco because a)I like the song; and b) because practically every girl I've ever dated really likes Mac Demarco.
I spent hours clicking on profiles, trying to find someone in the city who shared my musical tastes (and relative age). Finally, I stumbled upon a cute Mac Demarco fan in New York City who was also old enough to drink. I sent my message:
Hey this is super weird but I came across your profile while I was looking for music, and you seem cute and like similar music as me, so I was wondering if you'd want to get a drink some time? Hope this isn't too creepy, I'm normal, I swear. -Andy
Her (eventual) reply:
Hi Andy, haha this note is so sweet! I actually haven't been on soundcloud in months so I was super surprised to see a message in my email. I have to give you some points for reaching out on a whim. Do you live in New York?
Of all the apps I tried, my SoundCloud profile is probably the most reflective of my true self. For that reason, I felt the most uncomfortable exposing myself to rejection. But hey -- I got lucky and was deemed surprising instead of creepy. Score.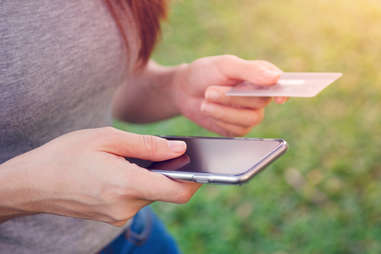 Venmo
In addition to being one of the most game-changing apps of the last half-decade, Venmo boasts arguably the best social feed on any network. You can view your friends' monetary transactions (if you're into that), or view the world feed and see all exchanges.
The only way to contact someone on Venmo is to pay them and write a message in the description section of the payment. I switched over to my friend feed, where I zeroed in on friends-of-friends. When I finally found a girl I wanted to ask out, I thought long and hard about how much money to send. Do I send a lot to get her attention? What's a lot to spend on asking someone out? This is all very weird.
I ultimately settled on $3. A New York City subway ride is $2.75 and an extra 25 cents for a piece of candy seemed appropriate. Luckily, you can elect to have your transaction be private, so my friends wouldn't be able to see these shenanigans playing out when they opened Venmo.
Hey this is totally weird but you paid my friend a few weeks ago and it showed up on my feed and well, you look cute and I don't know, figured I'd make venmo history by shooting my shot here and ask if you'd want to get a drink sometime?
Shockingly enough, I received a Facebook message from her days later. She admitted to originally thinking the message was spam, but after some healthy online stalking she'd determined I was a real person. AND that being approached on Venmo was the most creative way she'd ever been asked out. We lobbed messages back and forth for a while before deciding to meet up for a drink the following weekend. I did also tell her I was testing a theory about using non-traditional apps to date.
All apps can boost your dating life
Any app is a dating app if you try hard enough.. and if you go out of your way to not be creepy or weird. Honestly, cruising Venmo and paying for a date felt wrong. On a dating app you know the person you are interested in lives nearby and is interested, at least in the idea, of being flirted with.
In real life, you don't know someone's sexual orientation, their relationship status, or whether they have any interest in being approached. It's a slippery slope that requires a certain deftness of touch. But, it's also part of the fun.
Sign up here for our daily Thrillist email, and get your fix of the best in food/drink/fun.
Andy Verderosa is an advertising copywriter and writer in New York. Follow him on Twitter: @andyverderosa