The Proper Approach to Watching Porn With Your Girlfriend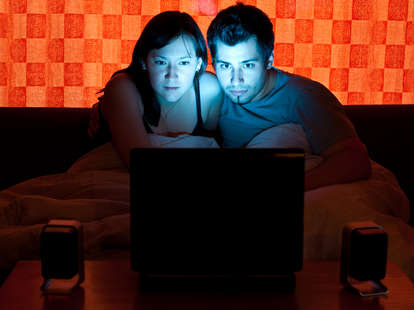 Shutterstock
Shutterstock
Is there anything better in the free world than an empty apartment, a cool glass of lemonade, and six straight hours of high-definition pornography queued up on your laptop?
Yes, and it's the simple change of adding your significant other to the mix. One person + porn = fun. Two people + porn? More fun! Well, possibly. Because it can go wrong. Very wrong. Like "I can't believe you're INTO that and now find you disgusting, I'm leaving right now" wrong.
However, that doesn't mean it's not worth trying, because, as mentioned, when it goes right, damn does it ever go right. And there are plenty of ways to get both parties on the same page and all it takes is a little preparation and communication. Well, that and a working Internet connection.
Here's how you approach it.

Chat first before you (or anyone on screen) just plows ahead
"This is where communication and honesty work well," says Angie Rowntree, founder and director of women's erotica site, Sssh.com. "While tastes in porn vary greatly, I generally advise couples to start with something that intrigues and interests both of them. I know that sounds like a bit of a cop-out answer, but you really can't put people in a box. People have diverse tastes, there's no 'one size fits all' approach."
Before you put on a flick that makes 2 Girls 1 Cup look like Love Actually, sit down and talk to your partner about their tastes. Are they into vanilla boy-girl stuff? Do they like seeing a guy get pegged by a 6ft metal rod? Have they ever gotten off to a man jerking off to his own reflection while a greased-up shaved chimpanzee in a derby hat reads the sports section of the Times? Actually, that might be a tough fetish to satisfy.
So yeah, talk first.

Make it the focal point of the night
For starters, take a page from those who regularly work from home and make the bed your place of business. After all, you're going to have a hard time moving yourself, your companion, and the computer from the living room to the bedroom in the heat of passion.
Next, grab some booze, because porn can be silly and alcohol will help you come to terms with the fact that you're watching a movie in which a late pizza man is actually rewarded for his tardiness instead of berated. Also, don't feel pressured to close your computer once the IRL love-making has commenced -- it can be kinda fun to have sex to the sounds of other people in the throes of passion, plus porn generally doesn't feature that awful boner-killing music anymore.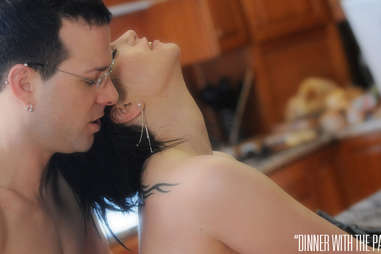 Take turns choosing
Hey, you may not have identical tastes, but that doesn't mean one person's fetish has to dominate the night. Take turns taking control of the search bar (making sure to clear your history beforehand, obviously) and explore the wide world of skin flicks -- though try not to stray TOO far from your agreed-upon comfort zones. You might not think you're into spanking, throat-effing, and rope stuff, but your significant other's magical tastes might turn your world upside down.

Pace yourselves and don't skip ahead
Any porn enthusiast will speak to the difficulty of keeping your hands to yourself while entranced in some of the fine films out there... however, there's always a huge payoff that comes from waiting. Skipping past boring scenes in porn is about as second nature as it comes while watching smut, good things will come (in many senses of the word) to those who wait. Who knows what kind of bright ideas you'll get from actually powering through a 30-minute blow-job scene.

Act some scenes out
This is a step that can only be complete once both parties agree on a movie, because it's going to come as a rude awakening when a sudden cut in a movie leaves you fuming in an armchair while your best friends tag-team your wife. Although, what were they doing there to begin with?
Anyway, find something comfortable for both of you and get out of your comfort zone by doing as you see. And, hey, if inviting a few friends over happens to be what constitutes "comfortable," great! Sharing is caring, guys.

Talk about it after
What did you like? What do you want to see less of next time? Do you think the pizza guy and the divorcee were able to make it work long-term?
Watching porn can be a shared experience that, if discussed with frankness after, can lead to a whole new level of sweet, sweet intimacy.
Sign up here for our daily Thrillist email, and get your fix of the best in food/drink/fun.
Jeremy Glass is a writer for Thrillist and watched Fifty Shades of Grey with his girlfriend once.