I Checked Out Pornhub's Virtual-Reality Smut, Here's What Happened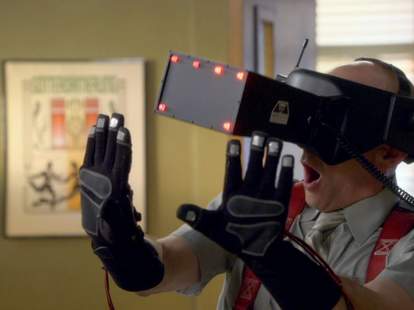 It sounds like every adolescent boy's dream come true: a virtual-reality porn headset that puts naked ladies in front of your eyes, inside your parents' basement. What a time to be alive! 
After the announcement that Pornhub would be partnering up with BaDoink to launch a VR channel (spoiler alert: extremely NSFW!) my over-excited brain got me wondering what this virtual-reality smut would look like. One thing led to another, and I called upon my piping-hot connections with the porn giants and got myself a free pair of Google Cardboard goggles to try it all out for myself.
The headset
So, the VR channel itself has launched on a bunch of different platforms for the multitude of porn lovers who get off on a variety of devices. You can watch VR porn on Android, iOS, and Oculus Rift. You can watch the videos on desktop and drag your way 180 degrees around inside the video.
I can't speak to the view inside the Oculus, but the Google Cardboard is a little too... cardboard-y. Maybe it's the ridiculous size and shape of my nose, but I found the headset to be a little too constricting and clunky, keeping me from fully enjoying myself and allowing my brain to be immersed in the splendors of virtual reality.
 
The VR
This is really easy to set up in iOS: just download the FreeVRPlayer app, go to Pornhub's VR section, and choose a video. There are plenty of videos, too. Look, I'll be the one to just come out and say it: I wasn't blown away. Because of how uncomfortable the cardboard headset is, I found it hard to concentrate... plus, the porno footage itself is a little hard to watch. OK, not too hard to watch, but I just didn't feel like I was there. 3D video is hard to shoot; and this footage was pretty blurry and glitchy at times. As one writer put it, depending on how the thing fits on your face, the actress can look like a naked giant. 
Furthermore, there wasn't actually a true 360-degree view; and the 180 degrees were set against a black backdrop. I couldn't look behind me, which would have maybe bummed me out even more if I was actually curious about what the back of a porn set looks like.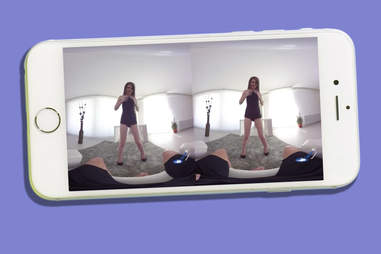 Pornhub/Jen Bui/Thrillist
The videos
You can tell that Pornhub + BaDoink really care about the users. There are dozens of videos available and each one is a blast to watch, regardless of the shoddy VR situation. Most of them revolve around a woman coming into a room and seeing you -- as the viewer -- lying down. She takes off her clothes, touches herself, does a little mouth stuff, and rides ya like there's no tomorrow.
There are variations, of course, but that's generally how it goes. Sure, you certainly don't feel like you're in a Jacuzzi with a sexy lady -- but you definitely feel like you're an exclusive member of an elite Eyes Wide Shut sex party. It's the kind of sex guys have after they win a Golden Globe.  
Some of the videos are shot in a true POV fashion, where the camera takes the place of the subject's eyes, and some just offer a front-row seat to the NSFW adventure.
 
The future
As one coworker (who wasn't in the room with me while I was watching porn) put it, "I bet this will be really good in a few years." I couldn't agree more. This is very much the beta version of what Pornhub is capable of, and I can't wait to see how explicit and graphic this gets in the not-too-distant future.
I mean, it already has a TwerkingButt with simulated body heat that comes with VR goggles, so it's not too far off from a full-fledged masturbatory hologram. It'll just take some time and patience.
Doesn't matter -- I'm in it for the long haul.
Sign up here for our daily Thrillist email, and get your fix of the best in food/drink/fun.
Jeremy Glass is a writer for Thrillist and can't get the goggles off. HALP.