Sleeping with friends is a thing we all seem to have gotten down with. But what happens when the "friend" is actually someone who really matters to you, and it doesn't work out? How do you face bar nights and friend hangouts with someone who totally used to see you naked?
I met Tom* my freshman year of college. He was charming and dweeby, and we connected immediately. I did not, however, want to see his penis. He just wasn't my type: too goofy, too short, too pessimistic. So when we met and hit it off, I got his number... and left his dorm room. We were going to be friends, end of story.
And the title stuck. For a long time. Tom was my generic male date, an all-hours phone call, an open-armed place to crash when my off-campus housing was too far to walk in the brutal Midwestern wind. Sophomore year, he started seeing someone. Totally fine, I thought, even though all of Tom and my mutual friends thought otherwise. "Isn't it weird for you?" they'd ask. "You guys are weird." I'd laugh, shrug it off, and reassure everyone that it was chill because I didn't want it, guys, and besides, we'd already promised each other we wouldn't be like that. We were Us. It wouldn't get weird.  
Spoiler alert: it got weird.
 
We dove head-first into the inevitable
I fell hard for a boy who didn't love me back late in my first year at college. Tom, now my best friend, was there to pick me back up. We were both single, a little lost, and content to spend hours in each other's company bingeing on chicken nuggets and movies. I realized during one particularly nasty winter weekend that I saw him literally every day; and when I didn't, things felt shittier. Late winter, he had some people over at his place (which basically meant we were having people over). It was freezing out; and at the end of the evening as everyone trickled out, we decided I'd park my buzzed self on the couch and crash there.
We put on a movie. Then, we kissed.
I still wasn't attracted to him, I reasoned. Not really. But he was so warm. I was so curious. We were tipsy. Why shouldn't we do the thing everyone expected us to do?
 
We neglected to address the chemistry between us
Walking home the next morning in the gray March light, I felt oddly hollowed out. And then, he didn't call. But so what? Tom was my best friend.
A week went by. "Oh my God, did you hear?" asked a mutual friend, so well intentioned, so unaware of what she was about to do. "Tom's been hooking up with Amyl! It started a couple days ago. Thank God, he's been such a mess. I mean, I'm sure you've noticed."
There was a copious number of Parks and Recreation episodes, fried chicken, and Original Broadway Cast Recording albums swimming around in the subsequent soupy mess of days and then weeks. Beyond that, there was just a lack of dignity and stress acne. Honestly, I don't really care to remember it.
But in short: the person I went to for love and support was the person causing me pain. It felt wrong and somehow surreal. The fact that my heart couldn't get past something as common as a (yearning, horribly intense) crush in order to keep Tom in my life made me angry at it for being such a dumbass, even while I was justifiably furious with Tom for not being the person I needed him to be.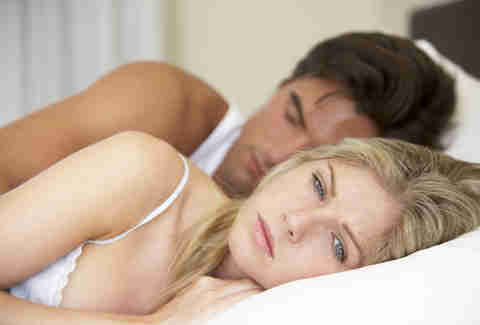 Our relationship was changed forever
We went our separate ways for the summer, and that should have been the end of it. But college is a cesspool, so there was more to come. September: I had had a couple drinks with my new roommates when Tom called to say he was back in town. He scooped me up onto the handlebars of his bike and we rode ecstatically through the empty streets, chatting all the way. We got back to his apartment and took shots, feeling invincible and healed. Friends! We could do this! Hell yeah!
But then Tom kissed me, and it was every bit as good as I remembered. He pulled back, checked in -- "I know we shouldn't, but..." I just kissed him back, done with pretending I didn't know what I wanted.
It was a one-time thing. No one really needed to know, right? Except it kept happening, which -- like our friendship -- kind of worked for a while. We kept seeing other people, but one or two times a month we'd lie about where we were sleeping and I'd slip up the back stairs to his apartment. Things didn't really end until the summer after senior year when we were both seeing people we cared about and decided we didn't want to screw that up.
It was hard for me (and still is) to think of Tom in a healthy relationship with someone else, but it meant that I got my life back. I couldn't love anyone, not really, with Tom around.
 
Sleeping with your best friend brings the highest highs… and the lowest lows
The thing about getting involved with your best friend is this: everything that is great, is crazy great. You know each other so well that there's no need for that awkward, slow slide towards intimacy that characterizes a new relationship. You're just there. They've usually seen you at your best and your most insane; there's a lack of judgment that makes you feel, almost instantly, known. The first time I slept with Tom was hilarious, sweet, and a little perfect. You don't get that with the guy you met at Bowery Electric at 3am on Saturday. I mean, I've tried. But first times have only existed in that way -- something next to perfect -- with Tom.
Of course, by that logic, everything that is awful is doubly, infinitely awful. When things end, they end hard. You're losing someone you love and have loved in a capacity beyond them being a fun sex partner. You're losing a potential life partner, because that's what a deep, real friendship can be. You also know how to hurt each other in a way that makes the inevitable breakup fights so, so shitty. I have said things to Tom that I still cringe to remember, years later.
It's a testament to our friendship, or whatever it is we have, that we still talk. And probably too much.
 
And you might never get over it
I saw Tom again about five months ago. I was visiting his city for less than 24 hours, but something in me felt like I had to see him. Maybe I just wanted to see how I'd do. Not so great, it turns out. I was shaking when he opened the door that morning.
Tom had cooked me breakfast, and while we were setting the table he "jokingly" asked if I'd stay in town if he married me.
"No," I said.
"It could be an open marriage," he smirked.
Right, Tom. Because that's what I've wanted from you. It took all my self-control not to ask if he wanted to try it for real. Instead, I pretended to be cool. "OK, if I can sleep with other people and live in New York, we can be married."
He touched my hand: "So basically, nothing would change?"
He tried to kiss me when I left and I let it slide off unacknowledged. But here I am, sending cryptic "I miss you" texts and imagining where we'd be if I'd only let him.
Sign up here for our daily Thrillist email, and get your fix of the best in food/drink/fun.
Harriet Dent is a savvy lady writer who loves wearing too much black and eating too much Duane Reade-brand Nutella. She sometimes worries that flipping a coin is a misguided way to make life decisions.