I Married a Man I Only Knew for 3 Weeks… and It's Actually Working
Behind every I do is a unique story. But while each is its own, some marriage stories are more "normal" than others. Mine is anything but.
Tim and I met late in the summer of 2013 at a mutual friend's barbecue. We were both in unhealthy, on-and-off-again long-term relationships. He and his girlfriend were on a break at the time; and my boyfriend was living in another country. I wondered why I hadn't met Tim before, since we seemed to be in the same circle of friends. The friend whose house we were at came over to me. "Hey, go flirt with Tim," she said. "He's single right now." I reminded her I was not single. "Yeah, but your man is 6,000 miles away, and all you do is fight," she said. I couldn't argue with her logic, so I walked up to Tim and introduced myself. We talked for a couple minutes. I remember him being handsome and polite. Nothing came of that meeting.
A year later, I had just graduated from college. I was single and going on way too many Tinder dates. My best friend/roommate/soul sister was moving indefinitely to Austria. I was about to be homeless, jobless, and had no idea what my next move was. I was also drinking a lot. One night, my friends and I decided to go see some live music at a local bar. Guess who was there? Tim. I hadn't seen or thought about him in nearly a year. I was feeling pretty tipsy aka fearless, so I walked right up to him and said, "Hey! Do you remember me? We met at Amber's barbecue. My name is Elena."
He turned to me and looked me up and down. "Hey!" he said. "Yeah I remember you. Do you want to go on a date with me?"
Real courtship is way nicer than online dating
Fuck yes, I wanted to go on a date with him. I cannot tell you how good it felt to be asked out in person. To my face. Not over a hookup app or social media. So we exchanged numbers.
A couple of weeks later, on June 21st, we went on our first date. Tim brought me a bouquet of sunflowers and took me to one of the best restaurants in town. We had great conversation. We shared appetizers and entrees. On a whim, he purchased a $100 half-bottle of dessert wine (I later found out he'd been paid that day so he was trying to impress me). We were at the restaurant for almost four hours. After the meal, we drove to Lake Tahoe so we could swim under the moon. It was close to midnight. After our dip in our underwear, we sat on the shore and saw several shooting stars in a matter of minutes while drying off.
That shit was magical.
We drove back to Reno, went to another bar that was close to my house, and had a couple more drinks. Tim walked me home around 3am and kissed me goodnight.
"I'll call you soon," he said.
"No, you'll call me tomorrow," I answered. "I don't play fuckin' games."
Yep. I said that. I really liked him. And I knew he really liked me.
The following day, I moved back into my mom's place for the summer while I figured out my next move. After unpacking, I called Tim. He was grabbing a beer with a friend so I met up with him. We got dinner, walked around Downtown, then he showed me his place. I went home super late that night because I had to nanny early the next day.
Then we hung out the next day, and the next day. We were inseparable. We weren't playing hard to get.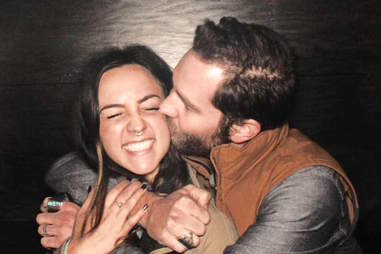 Elena Wood/Thrillist
After a week of dating, things got serious
Tim asked me to be his plus-one for a wedding. We both knew the couple getting married, so it wasn't awkward. But I remember our friends at the wedding looking at us and thinking, They're together now? Huh?
That night, he told me he loved me and that he was going to marry me. I told him that he fuckin' better.
Yep. I said that.
Going to that wedding with him made it very clear to me that I was in love with him. And that I wanted to marry him, too. When I was around him I didn't think about anyone else. I didn't want to look at my phone. When he was around, I didn't think about how the life I had known for the last four years was falling apart underneath me. Tim made me laugh. I felt safe.
I've never really had a "type." Each guy I have dated has been very different from the last. I never really dated a guy that had similar interests as me, had similar style to mine, or that would be considered "my type." But there was one thing about Tim that really struck me: the people surrounding him adored him. Even today, our mutual friends constantly tell me how great Tim is and how they admire him.
 
Dads give the best marriage advice
"Elena, if you elope I will cut you a fat check." My dad was a wonderful man, but he had terrible luck with women. He was married five times, to four different women -- one of whom was my mother, whom he married and divorced twice. Well before his death when I was 17 he encouraged me to use any wedding money I received for a down payment on a house, an extended honeymoon, or for starting my own business. Whatever the hell I wanted, really. He just didn't see the value in having a big, expensive wedding. And having grown up in Reno, an elopement wasn't out of the ordinary.
Planning gives me so much anxiety. And I didn't really have the means to pay for a big wedding, anyways. And it wasn't something I was willing to put myself and my future husband into debt over. Tim and I, unapologetic in our infatuation, knew we wanted to get married. But when?
One night we were out with some friends. We were looking longingly into each other's eyes, whispering sweet nothings, and swapping saliva. "Will you guys just get married already?" a friend asked. It seemed like a good idea. We tried to elope at 2am that night, but the wedding chapel was closed.
 
The "honeymoon" phase for 20-somethings doesn't last long
In your 20s, you get comfortable quickly.
Once you're comfortable, you're bored. So you fight with each other to keep things interesting. You go on breaks, then make up. You say hurtful shit, then apologize. You cheat or get cheated on. You forgive. You're then in a constant power struggle for the upper hand in the relationship. You decide to stay together because the thought of starting over with someone new is inconvenient.
You know that you are not right for each other and you're wasting your time.
Some people decide to get married after having been through all of these things while dating. They hope that getting married will somehow salvage their broken relationship. Sometimes it does. But most often, it doesn't. Tim and I didn't want all of this to happen to us. So we wondered: why not get married now, during the "honeymoon phase" of our relationship? Why not make the honeymoon phase the foundation for our marriage?
(This was easy for us to decide because we both felt the same way about one another. I don't think you should persuade someone to marry you in three weeks if the feelings aren't completely mutual.)
Tim's parents are still married. He grew up in a stable, modest home, and he has a wonderful family. He had consistency growing up. I loved being with a man who grew up the way I wished I had. It also helped that our values were perfectly aligned. I trusted him with my heart.
Elena Wood/Thrillist
Three weeks in, we eloped
Tim and I texted our closest friends on the morning of Sunday, July 13th, 2014. We told them to meet us at the Chapel of the Bells in Reno at 7pm.
After our 2.5-minute wedding ceremony and $200 spent on the marriage certificate and chapel fees, our friends joined us for takeout and a few drinks at our favorite bar. Then we got our wedding bands tattooed (for free by a friend) and went home. It was beautiful, simple, and stress-free.
I moved in with Tim right after we got hitched... and guess what? We still like each other! We have been married almost two years now.
For a long time, Tim and I didn't fight at all. We fought so little that it almost felt unhealthy. Now we bicker, cry, get mad, and yell. But we always work through it -- and quickly. The coolest thing about our marriage is that it still feels like we are in the honeymoon phase, which I attribute to the precedent we set early on.
Divorce isn't an option for Tim. It's not an option for me, either. Mostly because we're both stubborn assholes -- but also because I promised myself a long time ago that I would get married once and only once. I want to give my children what I never had growing up: emotional stability, consistency, and parents who love and respect one another.
 
There's no one right way to get married
Tim didn't propose to me on one knee during a trip to the coast. We didn't date for the prescribed two years. We didn't have a long engagement full of planning and stress in order to throw a lavish wedding for a guest list that is entirely too big. We didn't have a two-week honeymoon to a tropical island. We didn't have a registry, receive thousands of dollars, monogrammed towels, or knife sets.
If that's how your marriage worked, then that's great! I hope it was perfect and beautiful in every way. But society makes us believe that this is the only way to get married. And at times, society has frowned upon Tim and me for having done it so differently.
We knew some people would be judgmental of our choices about getting married the way we did, as quickly as we did. We knew there would be bets made on how long we would last. We knew people would think we were absolutely crazy. We didn't care. And we still don't.
Today, Tim and I have a kick-ass marriage. We've got two painfully adorable cats, a beautiful home that we have made together, and each other. We laugh constantly. And we struggle every day. But we also love each other immeasurably.
Granted, this story would be completely different if I married a guy I kinda, sorta knew and he turned out to kinda, sorta be a psychopath. Tim is not. My husband is the shit. He is a wonderful man. And what I've learned is this: if you love someone and want to spend the rest of your life with them, tell them. Even if marriage isn't for you. Tell them how you feel. Tell them they're "it" for you.
Don't be afraid. If you want to marry someone, then marry the fuck out of them and don't apologize for it. It's your life.
You don't need to do what society expects of you in order to have a lasting, healthy marriage or relationship. You have absolutely nothing to prove. Listen to that gut. If weddings stress you out, elope. If you don't like white, here's an idea: wear fucking yellow.
Sign up here for our daily Thrillist email, and get your fix of the best in food/drink/fun.
Elena (pronounced Uh-Len-Uh, not Ee-Lay-Nuh) was born and raised in Reno. She has a bachelor's degree in Spanish literature and translation, and works for Patagonia. She enjoys yoga, running, massaging her kale with lemon and olive oil, kissing her husband, and watching her two cats play with her hair ties for hours. Check her out on Medium, Instagram, and Facebook.