I Got Rejected by (Almost) Every Server at Hooters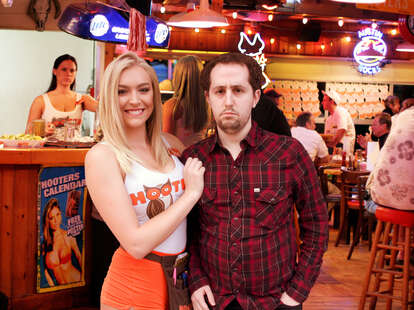 Gina Park/Thrillist / <a href="https://www.flickr.com/photos/mn_francis/415747169/" target="_blank">Flickr/Mark Norman Francis</a> (EDITED)
Every day, the Hooters waitstaff has to reject customers. Not reject perfectly reasonable requests for another beer or more World-Famous Wings, but reject them like, "Sorry, I have a boyfriend and I can't get a drink with you." But because these ladies also want to be tipped, they have to reject those unwanted men nicely.
To find out all the fun ways a Hooters waitress can tell a customer, "I'm just not that into you," I hit on every beautiful girl at a suburban Denver Hooters with the invariable question: "Would you like to get a drink with me?" The results will shock you!
"Would I get a drink with you? Maybe."
-- Danielle
​"Come back and see me three times and I'll think about it."
-- Haley
"I'm not old enough to drink, and I actually have a boyfriend."
-- Megan
"I'm only 19... I've been with my boyfriend for four years."
-- Courtney
"I have a boyfriend. No, I couldn't... four years..."
-- Julia
"I can't. Because I'll only be done at closing time. And I have a boyfriend. Five years. And I have his initials tattooed on my ring finger. I'm sorry!"
-- Briana
"I'm under 21. And I have a boyfriend. I'm not just saying that, I swear. People are like, 'You're lying, let me see your phone.' People get really mad at me, but I swear."
-- Jasmine
As a bonus, Rayleen broke down her rejection strategy: "I tell them I have a boyfriend, which isn't true. Or I casually ignore the question and keep writing [the order]. Or other times they'll ask for my number, and I'll give them the Hooters store number. There was also this one cool app for a while that would give you fake phone numbers that would only last for a week."

Sign up here for our daily Thrillist email, and get your fix of the best in food/drink/fun.
Lee Breslouer is a senior writer for Thrillist, and sees what's going on here. Follow him to rejection: @LeeBreslouer.