There's a certain, specific brand of disappointment that comes from climaxing to a vaguely female automaton that was definitely created by in a small room by a sweaty coder. But, hey, those were the cards I was dealt. Hi, my name is Jeremy, and I'm known around the office as "the guy who has sex with a lot of weird things." It's not a title I'm proud of, but it pays the rent, electricity, and webcam I set up in my shower.
When I was approached by BKK Cybersex to test out their VR Sex Machine (for which they're currently running an IndieGoGo campaign), I was elated to experience a whole new level of futuristic perversion at the hands of the Chinese. BKK Cybersex is a bluetooth-enabled virtual reality experience that allows users to make sweet-weird love to an anime-like woman.
​You can control her hair, body size, voice, and skin color (though the darkest you can make her is off-orange). In terms of having an immersive experience in which it looks and feels like you're having sex with a woman, I'd compare this to the Wright brothers' first plane. It can't do much, but it'll lead to something exciting one day.  
How does it work?
The whole set-up looks like someone in the 1980s was asked to describe what "virtual reality sex" would be like in the year 2000. You get a plastic VR headset and a device that, for all intents and purposes, is a Fleshlight with bluetooth capabilities. The bluetooth is pretty great, but I'll get to that later.
Upon opening the app in your phone, you immediately see a cartoon schoolgirl in her underwear standing innocently in a classroom. Maybe she's a cartoon teacher in her underwear standing innocently in a classroom? I don't know, it's 2015, she can be whatever she wants.
To the left and right of this girl are options: you can flirt with her, change her clothes and edit the scenery. FYI, you can have sex with her in the following locations: a classroom, a sunny beach with palm trees, an extremely orange bedroom, a red sex dungeon, and of course… a train car? Yes, a train car. Once you choose your setting and alter your girl to be vaguely the woman of your dreams, you lube up the Fleshlight, put on the goggles, and go to town.
How does it feel?
Well, the Cyberskin Fleshlight is just wonderful. I've had my hand (metaphorically, but also literally) in a lot of different faux-genitals before, but this one is the most pleasant by far.
Compared to some of the freaks I've "tested out," the BKK Cybersex makes for a great sexual companion. The kicker comes with the bluetooth: this thing is motion-activated; meaning everything you do to the Fleshlight can be translated into the app and appear before your eyes.
So, the faster you go, the faster your actions are enacted with the girl on screen. Get it? Fantastic, let's continue. 
How's the sex?
It's a little glitchy. If you think this is the kind of toy that'll fool you into thinking you're having sex with a human woman, you are dead wrong. This is like having sex with Chun Li from Street Fighter or a really nice drawing from your high school friend who was super into Cowboy Bebop.
But, there were actual bugs in the app too; for instance, if you look too high up, it looks like the girl is floating in the air as if she's some kind of supernatural entity who levitates when aroused.
However, that doesn't mean it's not fun. Along the sides of the Fleshlight are buttons that remove her clothes, change posture, positions, zooms in, zooms out and makes the character climax. Yep, there's a cum button.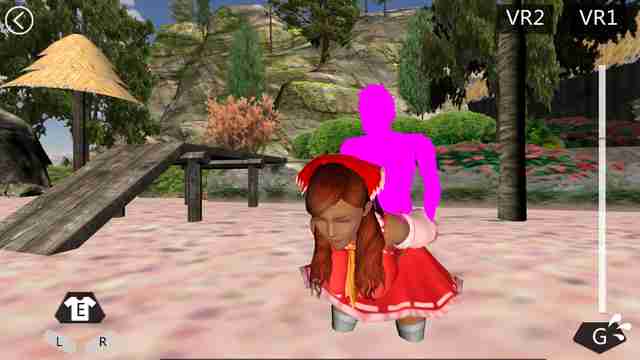 Are there guys in this thing?
Ugh, yes, there's an anime guy who shows up and mimics your movements. For all intents and purposes, you are a chiseled anime dude when you put these goggles on your face. However, the angle you view the guy isn't exactly conducive to putting yourself in the scene. Either way, you have to see his animated penis and that ain't cool.
You can set the dude on "translucent" which -- honest to god -- turns him into a completely purple figure. You can also set him on "hide," which makes it look like the girl is having sex with a ghost and -- that's a whole different genre of sex right there. 
It's worth mentioning that there's music, too. Music that you cannot turn off, by the way. It sounds like the kind of stuff you'd hear at the dentist's office. It is bad. I did not like it.
 
Overall thoughts?
VR sex has not peaked yet, but it's exciting to see where it'll go. I can't help but imagine a scenario in which any person can slip on a pair of goggles and go to town on anyone in their wildest dreams! I would, of course, have sex with a VR version of myself, because it'd be silly not to.
The motion-sensing capabilities of this thing are what make the experience exciting and new, even though there was not one part of me that was convinced I was in the throes of passion with a person. I consider this to be clunky, awkward party trick -- but hey -- most party tricks don't end with ejaculation, so how could I complain?
Sixteen-year-old me would have been elated to try this thing out, but he was also a perverted little bastard. 
Sign up here for our daily Thrillist email, and get your fix of the best in food/drink/fun.
Jeremy Glass is a writer for Thrillist and has a lot of time on his hands. Both of 'em.