I Went to a Naked Painting Party at a Mexican Nudist Resort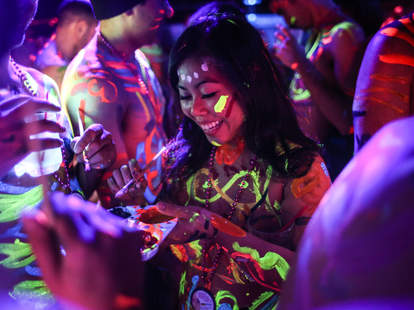 There are only so many ways to raise the bar when you're often taking your clothes off for articles. Nude beach? Check. Naked yoga? Check. Sex parties? Double check.

A naked painting party at a nudist resort? Hmmm, interesting. I had yet to scratch the surface on the wide world of nudist resorts, so when I heard about a Garden of Eden-themed naked painting party at a popular nudist resort in Riviera Maya, Mexico, I breathed a sigh of relief knowing my days of stripping down in the name of journalism were far from over.
Hidden Beach Resort
The Naked Painting Parties take place at Hidden Beach Resort and have been going on for two years, put on by Social Exposure Media, an avant-garde events company that hosts sexy, high-end shindigs in New York, Miami and in international destinations like Berlin, London, Mexico, and Toronto. I was staying next door at HB's sister property, the fully clothed, regular old couples, all-inclusive El Dorado Seaside Suites; but armed with my day pass to Hidden Beach, I was free to roam between the two. I'd already spent the first few days cowering in my singledom as couples eyed me cautiously by the pool or dining at my table-for-one at the restaurants. While they fed each other and whispered sweet nothings, I furiously typed away on iPhone's Notes to make it look like I was NOT constantly ditched by my obviously absent significant other, but that I was a businesswoman there on business, which weirdly, I sort of was. Naked business.
The night of the party I was filled with overwhelming anxiety. I'd been to naked stuff before but always in situations where I didn't have to interact with other people (save for the sex party, in which case there was a modicum of interaction). You can understand the anxiety about attending a party at a nudist resort. If you've ever had any interest in nudist resorts you probably flipped through the website or brochure and saw what you thought would be the potential guests... perfectly toned-and-tan bodies, smiling coyly as they seductively sip their Pina Coladas. Her long hair flows lusciously down her shoulders strategically covering her up like a mermaid, while he reaches up for a frisbee to reveal the muscle structure of a Greek god. No wonder you're terrified to drop trou... because I 100% guarantee you do not look like that, no matter how much SoulCycle you do. Or maybe you do look like that, in which case congratulations, and I'm sure you have no idea what the rest of us are talking about.

Hidden Beach Resort
After very carefully considering my party outfit (I couldn't walk from the non-nudist resort to the nudist resort completely naked, lest all the clothed couples at El Dorado have heart attacks as they feed each other shrimp cocktail), I made my way next door, opened the exclusive gate, and headed toward the dimly lit lounge. I was one of the first to arrive and awkwardly took my seat at the fully-stocked (and thankfully) open bar. A long table was strewn with seductive desserts like chocolate-covered strawberries and cupcakes with enough icing to frost the nipples of every guest in Mexico. But the most important part of the painting party is the set of electric-colored, day-glow paint that's handed out to each member of the party. The only thing left to do is grab a brush and paint your partner. And no, not their portrait. You'll be painting their body. Unless you're there alone, in which case you could paint your... ummm, iPhone?
I downed a shot of tequila as the party-goers started to arrive. Ladies strolled in wearing flowing sarongs, which immediately fell to the floor upon entry. The men were even more casual than that, if you know what I mean. Flying high on a fresh tequila buzz I watched, wide-eyed, at what unfurled. First, it is important to note that the brochures were a tad... misleading. The average guest at the resort is in his or her 40s or 50s, and 98% of them are couples. And, in all honesty, you probably would've been the fittest one there. Try as you might to find Beach Barbie and All-Inclusive Ken, it becomes abundantly apparent that no one actually gives a fuck about CrossFit or the proper paleo diet. (Let's just say that this advertisement is probably a litttttle deceptive). But that's kind of the best part. No one cares what you look like or who you are, either. No one cares about your birthmark or the fact that your abs don't look like Channing Tatum's. Because NO ONE ELSE'S ABS LOOK LIKE THAT. Nudists just wanna have fun. Naked fun. Especially with paint.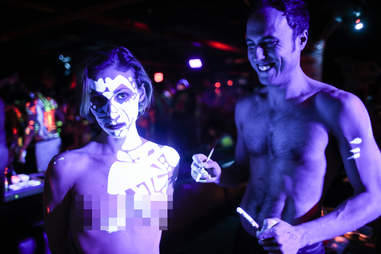 <strong>This picture is from a different party. Nobody there was this hot.</strong> | Social Exposure
As with anything that gives you anxiety -- like ordering takeout over the phone or changing at the gym -- it's all about the build up. But when you're actually in the mix, it's far less terrifying than you would think...ish, especially with the help of Mexico's aforementioned prodigal child, tequila. That said, the best way to do a Naked Painting Party -- alcohol or not -- is as part of a couple, seeing as almost everyone else at the party will be with someone else. (And you will be naked and feverishly typing on/painting your phone.) There are few things more awkward than approaching a husband-and-wife duo in the throws of painting day-glow lingerie on each other and asking if you can join in on the fun. (IMPORTANT: Nudist resort does NOT equal swingers resort. For those, go HERE.)
But if you ARE in a couple and are not the creepy single loner asking to paint other people's husbands (NEVER happened), you'll probably have way more fun. Couples held no limits as they grabbed brushes and immediately started painting each other's... bits... with electric yellows, oranges, and pinks. It was like tumbling into Dr. Timothy Leary's electric Kool-Aid wet dream, as the sea of naked body parts transformed into a living, breathing frenzy of fluorescent-colored flesh, all set to the backdrop of a classic rock cover band.
<strong>Again, this picture is just a representation. Nobody in Mexico was this young, either! </strong>| Social Exposure
Before long I was standing in a sea of bright-blue breasts and neon-purple penises, as painters giggled and conga-lined around the lounge area. For better or for worse, it was low season in Mexico and the resort was only half full; which meant that there were only about 25 people at the party, giving new meaning to the term 'an intimate affair.' During high season, however, the party attracts as many as 80 wannabe Picassos in their birthday suits. So, if you want to see more naked, out-of-shape people in neon paint, come in the winter. Turns out, Social Exposure is also known for their wild painting parties in New York, which attracted more of a younger, singles crowd and usually devolved into a hedonistic, paint-covered, high-society sex fest which...
...is not at all what happened at Hidden Beach. It wasn't very wild or naughty at all. It really was just a group of naked couples drinking and splashing each other with paint. Seriously, NBD.
El Dorado Seaside Suites
But I had to find out for sure. And I'm glad I did, as weird as it might have been at times. So, if you're in a couple and interested in stripping down with your honey, this is probably one of the most comfortable, casual, and classy places to do so. If playing third, fifth, or seventh wheel to a slew of naked nudists painting each other isn't your jam, however, perhaps you skip the party and stick to singles events. Just an idea. Or, if you're still curious, book a stay next door and buy a day or night pass to Hidden Beach to check it out on a less-committed basis. And if you're STILL a little nervous about baring all, remember that you're in Mexico. There's always tequila.
Sign up here for our daily Thrillist email, and get your fix of the best in food/drink/fun.
Meagan Drillinger is a freelancer for Thrillist and is now completely out of naked ideas. Follow her on Twitter, Instagram and Facebook at @drillinjourneys.