The Life of an Online Dating Ghostwriter
Gyorgy Barna/Shutterstock
You may have came across Lisa Hoehn's work. The prolific writer and business owner has a widely varied output: one day spent channeling a newly minted college kid adjusting to city life; the next, filling in for a worldly foreigner looking for fun during their "off" time. But Lisa Hoehn isn't penning the next great, multi-character American screenplay.
She's an online dating ghostwriter.
If you've never thought that outsourcing dating was a thing, you've clearly not encountered the metrics of our new service economy and/or been on the Internet in the last decade. Most anything we don't have the time or the patience or the desire to do, we can get someone to do for us... for a cost. Pick up dry cleaning? Check. Deliver us a meal? Thirty minutes or less. Make us appear irresistible on our dating profiles? No problem.
Part copywriter, part coach, Hoehn -- the EB White of dating -- owns and operates Profile Polish, a full-service site where she virtually assists clients frustrated by the challenges of online dating. It's a full-time gig: at any given time, Hoehn is working with up to 30 clients between the ages of 21 and 72.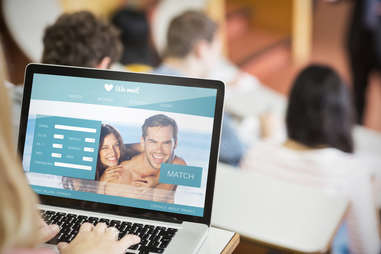 Getting down to basics
To get things rolling, Hoehn administers a basic questionnaire.
What are your hobbies?
Where have you lived?
What kind of relationship are you looking for?
Answers to these meat-and-potatoes questions advance Hoehn onto the next step: a personalized, in-depth interview with the client. "I aim to get people to tell me stories and anecdotes," Hoehn says. "I just really dig in." She's looking for concise, slice-of-life observations here... not cliches or rambling anecdotes.
Then Hoehn gets to writing. She distills quirky details and stories -- the stuff that makes you, you -- down into three- or four-sentence paragraphs describing the client. This is the art: to offer important information (but not too much) without making boring old lists. Hoehn avoids filler sentences, unnecessary words, and ensures there isn't a single typo. There's no space worth wasting when your profile is only meant to convey one thing: that you're a decent, dateable human being.
But describing yourself in simple terms is no easy feat -- and the arena of online dating raises the stakes. There's a "whole downward spiral of self doubt that people get into," Hoehn says. Who among us hasn't written a half-baked OkCupid self-summary that seemed succinct at the time but in the light of day read verbose, try-hard and full of meaningless details? And sometimes it's hard to tell when you've gotten knee-deep into those murky waters beyond the reach of a quick 'Control + Alt + Delete'.
It's harder still when fatalism about online dating in general can lead you to believe a near carbon-copy of you, only with better hair and a cooler job, is likely only a few swipes away from the potential match of your dreams. It's a harsh reality: actively participating in online dating sucks. When you think about it, why wouldn't you outsource it?
Dating profiles are the cover letters of the dating world
Online dating is a lot like applying for jobs, Hoehn says: profiles function as cover letters to get your foot in the door. Where most people trip up in writing their own profiles is in leading with rote, dull information. In the grand scheme of things, your matches don't care whether you live in the West Village or Williamsburg. Though they might care if you live in Weehawken.
People often use cliches, filler sentences, and self-aggrandizement to make certain information more interesting than it is. Don't be that guy. NEVER use words like 'adventurous' or 'spontaneous.' And it should go without saying, but DON'T TALK ABOUT YOUR EXES. "Try to write the way you speak," Hoehn advises. "You're not writing a book report. You want someone to relate to you...[Your matches] want to know what your life is like now, in the present."
As counterintuitive as it seems, online dating is a medium largely hinged on the written word. It's easy to get lost in the optics and forget just how important you narrative is. And sometimes, you need perspective. Writing a good profile requires you to be unbiased and self-analyzing -- things Hoehn says are hard to sift apart.
The majority of Hoehn's work is in this vein: building cohesive narratives for her clients through language. "When you put up a profile," she says, "...you want to find the matches that are compatible with you." In other words, don't just talk about SoulCycle and Drake because everyone else is doing it. Build your own story. As a favorite Internet podcaster of mine (hint: it's Judge John Hodgman) once said, "specificity is the soul of narrative." And if narrative is the window to our souls, most of us are rocking the virtual, expository version of a toupée when we publish our profile: no killer, all filler.
Sign up here for our daily Thrillist email, and get your fix of the best in food/drink/fun.